North Coast Hunters Tours And Safaris
by Clive Goff
(UK)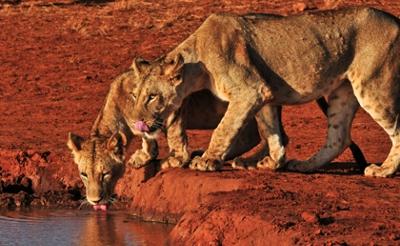 I found the safari company through local recommendation. I couldn't fault them at all. Our driver/guide was Liston Mwanza (Papa) - very knowledgeable and a great guy. He knew the area exceptionally well and seemed to know all the 'hot spots'.

I would use them again if we ever travel to this area in the future.

It was my wife's first venture into the bush and she loved it. This safari was excellent in all aspects.
Accommodation and Food
1. Voi Wildlife Lodge (near East Tsavo) - Excellent accommodation and game viewing at waterhole good facilities (swimming etc).
2. Ngulia Safari Lodge (West Tsavo) - Stunning location with amazing views. Waterhole is only yards away from the dining area so game viewing again is excellent.
In the evening one of the staff ties an impala leg to a large wooden construction again adjacent to the dining area.
Within minutes a leopard appeared and climbed the frame to tackle his evening snack. It doesn't always appear, but we were very lucky this visit.
In both lodges I can only describe the food as typical hotel type fare. Buffet style, plenty of choice.
Wildlife
The 'Big 5' (Lion, Leopard, Elephant, Buffalo, Rhino - albeit the last one (Rhino) was about half a mile away).
Also Cheetah, Giraffe, Zebra, Eland, Kudu, Bushbuck, Hartebeest, Dik Dik, Hippo, Warthog, Mongoose, Impala, Grants gazelle, Bushbaby, Rock Hyrax, African Wild Dog, Civet, Porcupine.
Typical Day
6 am start into small minibus with elevated roof for viewing. The driver was in radio contact with other guides so viewing was a shared experience.
Back to lodge for 11am (ish). Lunch at lodge and chill out for a few hours. Back in vehicle around 3pm - 6pm.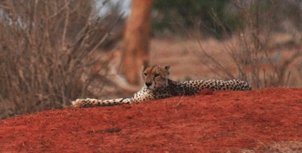 Other Activities
Snorkelling trip to Kisite-Mpunguti Marine Park, just off the Kenya/Tanzania border. Arrived at Shimoni pier (75m) south of Mombasa where we boarded a dhow for our trip to the Marine park.
Dolphins were probably the highlight of this trip. After a couple of hours snorkelling we were taken to Wasini Island for a seafood lunch and a visit to Wasini (Muslim) village.
Tips and Advice
My camera (Nikon D300 & Nikon 70-200mm 2.8) was the handiest item I took on safari.
If you are a photographer take a good lens. My 70-200mm was OK but if I went again would definitely take one in the 300-400 range.
The Better Safari Photography e-book was very handy. I made notes of relevant points that I deemed useful.
More Tsavo Safari Reviews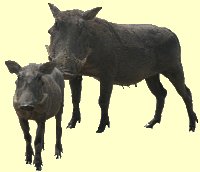 Join in and write your own page! It's easy to do. How? Simply click here to return to Kenya Safari.