Ithumba Camp Review
by Margarete Ardell
(Kenya/UK/Germany)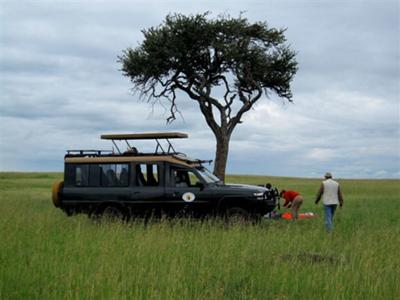 Breakfast in the long grass - ©Margarete Ardell
The highlight and reason for going to Ithumba was to meet the elephant orphans from the David Sheldrick Foundation who are now being re-introduced into the wild. I could have stayed there for a week and not be bored.
Safari Operator Performance
I have used Sunworld Safaris for numerous safaris. As usual everything was planned to perfection and the guide (whom I had specifically requested) was excellent.
We had a cook (Joseph) from Sunworld while in Tsavo East and enjoyed sumptuous meals even though we were in a very remote corner of the park.
Accommodation
In Tsavo East we stayed at the David Sheldrick Foundation guest camp at Ithumba. It comprises 3 double bandas/tents each with a beautiful outside bathroom…showering under the stars!
The main building was thatched and open on all sides. There's a large lounge and dining area which was tastefully furnished and a spiral staircase led to the perfect spot for our sundowners.
Severin Lodge in Tsavo West is quite large and being on the coastal safari circuit has many minibuses doing their obligatory 1-night stop. The tents were nicely decorated and each had a veranda.
The food was not particularly to our taste but there was plenty of it. Ordering a picnic breakfast was greeted with surprise by the lodge, but they did provide it in the end.
It was fun to watch the action at the waterhole especially in the evening and best viewed from tents 17-19 or the restaurant.
In Masai Mara we stayed at Sunworld's own camp, the Mara Bush Camp. Perfect location and great ambience. The ten guest tents are tastefully furnished, with great attention to detail.
The bar and lounge tent is a popular meeting point for drinks, recharging laptop or camera batteries, and for photographers to show off their day's images!
Weather permitting there is a campfire to sit around, where one can enjoy pre-dinner drinks and bitings.
Dinner was either under the stars or in the mess tent and the menu varies from traditional African dishes to many other delicious things (Warning - you will not lose weight here!).
The staff are fantastic and make one feel truly welcome. That's why we are always sad to leave…
Food
Breakfast at Mara Bush Camp can be taken either at camp or a picnic version for the bush. Fresh fruits, yoghurts, bacon, sausages, hard boiled eggs, toast, coffee/tea and juice.
On the last day we went out early having just had some coffee and biscuits and came back for a brunch around 10:30 before returning to Nairobi. It was a super spread with the usual breakfast items as well as quiche, salads and fish and chips, etc.
Lunch and dinner were always buffet style or in the case of an Asian themed meal such as stir fry, a cooking station was set up under the trees!
The bar is well stocked and a cool beer at lunch time did not go amiss! In the evenings we generally drank wine and there is a good selection.
Wildlife
We saw a great deal of wildlife even though it had rained a lot in Tsavo so the animals were not as easy to spot. The landscape was beautiful. Having so often seen it parched it was great to see the shades of green.
At Ithumba, several of the elephant orphans I had known since they were 6 weeks old when they were first brought to the Nairobi nursery. The keepers (who are in effect surrogate mothers) are doing an excellent job and we were allowed to accompany the elephants with their keepers.
It is one thing to view elephants from a vehicle but this was an amazing experience to be able to walk with them and be accepted by them.
The work done by this charity is incredible and I would urge everyone to check out the website and adopt an elephant.
In Tsavo West the landscape was stunning and we visited Muzima Springs where hippo and crocodile can be viewed through an underwater tower.
The Mara was very green and wet. Grass was high but nonetheless we had great cat viewing. We saw a caracal, only the second one I have ever seen there in 20 years! Also several lionesses with cubs.
The highlight was a leopard with her two cubs. I had seen her last year when the cubs were still quite small and so was delighted to find them alive and well four months later. We saw them almost daily either in a tree or walking through the bushes, even with a kill.
We saw spectacular sunrises and sunsets, weaver birds busy building nests, a goliath heron posing, hippos fighting and a hyena mother with her two cubs who entertained us for hours with their antics.
We watched buffalo wallowing in a mud hole, a herd of elephant feeding in the forest near Musiara Swamp, impala jumping, warthogs running tails aloft.
There were few visitors around and it felt as though we had the place to ourselves.
Typical Day
I have described a typical day in the Maasai Mara
before
so will describe a day at Ithumba here.
Wake-up call at 5am for fresh coffee and biscuits. Then drive to the elephant stockades in time to give the orphans their milk ration followed by a visit to the water trough and scrub. The keepers watch that the elephants behave; like mothers watching over their young offspring.
We decide to work up an appetite by walking up a nearby hill with the rangers from the nearby security unit. We stagger up the hill sweating profusely whilst the rangers who are six feet tall amble along as if it is a leisurely stroll! We walk on tracks that they have carved out of the hillside to lookout points high above our camp.
From here one can observe if poachers (sadly they exist as the global demand for ivory makes it worth their while) are active. We did not find any poachers thank goodness; we only found that we were extremely unfit! We clambered down the hill and breakfast awaited us.
Soon thereafter we drove to a nearby waterhole where the keepers had the bottles of milk ready for the hungry orphans. Once again we were allowed to feed them.
Then we saw that a group of elephants, mostly orphans that are semi wild had arrived with completely wild companions. They all had a mud bath followed by a dust bath.
Several of the wild orphans came along and checked us out by putting their trunks on our heads.
We took great pictures and then the elephants drift away. We return to camp, relax before another delicious lunch is served. We then discover lion prints in the camp but it's so hot, time for a siesta.
At 5 we set off in the vehicle for the elephants stockades and see them coming home for the night. Once again they get their bottles and then start munching on the branches which have been brought for them.
The sun is standing low in the sky so we rush back to camp to have a shower and Sundowner and watch the day turn to night. We sit there with a glass of red wine and watch the sun vanish below the horizon.
Joseph announces that dinner is ready and we enjoy another feast. We find that it's bedtime…tomorrow is another day with the elephants.
Tips and Advice
Take good
binoculars
for spotting game in the long grass.
If you are contemplating a safari in Kenya then go for it and book Sunworld, they can create the perfect itinerary for the first time visitor and for the professional photographer.
If you only have time to visit one park then go and stay in Mara Bush Camp, you will not be disappointed.
If you want to do something different then adopt an elephant orphan from the David Sheldrick Foundation and visit the nursery in Nairobi and the Voi or Ithumba Units in Tsavo East. I have been on numerous safaris and can say that the experience in Ithumba was something really special.
Margarete's Safari Details:

Rating: 10/10

Safari company used: Sunworld Safaris (make an enquiry)

Parks visited: Tsavo East & West and Masai Mara in Kenya

Date of safari: February 21 for 12 days

More Sunworld reviews »

More Tsavo Safari Reviews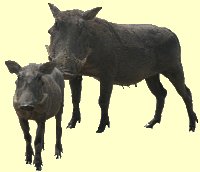 Join in and write your own page! It's easy to do. How? Simply click here to return to Sunworld Safaris.