Tsavo West - 1st Time African Safari
Shaun really enjoyed his first African safari despite his getting sick towards the end. He told me all about his experience over the phone...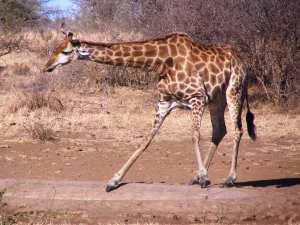 Which safari company did you travel with to Tsavo West?
I went with a travel agency. It was Kuoni. I booked the pre-designed safari tour beforehand.
And how did you get to hear about them?
I just looked through lots of brochures.
How did they perform?
The safari was fantastic.
The guide, did he know what he was doing?
Oh, very much so. He was very good; very informative.
How big was the group you travelled with?
There were 5 of us in the end, in the truck which was a cross between like a Land Rover and a minibus, the top can come off.
Top 3 Kenya safari companies »
| | |
| --- | --- |
| How was the accommodation? | |
We were at three different lodges in Tsavo West. We stopped at one every night. They were really good; excellent.
One was called Kilaguni, one was Ngulia (prices and reviews at TripAdvisor) and I can't remember what the first one was called.
| | |
| --- | --- |
| How was the food at the various places? | |
The dinners was a menu but the breakfasts was a buffet. In fact we had breakfast, lunch and dinner. The lunches were the same - it was buffet.
We didn't have any rain on the safari itself. It was never really hot in Tsavo West, but it was always dry.
| | |
| --- | --- |
| What wildlife did you see while on safari in Tsavo West? | |
We saw everything, except for rhino. Saw leopards, hyenas, giraffes, zebras, elephants, hippos, and baboons
What would you say the wildlife spotting highlight was for you?
When we saw a lioness and her two cubs, because well Chloe's the only one who got a photo of them! That was the highlight for me. They were the only ones we saw as well.
Were you satisfied with the amount of wildlife you saw?
Yes, the only disappointment was that we only saw the one lioness and no rhino. They've got like a rhino reserve where they go at certain times of the day, and they say that the rhino when there's people there they tend to hide in the bush so they don't get to see them very often, which was a bit disappointing.
| | |
| --- | --- |
| Please describe a typical day of your Tsavo West safari. | |
Well we'd get up, have breakfast and then we'd meet at about 8 o'clock in the morning and go out for a drive as we'd be moving from one lodge to the next... so we went out all morning on a game drive to reach the next lodge at lunch time.
We'd have lunch, have like an hour to ourselves and then we'd be back for another game drive around for another few hours and then back for dinner.
What were the condition of the roads?
They are in fair condition, better than the actual main roads in Kenya itself... the main roads in Kenya are awful! They're pretty un-driveable. The roads are red dirt all the way through Tsavo Park.
| | |
| --- | --- |
| Was there anything that didn't meet your expectations on the trip; any disappointments or regrets? | |
No, not on the actual safari. For a first time, it really was nice. It was a good introduction to safaris.
Can you offer any tips and advice to others planning a similar safari?
No, they're pretty well covered. We were told what to expect and we got pretty much what we expected, to be honest.
Like I say, the lodges we stayed at were all first class, they were superb.
Did you take any anti-malaria medication for your safari and did they cause any side effects?
Yes. I was sick for 5 weeks afterwards. I took Malarone - the strong one. Actually it was on the morning that we were leaving (starting to feel sick) not the last day of the safari, but on the Monday when we were travelling back to our resort. I got struck then quite ill, and I was there for another week and then 5 weeks when I got home, I was sick. The doctor thought it was from the malaria tablets. I had all the symptoms of malaria but I didn't have the disease itself.
What was the most useful item in your luggage?
Probably paracetamol tablets, I would think! That was just purely because I was ill on the last night and I had the shakes and a fever, so they cooled me down!
Did they provide binoculars, or did you take your own?
No. We could have hired them, I think. But I found my camera was adequate because we got close enough to the wildlife... I just used my digital camera to zoom in.
African wildlife photography tips »
| | |
| --- | --- |
| How would you rate your total Tsavo West safari, on a scale of 1 to 10? | |
It would have to be an 8 or a 9.
Even though you got sick?
Well, yes, I mean that was by the time we finished the safari. But that goes with the territory, I suppose! We're just makes me more determined, we intend to do another safari. I would go on a longer one this time, just to prove I was just unlucky. It certainly didn't put me off.
I'd like to go to Kenya again, but I just want to go to the whole of Africa, really! My dream is to go to different parts just to experience them.
| | |
| --- | --- |
| Safari Location: | Kenya: Tsavo National Park |
| Safari Company Used: | Kuoni Travel Ltd |
| Duration: | 4 days, June 2006 (2 weeks total in Kenya) |
| Traveller Details: | Shaun Keenan, UK |
| Rates & Availability: | Plan your own safari. Make a Tsavo West enquiry |
More Masai Mara Safari Reviews