Solo Safari Best for Photography
by Michel Legare
(Quebec, Canada)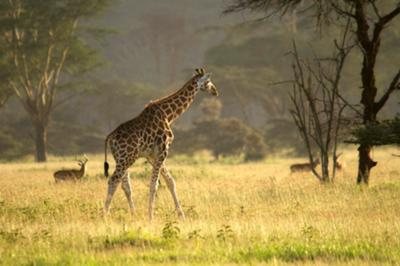 Lake Nakuru
Since a young age I've been dreaming of a safari in Africa and my dream came true in April 2010. I was anxious to see the wildlife and different lifestyles of the Kenyan people. Being an amateur photographer, one of my goals was to take as many wildlife photos as possible, the other was to have fun and enjoy every moment of this trip... and I did.
Safari Operator Performance
I was connected to Sight of Africa Tours & Travel Ltd through my travel agent Chanteclerc Tours.
I ended up on a private safari, nobody else was available to share the truck with me.
I was very pleased with their performance. The special attention given to me from my guide was appreciated. He made me feel at home from the start and explained how the tour would operate so that I would leave Africa a satisfied customer. The hotel personnel where very helpful and attentive to their customers.
Accommodation
Nairobi - Fairview Hotel. Very nice hotel with beautiful gardens. The rooms were very small but sufficient for my needs. Rating 3½*
The Ark - Aberdares National Park. Very small rooms with NO LOCKS on the doors. The whole place needs a remake. The wildlife is limited to the compound. Rating 3*
Samburu Sopa Lodge for day 3 & 4. What a difference! Beautiful rooms, great service and the staff where very friendly. Plenty of Elephants and other wildlife. Rating 4½*
Lake Nakuru Lodge. Rooms where nice and spacious with a view of the park. Service, food and activities were very good. Very nice park with great attractions. The Flamingos and Rhinos are great! I regret not staying 2 days. Rating 4*
Mara Sopa Lodge - Masai Mara Park for day 6 & 7. Very nice hotel with huge rooms. The food and service was great and the manager of the hotel was very friendly and went out of his way to greet me and ask me how was my day and if I was pleased. The Masai Mara is very special place and should be on every traveller's list. I rate this hotel at 4½*.
The 8th day was a day room at the Nairobi Hilton Hotel. Very hard to evaluate this hotel because I stayed there only 3 hours before my transfer to the airport. High security at the entrance. Rating on visual appearance only 4*.
Food
The food was 95% of the time buffet, all you can eat meals. I tried some local wildlife food but found that the texture of the meats where a little tough to my likings. What's great about a buffet meal is there's always something that you like.
For breakfast, I mainly ate fruits, cerials, eggs and muffins. For lunch and dinner, I would alternate between chicken, pasta, beef stews and even pizza!! The dessert tables where amazing. Apart from coffee and tea, all beverages where not included in the price of the trip and were charged separately.
Wildlife
According to many people, choosing to travel to Kenya in April was risky in regards to the weather and the abundance of wildlife. I can't complain about either, the weather was perfect from beginning to end and the wildlife was more than enough for my expectations. My guide recommends March and April as the best time to visit for the weather is generally good and there's no problems with the wildlife and most of all, there is less tourism at that time of year in the parks.
My first contact with the wildlife was with the elephants... what an impressive sight!! I saw many impalas, buffalos, zebras, wildebeest, hyenas, rhinos, lions and may more! I saw most of the wildlife that I wanted to see except for the Leopard. My guide and I spent many hours looking for this elusive cat without success. That's ok, now I have a good reason to go back and complete my big five.
Suprisingly, my wildlife spotting highlight was the giraffe. To see this tall animal run or walk close to our jeep was very impressive.
Typical Day
On a typical day I would wake-up at around 5:30 and get my camera gear ready for the morning drive. After a good breakfast, I would meet my guide at the jeep at 6:45. We would enter the parks at 7:00 and would drive around until 11:00.
After lunch I would tranfer all my photos to my laptop and an external hard drive. I would quickly review each photo and make any adjustments for my late afternoon game drive.
In the afternoon I would meet my guide for coffee at 3:00pm. We would talk about my morning photos and how our afternoon drive would proceed. We would leave the hotel at 3:45 and enter the parks at 4:00pm. We would stay in the parks until dark which was about 7:00-7:30pm.
After supper, I would have coffee at the main lobby and watch the hotel entertainment for an hour, and then, I would go back to my room to continue on my photo transfers and make plans for my next morning drive. And this was a normal safari day... what a great time!!
Other Activities
The only other activity that was scheduled with my trip was a one hour visit of a Maasai village. What an incredible difference of lifestyle. The Maasai women where all dressed up in their costumes to perform a wedding dance and then the men would perform their jumping dance while chanting in their language.
They also let me enter into their huts which is in a total and constant darkness. It was very hard to take pictures in these circumstances. They actually share the living space in the huts with their children and their goats.
Disappointments
One of my major disappointments during this trip was the transfers between parks. All tranfers were done by jeep and some drives would last 5-6 hours, because of the road conditions. I calculated that I travelled a total of 25-30 hours between parks during the 8 days. Local plane transfers would have been appreciated.
The other disappointment was my one night stay at The Ark, the facilities is overrated and doesn't disserve the 4 stars it advertises. It is old with very small rooms. This is one place I should have ignored!
Photography
The free
wildlife photography e-book
was terrific!! This was my first safari trip and I really appreciated the recommendations given in the book. All the tips given concerning the camera gear where right on!
Tips and Advice
Do as much research as possible.
Avoid staying at hotels less than 2 nights, one night sleep-overs are not recommended. You need to relax between tranfers, especially if you travel by land.
If possible, travel by plane between facilities to avoid wasted time on the roads instead of being in the wildlife. I recommend one or two transfers by road so you can see a few towns and how the local lifestyle is, but limit your road transfer time to a minimum.
I also, would limit visiting 3 parks in a 8-day journey.
Planning my luggage items was a long process. Thanks to the safari tips in the e-book it made things easier. Airlines make it harder with the weight restrictions, specially with the carry-on luggages. My camera gear followed me wherever I went, including on the planes. There's no way I would travel accross the world and lose my most useful and precious gear! I brought my main luggage items to the basics, light coloured t-shirts, safari pants, one warm sweater and a very good pair of hiking boots.
Safari clothing tips...
I recommend this trip to everyone. I am planning to go back to Africa within the next 5 years. I would like to stay longer and visit more countries. I also would like to have better lenses than my last trip.
Michel's Safari Details:

Rating: 8/10

Safari company used: Sight of Africa Tours and Travel Limited (make an enquiry)

Parks visited: Aberdares, Samburu, Lake Nakuru National Parks and the Masai Mara National reserve - Kenya

Date of safari: 1 April for 8 days

More Kenya safari reviews »

More Samburu Safari Reviews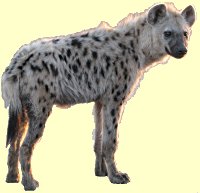 Join in and write your own page! It's easy to do. How? Simply click here to return to Kenya Safari.