Wildtrek Safaris Review
by Deborah Bruce-Duncan
(USA/Italy)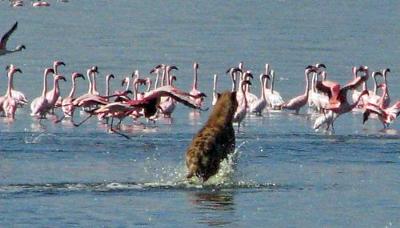 Flamingo Chasing Hyena
The hot air balloon ride was expensive, but a once in a lifetime experience and something that was so very exciting and special. The pilot kept us up for an hour and 20 mins because there were very few animals out when we first went up. The animals were abundant about 30 minutes after lift off. The champagne breakfast was extraordinary.
Safari Company Performance
The safari companies, Wildtrek Safaris (
ground operator
) and African Serendipity (
travel agent
) were exceptional. We were treated like royalty.
Never had such great service anywhere and I have travelled all over the world. Sammy was a wonderful and caring driver/guide. Very knowledgeable and anything we asked for, he made it happen without any trouble.
Accommodation
We stayed at Mt. Kenya at Serena Mountain Lodge, Serena Samburu Lodge, Mt. Kenya Safari Club, Lion Hill Lodge at Lake Nakuru, Lake Naivasha Sopa Lodge, Mara Simba Lodge at Masai Mara, Whitesands Resort in Mombasa.
All of the lodges were very nice. Mt. Serena Mountain Lodge put hot water bottles in our bed at night to warm them. Staff was exceptionally welcoming and kind.
Samburu Lodge was beautiful and the buffet was great. Room was very hot at night under the mossie nets and just a ceiling fan, but it was tolerable.
Mt. Kenya Safari Club was wonderful, Lion Hill Lodge was nice and the entertainment at night was great.
At Mara Simba there were hippos and crocodiles, mongoose and monkeys to watch at mealtimes from the dining area. We even had a bat flying around the very high ceiling at dinner one evening.
Whitesands is beautiful and everything a resort should be. Views of the ocean were breathtaking.
Food
Most of the food included were buffets with anything you could think of for breakfast, lunch and dinner.
My friend is pretty much a vegetarian and always had plenty to eat. The fruits and fruit juices were plentiful and delicious, especially the pineapple.
Wildlife Highlights
Our first stop was the Serena Mountain Lodge, which was an excellent introduction to our safari. When we first arrived, there was a genet cat outside eating and bush hogs around the waterhole.
In the morning I went up to photograph Mt. Kenya and there were cape buffalo enjoying the mud and water, along with waterbuck.
I was alone, drinking a cup of coffee, and shooting pictures with my camera, listening to the birds, looked up and there was a vervet monkey staring at me on the balcony railing.
I made a quick retreat inside for breakfast after that. When I returned to my room and I looked out, there was a small herd of elephants with babies at the waterhole. It was just a constant parade of animals.
In Samburu we saw all of the rarer species (Reticulated giraffe, Grevy's zebra, Gerenuk, Oryx) with all of the other wildlife including a cheetah and elephants.
The first time we heard a lion roar, I think we all jumped about 3 feet. If the top on the van had not been up, I am sure we would have all bumped our heads!
Mt. Kenya Safari Club was beautiful and the service was wonderful. A Colobus monkey greeted us at our cottage from a nearby tree.
The grounds were beautiful and green. The air smelled like the flowers that were in bloom. It was like paradise after the hot, dusty area of Samburu. The Orphanage there is fantastic and I highly encourage anyone to visit it.
We got to see the Bongos and the new baby Bongo. We got to feed a baby Patas monkey and I actually held a Colobus monkey on each arm and fed them.
One of the greatest experiences was feeding the pygmy hippos and riding the ancient (100 years old) leopard tortoise.
The good work they are doing there is wonderful and we all left a donation. At Lake Naivasha, we were treated to our own boat trip to Crescent Island and a walking safari.
It was amazing to see fishermen with nets fishing in the lake only a few feet from large groups of hippos.
Our guide said that about 15 to 25 fishermen a year are killed by hippos, but they have to make a living and put food on their tables, so they have to take the risk.
The walking safari on the island is very interesting. Scattered bones were all about the opening of holes in the ground.
Just being able to walk near wildebeests, zebras and giraffes on foot is an unforgettable experience.
We saw our only leopard on the first day; he was hidden in a tree across the river from us. Every animal was so amazing.
We saw babies of nearly every animal. Two interesting experiences we had were watching lions mate (we were told they mate approx. 300 times in 24 hrs. Whew!) and a hyena at Lake Nakuru attempting to catch a flamingo (in the water).
At lunch at the Mara Simba lodge with our table overlooking the river, a hippo on the opposite bank leaned just a little too far on a bush, which gave way, and she rolled a couple of times down the bank with all four feet wiggling in the air and landed in the water.
It was so funny! She hit the water and then swam away, acting like nothing had happened.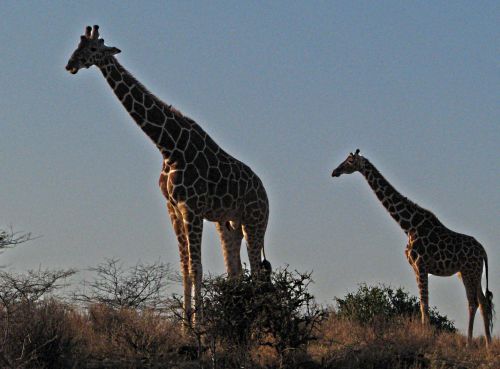 Typical Day
We got up about 6am every morning and ate breakfast, then left the lodges about 7:00.
We stayed out until about 1:00pm, came back and had lunch, did other things like a camel safari, visited a Samburu village, or just rested until 4:00pm and then went out on safari until 6:45pm.
After returning to the lodge, we would clean up and go to dinner. We were so tired in the evening; we went to bed around 10.
Other Activities
We visited a Samburu village and went on a camel ride at Samburu, visited with a Masai tribesman, and went on a hot air balloon.
We visited the Karen Blixen Museum and the Giraffe Sanctuary in Nairobi. Getting a kiss from a giraffe is something I will NEVER forget!! Also visited my adopted orphan elephant at
Sheldrick's Elephant Orphanage
in Nairobi on the first day of our trip.
We also enjoyed the Whitesands Resort in Mombasa. We went on a glass bottomed boat, did snorkeling, and enjoyed massages in the spa at the resort. Shopping was great in Mombasa as well.
Disappointments
I wished we could have seen another leopard and the blue legged ostrich, but were lucky for all that we did see.
I was a bit disappointed about the Mara Simba Lodge. We had the option of Keekorok or Simba and I took the Simba because it was overlooking the Talek river.
However, the Simba's swimming pool was having maintenance and was closed, and no other activities were really advertised. The rooms were slightly worn, but clean.
They turned off the electricity during the night, and did not give us a torch (flashlight) in the room. Fortunately, I had brought one and used it, especially the morning of the hot air balloon ride.
I would not recommend the Simba, except the personnel there were very nice
Tips & Advice
Do your homework. I researched many websites, including this one, so I knew where we wanted to go and what we especially want to see.
We booked our trip 9 months before since we were going at high season. I also researched travel companies and Sandi at African Serendipity was the most responsive and helpful in the planning and arranging of this safari. She really knows her stuff!
Also, a beanbag for your camera (everyone moving around in the van caused a lot of motion). Having two people taking photo's to combine after the trip is the best way to preserve memories of your trip. My
binoculars
were a very useful item! Everyone wanted to borrow them, they were so good.
Also, my torch as reported and a braided clothes line for washing clothes.
Deborah's Safari Details:

Rating: 10/10

Safari company used: Wildtrek Safaris and African Serendipity (make an enquiry)

Parks visited: Mt. Kenya, Samburu, Lake Nakuru, Lake Naivasha, Masai Mara in Kenya

Date of safari: Aug 29 to Sept 12 for 15 days

More Kenya safari reviews »

More Samburu Safari Reviews