Somak Kenya Safari
by Mark Reuby
(UK)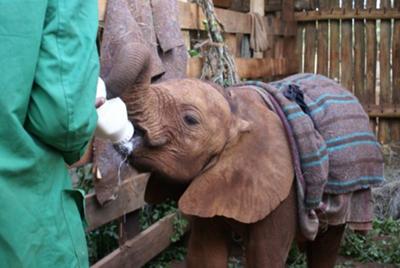 We arranged an extra day in Nairobi so we could visit our sponsored elephant at Sheldricks - amazing. We also got to go back in the evening to put all the little ones to bed. Something that was very humbling and is a memory of the holiday that stands above all others.
Safari Operator Performance
I booked my safari with Somak through Free2, on the internet.
Overall Somak was very good. They made us feel welcome everywhere we went.
The reps were informative and did everything we asked of them.
The only downside was some advice from the rep in Mombasa who suggested ignoring the locals if they spoke to us when walking to the supermarket from the hotel.
This got us in a situation that was made very uncomfortable and is known in the tourism trade as a certain "effect" tourists have on the locals.
We saw the negative side to this on this one occasion and we were glad it happened on our last day otherwise it might have made the days there less comfortable.
Our driver/guide was amazing, looked after us and was a real gem in the holiday and safari experience.
Excellent knowledge of the country, animals and photo opportunities. He kept us safe at all times.
We want to go back to Kenya and book him privately to take us out next time.
Accommodation
One night in Nairobi (Nairobi Serena Hotel) - 4/5.
Two nights in Samburu (Samburu Serena Safari Lodge) - 4/5.
One night in Aberdares (Serena Mountain Lodge) - 5/5 (amazing, needed more than one night there).
One night at Lake Nakuru (Lake Nakuru Lodge) - 3/5 (saved by the views and not Serena).
Two nights at Masai Mara (Mara Serena Safari Lodge) - 5/5 (did not want to leave).
Three nights in Southern Palms (Mombasa) - 2/5 (hotel lovely, beach boys ruined the time at the beach and after being on Safari time on the beach it seemed wasted).
Food
Food was mainly supplied BLD most days.
Breakfast was a mixture of cereals, cooked, and pastries with fruit and juices. Some of the hot breakfasts had vegetarian Indian food (Mombasa prime example).
Lunches and dinner were very much the same concept buffet style with choices of all meats, pasta, fish, stews etc. Again an Indian selection was available.
Chefs were on hand to freshly cook the meat or prepare the food how you liked it.
They always started with soup and ended with a choice of about 10 desserts.
There were local options available: stews and certain dishes. Arrow root was served like a normal vegetable here.
Wildlife
We saw everything, so much so, we joked with the driver about wanting to see the Loch Ness monster and a yeti next.
The big 5 were completed when we saw a leopard at Lake Nakuru.
We were also privileged enough to see a lion kill. It was a fantastic moment of nature but we could not take any enjoyment from the event.
I hold a heavy heart with this event. 15+ vans watching this unfold felt wrong, Americans taking pleasure was a real downside to this.
I think sometimes these vans cause problems watching nature by cutting off escape routes or leading animals into danger (a small herd of zebra were forced down to the water edge in the Mara where crocs were waiting by a van reversing).
There were so many beautiful animals. Sometimes I would have liked to have stayed watching certain animals for longer or been given the opportunity to stop and take in the areas we were looking at.
Time constraints on the game drives did not allow this though. Had we found a big cat with young I could have watched them all afternoon rather than moving on to find another animal.
There were too many highlights: migration of the animals, the cats, elephants, rhino, giving bananas to a bush baby.
Amazing; but still feel like there is so much more to see and experience. I guess every time you go it changes and you come away with something different.
Africa has gotten into my blood and I am finding it hard to get back into normal life because I still want to be in the Mara searching and enjoying the animals that live there.

Typical Day
Early alarm, run to breakfast, get camera and jump in the van for an early morning game drive.
Return to the hotel for lunch and relaxing by the pool or searching out more wildlife and flora at the hotel whilst taking in the views.
Afternoon game drive into the evening, returning for dinner, a few drinks and early to bed because you are shattered and need to get up again early for a day of travelling to the next destination or another game drive.
Travelling was also an experience, six hours in the van seems a long time but with everything to take in, time flew past.
Other Activities
While in Nairobi we visited the giraffe centre (snogged a giraffe), Karen Blixen tea gardens and house and saw some of Nairobi like the slum area.
Sheldricks is a very special place, elephants are not treated like a tourist attraction and I think that is very important for them and their reintroduction into the wild when they are old enough. The keepers give love and time to the animals and their dedication is inspiring to anyone who sees it.
Hot air balloon ride was amazing, little expensive but worth the memories of sailing above the Mara in complete tranquility, watching life awaken below with the sun rising to bring the plains to life.
Crash landing in Tanzania might have been more difficult than it was (no passports), but I think it made the experience even more worthwhile than setting down comfortably.
We did visit a Masai village, but were left feeling it was a show rather than a true cultural experience, the children were fantastic and acted like excited children but everything else seemed false and for our benefit especially when we were led to stalls in the village selling gifts to buy.
We were not allowed to give pens to the children and I fear whether they will actually get them at all. I am glad I went but wish we had seen a village not set up ready to receive us.
We all really wanted to visit a school but this was not possible.
Our boat trip was canceled due to the weather, I had pre arranged this before we went as it was a birthday surprise with cake made by the local baker. (Mombasa weather was a real downer.)
We were really looking forward to this part - the reason why Mombasa felt like a real let down.
Disappointments
Just not enough time out watching the animals (and night drives thrown into the mix).
Tips and Advice
Do it without a moment's hesitation - it will change your life.
The most useful item in my luggage was my camera (close up shots of the animals are so amazing).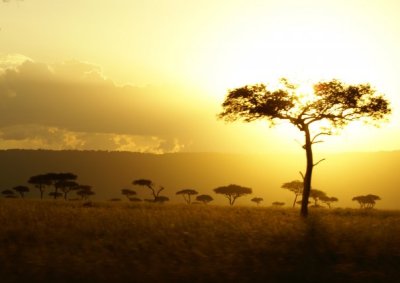 More Samburu Safari Reviews