Guided Kenya Safari Feedback
by Sue Sinkinson
(England)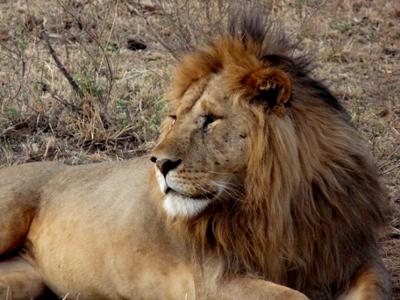 Our safari was absolutely fantastic and we have some brilliant photos. However our safari driver/guide was a huge disappointment and it was annoying to speak to other people on our safari who were lucky enough to have brilliant guides who would do anything for them.
Safari Operator Performance
We found Somak Safaris through research on the internet but booked through an independent travel company - Escape Worldwide.
They performed reasonably well, although there were a few things that could have been done better. However, these were minor irritations that did not spoil the overall experience of the safari.
We were unlucky with our guide as he was very poor, and did not give us any information about the animals or the national parks, or indeed anything at all, and at times was very reluctant to do what we asked him to.
Fortunately we had a very knowledgeable couple in our vehicle and if it hadn't been for them we wouldn't have had a clue what many of the animals were.
Accommodation and Food
We stayed at Samburu Game Lodge (Samburu), Treetops (Abedares), Lake Nakuru Lodge (Lake Nakuru) and Keekorok Lodge (Masai Mara).
It was disappointing that there was no water in the river next to our Samburu lodge, nor at Treetops and this meant that we did not see some of the animal activity that we had hoped for, but this was obviously out of anyone's control.
All meals were self service:
Breakfast was usually bacon, sausage, eggs cooked to order, tomato, beans etc i.e. typical fried breakfast, but there was also cereals, fruit, yoghurts...
Lunch and dinner were much the same and generally consisted of a selection of meats, fish and vegetarian all cooked in sauce and smelling nicer than it tasted. There was also salad.
Desserts were generally disappointing - crumbles, bread and butter puddings, various other cold desserts again pretty tasteless.
Wildlife
Lion, Rhino (white and black), Elephant, Leopard, Giraffe, Cheetah, Zebra, Gazelle, Gerenuk, Hippo, Oryx, Buffalo, Water Buck, Hyena, Jackal, Vulture, Eagle, Bustard, Crocodile, Superb Starling, Vervet and Colobus Monkey, Baboons, Rock Hyrax, Wildebeest, Dik Dik, Warthog, Stork, Ostrich, Giant Tortoise, Agama Lizard.
Typical Day
We were up at 5.30am for a 2 hour 6.30am game drive. Return to lodge for breakfast.
Free time till lunch then further free time (spent relaxing around or in the pool) till next 2 hour game drive at approximately 4 pm.
Return for dinner, relaxation and then early night!
Some days involved getting up and having breakfast straight away before setting off for the next destination - usually a very long drive!
Other Activities
We had an hour in a hot air balloon followed by a champagne bush breakfast. Although very expensive it was a wonderful experience and our 'guide' for the flight was brilliant.
We also visited 2 villages, one in Samburu and one in the Masai Mara.
The first was far more interesting as they spent plenty of time with us whereas in the Masai Mara we were rushed round, I think because the children were on their way home from school for lunch.
In both villages we did not like the pressure put on us to buy things.
Tips and Advice
Go to bed early each night as it is a very tiring experience!
Our cameras and
binoculars
were the most useful items on safari.
Join in and write your own page! It's easy to do. How? Simply click here to return to Africa Tour Operators Reviews.