Tanzania with Thomson Safaris
by Joanne Papa
(USA)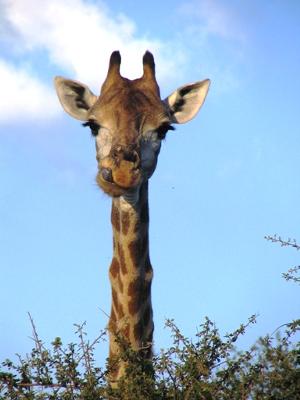 Watching lionesses stalk wildebeest, giraffes whacking their necks at each other, elephant coming up the road to our rover and leopard walking under our rover... it is the trip of a lifetime.
Safari Operator Performance
In Tanzania we used Thomson Safaris while also researching using travel books and internet.
Overall Thomson was very good. The guides were excellent. The accommodations were adequate. The food was ok. The food choices were limited and the portions were small. The dinner soups were good and a highlight of the meals.
One disappointment: on the return from Serengeti back to Arusha, Thomson separated me and my daughter from the rest of our group. The group flew together on a charter, and the pilot flew over a volcano and noted other sites. The group then went souvenir shopping. We missed the personal touch of the charter and also the shopping trip.
In Kenya we made our own independent arrangements.
Accommodation
In Tanzania we stayed at Kigongoni Lodge, Arusha - pretty location, adequate accommodations and breakfast.
KIA Lodge, Arusha was attractive, and had good accommodations.
All Thomson Nyumbas (tents) were nice, the Ngorongoro location was spectacular.
In Kenya we stayed at Giraffe Manor, Karen, outside of Nairobi. It is a beautiful manor, excellent cuisine and wonderful opportunity to get close to the Rothschild Giraffes.
Also a private tour of the Giraffe Centre and Nature Trail is included with Giraffe Manor.
Elephant Bedroom, banks of the Ewaso Nyiro River in Samburu National Reserve which is a luxury tented camp with excellent staff and meals.
We then stayed at Intercontinental Nairobi, pleasant dayroom before late flight back to Europe, then USA.
Food
THOMSON -
Breakfast included coffee, tea, hot chocolate, juice, toast, choice of eggs - scrambled, fried, dry cereal, jams, peanut butter, fruit and either a hot cereal or thin pancakes. Either bacon or sausage or beans was also served.
Lunch – At camp – all offerings were served on one plate. A typical lunch included spaghetti with either a meat tomato sauce or plain tomato sauce, peas with hard boiled eggs, cucumber, avocado salad, and pudding.
Box Lunch – On Safari – you choose from an assortment of packages, including a cheese, fruit - usually bananas, vegetable stuffed pastry, cooked vegetables, box of fruit juice. Some lunches included a meat in shape of meatball, not a favorite in our group. Sometimes chocolate bars were available.
Dinner – Roll, soup (very good), entrée of meat (either chicken, meat, pork) vegetables, rice, salad.
Dessert was a small piece of cake, pastry, or donut. Tea, coffee and water were served. Wine and beer were extra charges.
GIRAFFE MANOR –
Quality breakfast of fruits, cereal, toast, eggs and much more in lovely setting with giraffes peering into the windows of the breakfast room.
Lunch – Parmesan cup with orange and pine nut salad, sweet and sour pork spare rib, with vegetable rice, tropical fruit bruleé, coffee, tea, Italian red and white wines.
Dinner – roasted tomato soup, beef Wellington, mashed potatoes, honey roasted carrots and sugar snap peas, melon and mango sorbet, coffee, tea, South African merlot and sauvignon blanc wines.
ELEPHANT BEDROOM –
Chef visits with you each morning and reviews the day's menu. The chef willingly accepts special requests.
Quality breakfast of fruits, cereal, toast, eggs and much more in lovely setting overlooking the river.
Lunch – choices of 3 entrees and a dessert.
Dinner includes a soup, appetizer, choice of 3 entrees and dessert. A dinner included zucchini tempura, potato and tomato soup, leg of lamb with mustard sauce was one entrée, chocolate gateau.
Wildlife
Elephants, zebras, leopards, giraffes, lions, hippopotamus, rhinoceros, cheetahs, African wild cat, vervet monkeys, Grant and Thomson gazelles, hyenas, baboons, dik-diks, elands, African cape buffalo, jackals, impalas, warthogs, topis, waterbuck, wildebeests, crocodile, and other animals.
We viewed and listened to a large variety of birds.
In Samburu, additional animals viewed that are local to the area included reticulated giraffes, oryx, Grevy zebras, gerenuks and Somali ostriches.
Typical Day
Breakfast, safari ride, break for lunch and another safari ride, shower, dinner and talking. A nature walk was scheduled one day. An optional hot air balloon ride was scheduled.
Other Activities
Visited Maasai village near Ngorongoro Crater and school in Tanzania.
Tips and Advice
Ask questions about your accommodations and how travel is arranged, especially in a group.
Know what your accommodations are and the differences between lodges and tented camps with and without running water, and electricity.
Africa requires planning, visas, inoculations,
malaria pills
and the trip is also expensive. There are long periods of bumpy, dusty driving.
However, for me it was worth the expense and effort. I loved every minute. If wildlife, nature and the culture of Africa is of interest, this trip is worth all the effort and expense. It is the trip of a lifetime.
Remember to pack
items such as
binoculars
, headlamp, zippered hiking pants than convert into shorts, sneakers all of which I found most useful.
Joanne's Safari Details:

Rating: 8 (Tanz) & 9 (Ken)/10

Safari company used: Tanzania – Thomson Safaris; Kenya – Independent arrangements (make an enquiry)

Parks visited: Tanzania - Tarangire National Park, Ngorongoro Crater, Serengeti National Park; Kenya – Samburu National Reserve

Date of safari: 11 January for 14 days

More Thomson safari reviews »

More Samburu Safari Reviews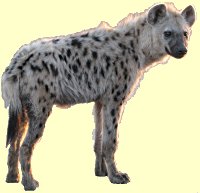 Join in and write your own page! It's easy to do. How? Simply click here to return to Safari Tanzania.