Kenya Elephant Safari
by Mike Garratt
(Wales, UK)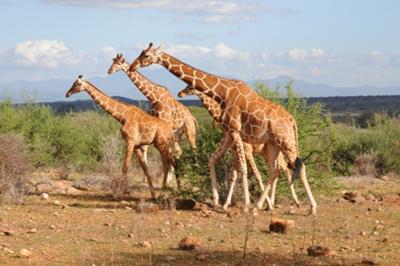 Apart from wildlife, we were surprised at the way people lived and worked, the apparent poverty and the lack of decent roads in largely populated areas. The driving was an experience not to be forgotten!
Safari Operator Performance
Somak (well known in the UK) was excellent, taking full care of us and describing all about the animals.
Our guide 'Wakalillie' was excellent, and taught us basic Swahili.
Accommodation
Holiday Inn Nairobi (1 night), Samburu Game Lodge (2 nights), Treetops (1 night), Lake Nakuru Lodge (1 night) Keekorok Lodge (2 nights).
Treetops was a great disappointment, as only one elephant and three water buffalo turned up all night.
Food
The food was plentiful and totally varied to suit all tastes. It was all buffet style. Breakfasts were eggs, bacon, sausage, potatoes, plus the usual yoghurts, fruit, croissants, etc.
Lunch and dinner had choices of fish, beef, pork, chicken, curries, rice, salads, etc.
Wildlife
We went purely to see elephants, we saw many everywhere we went. We did see the big five twice over, which apparently is somewhat rare.
Lions with their kill (water buffalo and Wildebeest) Leopard with kill in a tree (gazelle). Cheetahs, Giraffe (reticulated and Grevy) Rhino (mostly white, but one black in the Masai Mara).
The usual Zebra and Wildebeest trying to cross the Mara river. Crocodiles in Samburu. Hippos in Masai Mara plus the usual smaller animals like Gazelle and Impala, Dik Dik, Ostrich.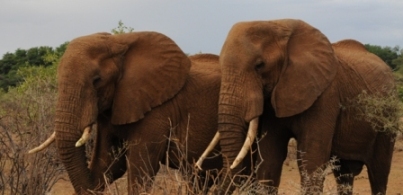 Typical Day
We were up at 5.30 each day and either out on a two-hour game drive or travelling to the next destination. After game drives we ate breakfast.
Lunch followed, then a late afternoon game drive. We had one day when we had a game drive from 07.30 to 17.30 complete with picnic lunch under an acacia tree.
Photography
The free
wildlife photography e-book
was useful to read in advance, but in the excitement of photographing the animals, all was forgotten as I just clicked away like mad. I generally stuck to a 300mm lens on a Nikon D300.
Tips and Advice
My camera and my Craghopper safari shirts/shorts were the most useful items in my luggage.
Safari clothing tips and advice on this site »
We put off this trip for probably 10 years-I regret not doing it sooner. Go for it - it is truly a memorable experience.
Use a reputable tour company, which give you a fully escorted tour.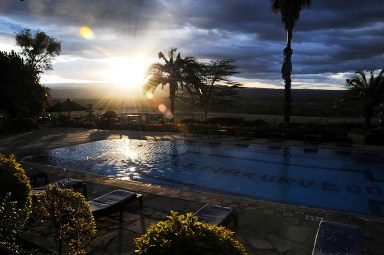 More Masai Mara Safari Reviews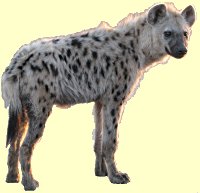 Join in and write your own page! It's easy to do. How? Simply click here to return to Kenya Safari.