Sardius Tours Review
by Sean Greene
(Derby Western Australia)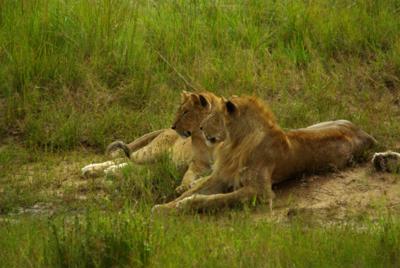 Lions at Masai Mara
We do not have any complaints about the accommodation which was all of a very high standard, the tour guides, who were wonderful and helpful, but I resent being out of pocket US$640 plus visa charges, when I had paid for all the safaris in advance.

Our Safari:

It was in Kenya and Tanzania, organized through Sardius Tours Nairobi. We wanted a safari just for the 2 of us, so we arranged to have our own vehicle and driver for both countries.

Sardius Tours Nairobi gave us the itinerary and we paid in full before arriving in Kenya.

We were supposed to be met at the airport by Felix (the company owner), or a driver ... he turned up 30 mins late, by which time we were a bit panicky!

We were told we'd be met at the Pan Afric hotel at 7.45 the next morning, but Felix only turned up at 8.30, so eventually we set off to Masai Mara, a journey over shocking roads that saw us arrive at 5.30 that evening, but the Mara Sopa Lodge was wonderful, the facilities excellent, and the food and service extremely good.

We had two full days at the Masai Mara, saw elephant, giraffe, lions, all the antelope, and a cheetah mother with 2 cubs, which were playing with one another ... wonderful!

The game viewing continued, we visited Nakuru, spent a day, rhino, lions, flamingos and more ... the accommodation was great, and lots to see, then we set off to Samburu ... where we stayed at the Shapa Lodge ... the roads once again are shocking!

The Samburu Shapa lodge was OK, but the drinks were very expensive, and we had to drive about 30km every day to get to the game.

Next we visited Sweetwaters Tented Camp ... excellent facilities and food, great game viewing, good food and a very relaxed atmosphere.

We had a bit of a hiccup when we were due to leave. They said the accommodation voucher hadn't arrived from Sardius Tours, but after being detained for over an hour we were allowed to leave. Felix said it was a head office mistake on their part.

My highlight here was being allowed to pet a fully grown white rhino who had been raised from a calf by the game rangers, and followed one of them around like a puppy dog (fantastic!).

Next was Serena mountain lodge at Mt Kenya, a lovely place, set high up in the misty rain forest with a waterhole out front (lit up at night for game viewing)... elephant, buffalo, water buck etc.

We then visited Treetops mountain lodge which involves a lunch at the Outspan Hotel and a night at Treetops - my advice is Don't Bother! The food at both the Outspan and Treetops is average, the waterhole is almost non-existent, the rooms are tiny and cramped, and the shower and toilets are across the passageway ... I wouldn't recommend it!

Tsavo West was the next place ... once again a BIG DRIVE we arrived late again so spent the whole day driving ... awful roads as usual!

Tsavo West was good; accommodation at the Ngulia Safari Lodge - good food, service and facilities. They hung a hunk of meat out the back of the lodge, and managed to attract a leopard in the evening - a great photo opportunity.

Amboseli (Amboseli Sopa Lodge) was next - a nice place with African style decor (as were most of the lodges), but the game reserve is about 20-30km away on (you guessed it) an AWFUL road, so you are better off getting a lunch box and spending a day in the reserve, as you wouldn't want to drive it 4 times in one day!

The next part of our safari took us to Tanzania ...

We were supposed to have a 5-day safari in Tanzania as part of the package, and this is where things went badly, beginning at the border town of Namanga.

We were supposed to be picked up there by our Tanzanian driver at about 10am as we had to get to Ngorongoro by the afternoon to have a game drive, but the Tanzanian driver didn't arrive until 1pm and then spent an hour trying to get his money sorted out from Felix.

We left eventually, driving at great speed to Arusha, and he tried (again unsuccessfully) to get the money organised. He took a call from Felix, handed me the phone, and Felix asked me to "lend" him about US$300 to pay for the game park fees, as the internet banking wasn't working.

I was reluctant, but it was getting late and the driver said that unless these fees were paid, we could not enter the park, and would have nowhere to stay, so I gave him the US$400 (which is what it turned out to be), and relied on being paid back within the next day or two as promised by Felix.

I did not get the money back, instead, the driver told me that he was still having problems getting his money from Felix for the game parks, as they would only accept US Dollars, and he had a card that needed to be charged up, but Felix had not put the funds into it, so I paid for all the park entry fees with Visa card and was told I'd get my money back at Namanga, when we were picked up to go back to Nairobi.

The total amount (which I have the receipts for) is US$640.

When we finished our Tanzanian safari, we arrived at Namanga at 2pm (we were supposed to be picked up at 1pm but were told it had been changed). We waited until 5pm. When Felix finally arrived, he was with a Nairobi taxi driver.

We got into the van after Felix had had a heated discussion with our Tanzanian driver, and set off at about 5.30 in the darkening evening, at high speed to Nairobi, and we arrived at about 8.30pm.

During the trip, I asked Felix about my money, but he just waved his hands and said it would all be sorted out. We arrived at a restaurant (where we were due to have our final night's meal) and went in to eat. Felix didn't say much during the meal, and we were not very enthusiastic about being there.

After the meal, Felix told us that he wanted to apologise for what had happened, and he said he had not had time to get to a bank to get us our money, but he would give us a bank cheque for US$660 (the extra $20 to cover bank fees etc).

He then proceeded to write a cheque and gave it to me. I said this is not a bank cheque, it's just a ordinary cheque from your bank account, and I will not be able to cash it in Australia, so he told me that if I gave him my bank account number and deposit details, he would direct deposit the money into my account, and I could post him the cheque back, with the receipts.

We sent him the details on 18th June 2009, and this included the bank account number, the swift code etc, but have still not received the money, despite a couple of emails.

I got an email from Felix saying be patient I will get the money to you, but this has STILL not happened, and I have come to the conclusion, that we will not get it now.

We left Kenya on 30th June and the money has not reached our account (as at 12 July 2009), I have also written to various forums listing Sardius Tours as an operator best avoided, but of course (given the current economic downturn) it reflects badly on ALL the East African operators.

Tips and Advice:

My advice to anyone planning the "Trip of a Lifetime Safari", is DO YOUR HOMEWORK - check out the operators, get a good map, and visit any Forums like this one that will help you weed out the dodgy operators.

If you are offered a safari in Kenya, do yourself a favour, get a good map of the place, and work out the distances between places ... we found so much of our time was taken up just driving over awful bumpy corrugated roads, and just getting to our destination (that with better planning could have been minimised - we seemed to criss-cross the country in a haphazard way).

If you have expensive digital camera equipment in East Africa, do yourself a favour and make sure you have a really good padded backpack type of camera case, and a dustproof cover you can drag over it whilst travelling. The drivers travel with windows wound down, the dust gets everywhere, the vehicles are old and the shock-absorbers are non-existent!

A couple of heavy duty garbage bags is a good idea as well for extra dust proofing whilst on the move!

Get a bean bag sewn up before you arrive. You can fill this up with rice, beans or corn when you reach your destination, and it's perfect for resting a camera with a long lens for those steady shots.


Sean's Safari Details:

Safari company: Sardius Tours

Parks visited: Masai Mara, Nakuru, Samburu - Kenya; Serengeti - Tanzania

Date of safari: May 10th for 21 days

More Masai Mara Safari Reviews