Man Eating Lions
by Sue Melville
(UK)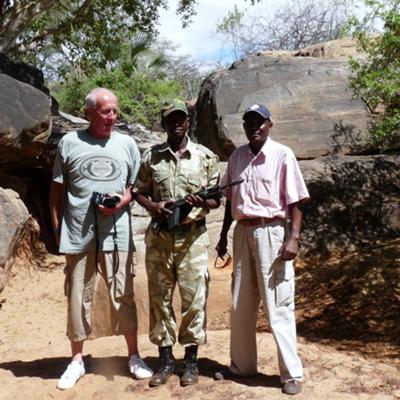 Outside the lions' den
When Shem learned that David knew about, and was interested in, the man-eating lions of Tsavo, he arranged for the game warden to take us down to see the caves that were the lion's den, and which had only been opened up the month before.
Safari Operator Performance
We booked with Julius T Safaris when we arrived in Kenya, because we wanted to do a lot of photography, and could book the vehicle just for ourselves, rather than there being 5 or more in the vehicle as was the case with booking through our travel company. It was much better value for money too.
The trip was brilliant. Shem, our guide, knew so much about the country and the animals. Nothing was too much trouble, and he went the extra mile to make sure that we saw everything we wanted to, and more.
Accommodation
We stayed at Ngulia Lodge in Tsavo West. The view from the balcony over the plains is something else. The lounge/bar and the restaurant look over the waterhole, and the staff put meat out every night to attract the leopards. We saw 2 leopards and a hyena that night.
The second night was spent at the Sentrim Tented Camp at Amboseli. Absolute knockout. I suppose it was a tent because it had canvas walls, and the electricity went off from 11pm to 5am. But we were on our way to breakfast at 6am, and looked up to the right, and there was Kilimanjaro, perfectly clear, with the snow on the top. Perfect!!
The third night was spent in Tsavo East at Voi Safari Lodge. It has the advantage of not only overlooking the waterhole, but has a hide so that you can get up close and personal with the visiting animals. However, we did find that the accommodation, whilst adequate, was a little jaded and the staff's attitude was not what we had experienced elsewhere.
Wildlife
We saw just about everything. Elephants, lions, leopards, buffalo, cheetah, hyena, giraffe (2 varieties), zebra, hippo, crocs, impala, kudu, thomsons gazelle, grant's gazelle, pretty little dikdik, water buck, "giraffe deer", and mummy black rhino with baby.
We went to the sanctuary in Tsavo West but didn't see any rhino, so thought we weren't going to see any.
What we
did
see was a leopard eating a giraffe. Unfortunately it was mainly behind the giraffe so wasn't clear for photos. However, we went off and returned later to see it had climbed into a tree right beside the road. Real typical leopard pose and photo opportunity.
A couple of days later, we were just turning into the lodge after our late afternoon game drive when there was chatter on the radio. Shem turned the bus around, and tore back down the road. When we reached the other vehicles he told us that rhino had been spotted amongst some elephants. After a few minutes, the rhino and baby appeared from below a rise. Shem was as thrilled as us. He said "The big 5, the big 5" and punched the air.
I took nearly 900 photos over the 4 days.
Other Activities
We also booked to go around Mombasa with Julius. Again, Shem was our guide and was so knowledgeable.
The visit to the co-operative where the carvings are made was a real highlight and, typical of Kenyan hospitality, one of the ladies lent me her umbrella because it was pouring with rain.
I can't wait to go back to Kenya.
Tips and Advice
There is a lot of competition for your business, and pressure may be put on you by your holiday company. You may be told that if you have booked your holiday insurance with your holiday company, it will only be valid if you book a safari organised by them. Of course if you have your own independent insurance, you can please yourself.
You will find it a lot less expensive if you book your trip locally when you arrive.
You need to be certain that your safari company has all the requisite licenses and insurances which Julius T Safaris does.
How to choose between Africa tour operators »
More Tsavo Safari Reviews