Intrepid Safari Review
by Fabiano Mazza
(Canada)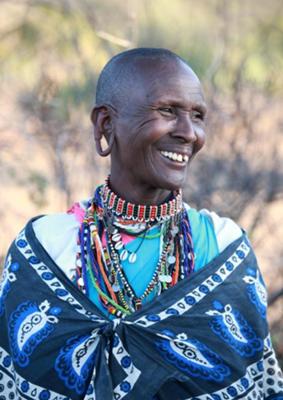 The Intrepid trip was a very good mixture of culture and wildlife. We took the trip called Masai Heartlands and manage to interact a lot with local people and see several small towns and everyday life. The day spent in the Loita Hills Masai village was incredible.
Safari Operator Performance
We used Intrepid for Kenya and Tanzania (found them online).
I would use them again anytime based on this trip. Well organized, very good food, fantastic guide and driver. Thumbs up!
My only complaint is that the truck should have a 110V outlet to charge batteries; it only had a 12V or 24V.
Also it would be nice a fridge to keep beers colder without need for ice, but that's asking for too much I reckon.
Accommodation
It was a camping safari - I would not do it otherwise. We spend the nights in the following places:
1. Hotel in Nairobi
2. Campsite by Lake Nakuru
3. Nakuru town, campsite by Lake Naivasha
4. Passed by Narok town
5. Night camping next to Loita Hills Masai village
6. Camping inside Masai Mara
7. Hotel night in Narok town
8. Night in Kisi town, bed and breakfast
9. Camping in Musoma town, by Lake Victoria
10. Two nights camping just outside Serengeti
11. Camping close to Ngorongoro crater
After the safari we (me and wife) went to Uganda and stayed in Entebbe, Kampala, Jinja and Bwindi.
In Bwindi had fantastic accommodation (permanent tents) run by the community just at the entrance of the Bwindi national park where we did Mountain gorilla tracking organized by the UWA (Uganda Wildlife Authority).
Food
Good food overall during the whole safari, lost of salads and fresh groceries, little meat. Typical food cooked by the Kenyan cook every now and them. Nothing to complain about.
Wildlife
We saw pretty much all that was there to be seen, including four leopards however they were far away and did not get good pictures. I wish we had seen a leopard closer.
Highlights include: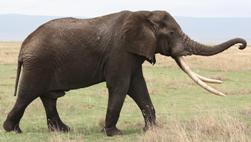 - Flamingos at Lake Nakuru
- Cheetahs hunting and eating (more than once) but no cubs...
- Lions mating (the noises are incredible to hear)
- Lions and cubs (more than once)
- Plenty of hippos, they are everywhere
- Crocodile eating dead hippo at river in Masai Mara
- Elephants everywhere but the best was a huge male in the Ngorongoro Crater
- Mountain gorilla family with a silver back (Roshegura family) at Bwindi
Typical Day
Wake up early and have breakfast, clean up and rig down camp if moving to different place.
Drive all day with stop for lunch, either game driving or driving through countryside stopping in small villages and sites of interest.
Tiring if one is not used to camp, but the Intrepid crew helps a lot. When arriving at new location we make up the tents, cook, eat, clean up and have a few beers by a fire before going to bed.
Photography
The free
wildlife photography ebook
was good as my knowledge is very limited on wildlife photography.
I tried to use all the techniques suggested and my pictures would have been a lot worse otherwise.
I think it would be nice to expand on the need for a telephoto lens with examples of what happens when you don't have one...I used a Canon 5D with a 70-200 f4 and 1.6x extender and it was barely enough. Missed a lot.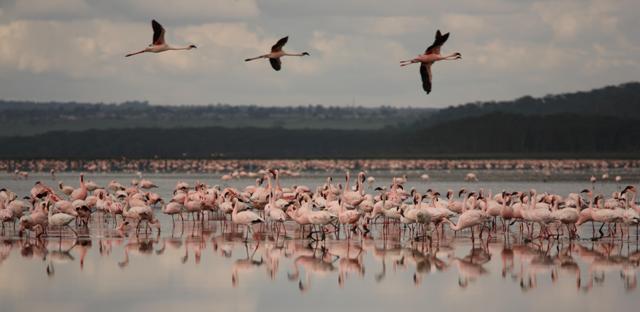 Tips and Advice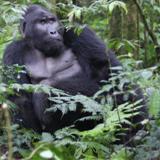 Do it!
My mosquito repellent and
Malarone pills
were most useful. Then spare batteries as many places it is hard to find power outlets. A flash light is a must have.
I wish the trip was longer (my wife was OK with the length).
Uganda was easy by ourselves and the
Gorilla tracking
was amazing.
Fabiano's Safari Details:

Rating: 10/10

Safari company used: Intrepid (make an enquiry)

Parks visited: Kenya (Lake Nakuru, Lake Naivasha, Masai Mara), Tanzania (Serengeti, Ngorongoro Crater), Uganda (Bwindi National Park)

Date of safari: 30 October for 22 days

More Masai Mara Safari Reviews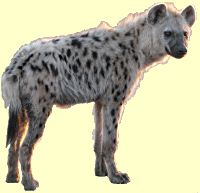 Join in and write your own page! It's easy to do. How? Simply click here to return to Kenya Safari.