Kenya Wildlife Safari
John and his wife went on a Kenya wildlife safari just before the rainy season which turned out to be a good move because they hardly saw any bugs. I talked to him on the phone to find out more about his safari...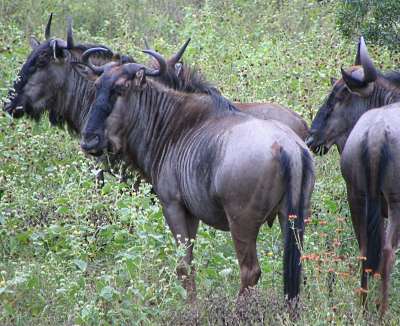 Which safari company did you travel with?
Tatum International Travel & Tours Inc - we dealt with Yetta. They were the ones who tied us in with Naked Wilderness who was the safari operator in Kenya.
Was it a pre-designed itinerary or tailor-made for you?
Pre-designed.
How did they perform?
Tatum was pretty good.
As for Naked Wilderness, Thomas from Nairobi was the manager of our group. He's really a great guy. He wasn't our guide but he took care of everything. We had a strap on our baggage broken and he took it down to some shoe repair guy he knew around there and they sewed it back on.
In Los Angeles you wouldn't get anybody doing anything like that.
How were your Kenya wildlife safari guides?
We had really experienced drivers on both parts of our trip. One guy took us to every place but Masai Mara and he was really good.
The Masai Mara guide's been there probably 25 years and he knew every hiding place.
We were really really lucky.
How big was the group you travelled with?
That's another good part about it. At the Masai Mara there were three Australians that were nice, otherwise it was just us. That made our Kenya wildlife safari really good. It just kind of worked out that way that she [Yatta] didn't have anybody else going along.
| | |
| --- | --- |
| Where did you stay what was the accommodation and food like? | |
We started our Kenya wildlife safari off at the Ark in Aberdare National Park, then we went over to Mt Kenya Safari Club, Samburu Serena Lodge and then to Sarova Lion Hill at Lake Nakuru where all the flamingos are.
Then we flew to the Masai Mara. We went back to Nairobi and then we flew there. I don't know whether it was a good idea to fly or not, but it was part of our package deal. We had three flights during our trip.
The accommodations were great. The desserts were the best I've ever had any place, better than a cruise ship. The way they were presented, the varieties, the taste.
The food in general was really good - not too much variety, but it was fixed nice.
| | |
| --- | --- |
| Did you see much game during your Kenya wildlife safari? | |
Well they say there's the "big 5" and I think we saw the "big 13"! I think we really saw everything in the different spots... the flamingoes at Lake Nakuru...
We were really lucky.
At The Ark, they didn't ring the bell, because there wasn't anything that we hadn't seen in the daytime. One other couple we talked to said they had the bell ring because they had something special. I think we saw everything they had to offer during the day. It was great.
| | |
| --- | --- |
| Did you get to meet any local people during your Kenya wildlife safari? | |
Yes, in Masai Mara my wife got to dance with some of the Maasai girls. It was a nice experience, and she got a necklace.
| | |
| --- | --- |
| Was there anything that didn't meet your expectations on the trip; any disappointments or regrets? | |
No, I don't think so. She [Yatta] did everything, she got a good air fare and the land portion was really good.
Find out how to save money on flights to Africa...
Can you offer any tips and advice to others still planning their Kenya wildlife safari?
Well, the price wasn't the lowest but when I think of all the aspects - going by ourselves and the good service we had I think we really got lucky.
One thing: in Nairobi we were supposed to stay at the Safari Park but instead we got changed to the Nairobi Safari Club which wasn't near as nice as Safari Park. If people have a chance to stay at the Safari Park for the same price, I'd sure pick that.
Kenya wildlife safari packing list...
| | |
| --- | --- |
| How would you rate your total Kenya wildlife safari, on a scale of 1 to 10? | |
I'd give it a 10-plus.
For the money, I thought it was really good value. We came in about 300 USD a day per person and that's a little higher on cruises (some are 100 or 150 USD). I thought it was really good value for all the things we got to do.
| | |
| --- | --- |
| Safari Location: | Kenya: Aberdare National Park, Mt Kenya, Samburu, Lake Nakuru, Masai Mara National Park |
| Safari Company Used: | Tatum International Travel & Tours; Naked Wilderness |
| Duration: | 10 days, October 2006 |
| Traveller Details: | John (California, USA) |
| Rates & Availability: | Plan your own safari. Make an enquiry |
More Masai Mara Safari Reviews