Masai Mara National Park Travel Diary
We drove from Nairobi in a four wheel drive and arrived during the late afternoon at the Masai Mara National Park. There were four people in our group excluding our Kenyan guide and we stayed at Planet Safari tented camp close to a Masai village and Hippo Lodge.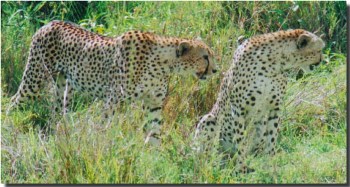 The Masai village was less than 5 minutes walk away and there was no electricity at the camp. The dining area did however have one Kerosene lamp. The tents were OK but we needed to take sheets and blankets as they only had the beds and mattresses. There was little choice if you were a vegetarian but the food was ok.
Hyenas laughed around our camp at night and the next morning some vervet monkeys visited the tents.
Masai Mara National Park Game Viewing
We did an evening game drive. My purpose of coming on this safari was to photograph as many species of wildlife as possible. So I kept my Yashica 108(SLR) camera ready with plenty of 800 ASA films and a 200 mm telephoto lens. I set the aperture to f22 which I thought was suitable at that time.
Just at the inside of the entrance to the Masai Mara National Park we found the den of a bat eared fox. Each time we entered the park these foxes, about 5 of them, were always playing and lying around.
On our game drive we saw wildebeest, zebras, elands, topi's, hartebeests, impalas, grants gazelles, Thompson's gazelles, giraffes, elephants, baboons and two female lions.
On our second day in the Masai Mara National Park we took a packed lunch and spent the whole day there. We visited the Mara river and Tanzanian border. We passed the bat eared foxes near the entrance and saw wildebeest, zebra, eland, topi, hartebeest, cape buffalo, impala, Grants gazelle, Thompson's gazelle, elephant, baboon, warthog, silver backed jackal, giraffe and a bushbuck today.
At the Mara River we watched several hippo in water and out of water lying on a sand bank. A couple of crocodiles were also lying further up the river.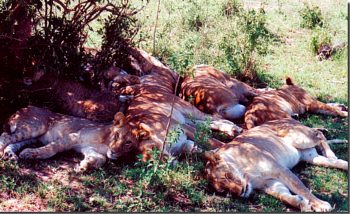 We saw a male and female lion in the morning in a beautiful pose but before I could click it they had changed their pose. In the afternoon we came across a pride of lions - nearly all females and a couple of juvenile males napping under some bushes. There was no adult male in the group.
We looked for leopards and cheetahs which are reasonably common in the Masai Mara National Park in the evening. We saw remains of wildebeests and gazelles hanging from trees but no leopards. In the late afternoon near a small water hole we came across three cheetahs. One cheetah was well hidden but the two others were giving us an excellent pose.
Towards the evening we came across a hyena sitting on a mud puddle middle of the road. It started to run as we approached him. Another hyena that was in its den emerged and ran in an opposite direction.
In the late evening we did spot a single black rhino far away near some bushes. As we approached it, it disappeared into the bush. We tried to look for it and at one point saw its head again but we couldn't follow it because of the bushes in the Masai Mara National Park.
Masai Village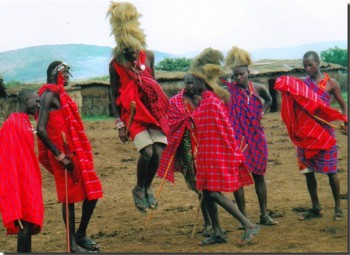 On the third day, we did two game runs and a visit to a Masai village. We always saw the bat eared foxes as we entered the Masai Mara National Park. Today we saw the little dik dik, a rabbit and a male ostrich sitting on the eggs for the first time.
We also saw a group of about thirty mongooses running together but we were not able to photograph them. We also saw the other plain animals now we were so used to them we were not as excited as we were when we first saw them in the Masai Mara National Park.
I took a personal hike through the bush with a Masai Mara National Park guide. Found a couple of Hyena dens and peeked into them but found no hyena.
Later when we visited the village after paying the village leader 1,000 Keyan Shillings for each person, the Masai did a lion dance with three lion head skins they had speared when they attained manhood.
They also allowed us to take photos of their village (Masai usually do not allow or like themselves to be photographed). They also lit a fire with two sticks and explained their life style in their village.
They had a little market where I was keen on seeing impala horns and Ostrich eggs for sale at about 1000 Kenyan shillings each. I would not buy them as it was illegal and would motivate the Masai to take away more eggs from the ostrich.
That night we visited a lodge (Mara Lodge) nearby and they had a hyena feeding program at 10pm. We saw the food being put at 10pm and about 30-40 hyenas came out of the bush immediately but as there were so many people flashing the cameras they disappeared into the bush quickly before I could take a photo. However I was able to take a photo of a jackal that came to the feeding station.
The final day in the Masai Mara National Park we did one morning game run before returning to Nairobi. We did see a fully grown male lion digging something while two silver backed jackals watched near by. A blood spattered skull of a warthog was nearby lying on the grass.
We figured the warthog was killed and kept in hole by the lion and he was now digging the hole to get the meat out. After some time the lion came out with a muddy piece of meat and sat down to eat it. When the jackals got too close the lion growled and went towards them and the jackals quickly ran to a safer distance.
We saw our bat eared foxes for the last time as we left Masai Mara National Park on November 30th.
Lake Naivasha To See The Hippos
We did a day visit to Lake Naivasha today. I was keen on seeing hippos which I hadn't seen enough of in the Masai Mara National Park.
After driving with two of my Kenyan friends we reached Naivasha city in about 1~2 hours from Nairobi. We tried to go to a place called Hippo pools on our map but were disappointed as the main road did not have access to the hippo pool area.
Nearly all the points to the lake were covered by tourist resorts. Being disappointed about not knowing how to get the lake we were again going to town when we found a board called Hippo Safaris.
We followed the dirt road that led to a boating dock with two motor boats. We rented a boat for 1250 Kenyan shillings per half an hour and started our lake tour.
A pile of stones that we saw from shore turned out to be a family of hippos floating on water. As we approached them for a good photo two bulls charged us and were swimming at us like torpedoes.
Fortunately we had a motor and were able to speed away before the hippos got too close. We also saw a hippo out of water in the waters edge, grazing waterbuck, cormorants, pelicans, sacred ibises, fishing eagles, another group of hippos and Egyptian geese while going on the boat.
Later we visited nearby Hell's Gate National Park. We couldn't however find the caves. We saw the usual plain game species such as giraffes, warthogs, hartebeests, gazelles, zebras and buffaloes that we had seen in the Masai Mara National Park. We saw rock hyrax and klipspringer for the first time near the entrance.
| | |
| --- | --- |
| Safari Location: | Masai Mara National Park, Lake Naivasha |
| Duration: | 27 to 30 November 2004 |
| Traveller Details: | Jariya Rasaputra |
| Rates & Availability: | Plan your own safari. Make a Masai Mara National Park enquiry |
More Masai Mara Safari Reviews