Saki Treks Review
by Andrew Henwood
(South Africa)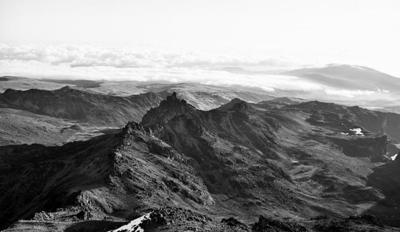 From Lenana Looking South-East
We entered at Sirimon Gate and hiked up Mt Kenya to Austrian Hut via Old Moses, Shiptons. We hiked out on the Chogoria route. Saki Treks recommended this route as the nicest route to the summit.
Trek Company Performance
We heard about Saki Treks* from other members of the Mountain Club of South Africa.
Captain Joe (
Joseph Muthee Kirieny
) organised the entire trip and was very happy to modify the itinerary when we requested.
The guides and porters were excellent – they were a pleasure to deal with and always cheerful. We really felt that we were part of a team. They were great companions on the hike, were very concerned for our safety and looked after us well.
It was great to speak to them about their lives, life in Kenya and get their insights on this wonderful country. We thought that they were very professional and always willing to go that "
extra mile
".
There were three of us doing the trek and we took all our own equipment but Saki Treks* provided cooking equipment that performed without problems.
Food, Facilities & Altitude
The food provided by Saki Treks* was excellent. Meals were well balanced with good helpings of protein, carbohydrates and vegetables. We ate some excellent local food including Nile Perch.
We stayed in huts at the higher campsites. The facilities at these huts were simple and sufficed for a night.
I walked and ran up to 5 kms per day for a month before the hike and climb to prepare.
We had good weather but it does, however, cloud over on the summit during the afternoon.
The tranquility and lack of other hikers was the highlight of the trip for me. The hardest part of the climb was the very long and slow walk on shale and loose rock up to Austrian Hut.
We purposely took a week to reach Austrian Hut and as a result of the slow ascent, we had no problems with the altitude.
Mt Kenya Trek Tips & Advice
Climb it slowly. So many people hike up too quickly, either of their own accord; or are forced to by unscrupulous operators who want to push as many people up in as short a time as possible.
I really feel the cold so I find it essential to have good gear – Goretex jacket and boots, wool socks, warm gloves and warm sleeping bag.
Check your gear before you go – make sure your ropes and other equipment are in top condition.
Once camp has been set up, hike up at least 150 metres higher to acclimatise a little more – take in the view, relax, think, have a sundowner drink or write your journal. We felt it really helped in minimising the impact of the altitude.
Do not forget the sunscreen – SPF20 minimum or you will get toasted in the thinner air.
Andrew's Mt Kenya Trek Details:

Rating: 9/10

Trekking company used:Saki Treks
*Warning - read this more recent trip report for Saki Treks

Route Climbed:Chogoria route, Mt Kenya

Date of climb:26 February for 12 days