Mt Kenya Trek
by Jason Steeves
(Kenya)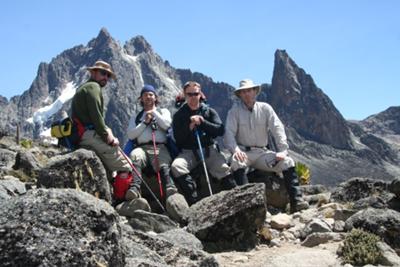 Mt Kenya
Captain Joe, our guide, was outstanding. I cannot say enough good about him. His knowledge, patience, and sense of humor were remarkable.
Food
Despite the fact that we brought our own food, Captain Joe still made some snacks for us.
We shared suppers together and we were amazed at what he could cook with so little in terms of resources.
Preparations, Weather & Facilities
The four of us did not prepare for our climb.
We had wonderful weather during our climb and the facilities were adequate.
Highlights & Challenges
Climbing Point Lenana was one of the highlights of our climb. It was also the hardest part of the climb.
Our group had some problems with altitude, but it was manageable in the end.
I have no regrets or disappointments regarding any aspect of the trek.
Useful Items
We were self contained so brought all our own equipment. I would say my sleeping bag was my most useful item.
What to pack for a Mt Kenya climb »
Jason's Trek Details:

Rating: 7 to 8 out of 10

Trekking company used: Saki Treks

Route climbed: Mount Kenya, from Naro Mora

Date of climb: 7-11 January, 5 days

More Mt Kenya Reviews