Kobo Safaris Review
by Marianela Araya Quesada
(Costa Rican living in Italy)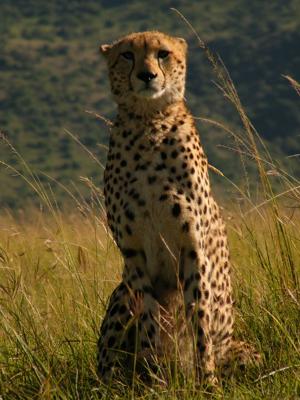 The guides were knowledgeable and respectful, they knew about animals of course, but also about the local customs and traditions which made our trip very interesting. We asked for an English guide since they seem easier to find, but once they knew we were from Costa Rica, they appointed one who spoke also Spanish!
Safari Operator
I found Kobo Safaris on the web. They were very good. Everything was like they said it would be.
The vehicles were in great condition. They always had enough water for us, and even gave us some gifts.
There was only one thing I didn't like: our guide was not flexible when one day we requested to start our afternoon drive 30min earlier in order to avoid the rain… It was no big deal, a minor incident in trip full of success.
In general I recommend Kobo Safaris, they are professionals with a lot of experience.
Accommodation
Saruni Samburu (2 nts) - a dream, fantastic, my favourite of the whole trip, everything was perfect! The personnel are superb. Monique (lodge manager) arranged a surprise for us on our anniversary. Our guide Chris, a young Samburu guy was very patient and respectful. The game drives were very nice.
The suite is semi-open to the with unbelievable views and gives you a feeling of being outdoors. The outdoor shower was incredible, as well as the sunrises!
If you want romance, adventure and luxury, this is it! I highly recommend taking a full-package at Saruni (which meant not using our Kobo guide for the time we were there).
Sweetwaters tented camp (2 nts) - very nice…staff very kind and the bed fantastic! Not as luxurious as Saruni/Kichwa. The food was not great, but they have a lot of choices. There's a water hole near the restaurant... in particular it was great to see a giraffe drinking! We saw a lot of animals; the place has a magical atmosphere!
Sarova Lion Hill (1 nt) - nice enough but not great. The food was not fantastic, but not bad either. They had a nice dinner show in the restaurant. The bad part was the huge clouds of mosquitoes! But that's the Lake Nakuru area and not the hotel.
We spent 4 full days in the Mara because of traveller reviews. We did an extensive web search for the lodges - very fatiguing. We selected Kichwa Tembo for 2 reasons: 1. There were hundreds of comments about it and ALL of them good! So many people can't be wrong. 2. Their fly-in safari promotion from Wilson airport. (Again we booked a full package so our Kobo guide left us at the airport and picked us up after.)
Kichwa Tembo marvelous! I'm in love with it. The service is fantastic and you feel at home. They remember your likes and dislikes. At your arrival certain staff are assigned to specific guests.
The place is surrounded by nature and with a great view of the plains. Our luxury tent was beautifully decorated and with a very comfortable bed. The bath products were also very nice.
Breakfast and lunches are often outside in a fantastic place. The food… no doubt it was the best of the whole safari! Dinner was memorable…apart from the food, they made the atmosphere romantic and wild, had Masai dances and a handicraft market. At night an armed guide escorts you to your tent and stays around in case you need something, however your privacy is respected.
One night I was not feeling well, so my husband called the guard who informed our waiter, who brought me some hot tea with a local medicine. They really do make you feel comfortable and safe. There's also a permanent doctor in case of emergency.
The game drives were the best! I loved the place, the endless plains, the golden colours, the sunsets, the animals, the air…but also thanks to our fantastic guide Lucy. She was kind, funny, knowledgeable. As in Saruni, the vehicles were great, and both provided blankets for the cold mornings. We saw many animals and had magnificent sundowners during the best sunsets I have ever seen.
Food
A typical breakfast included pancakes, breads, cookies, eggs, bacon, hams, meat, fruits, coffee & tea.
Lunches & dinners had different kinds of meat, lots of veggies and any kind of drink; a typical African dish and also international food options.
Meals at the lodges are always better than the packed lunches or bush breakfast…however the experience of eating in the bush is priceless!
Wildlife
Elephant, lion, hyena (even a den with cubs), zebra, Thompson's & Grant's gazelle, rhino, hippo, monkey, baboon, snake, cheetah, leopard, chimpanzee, giraffe, genet cat, dik-dik, lots of birds, crocodile...
We saw our first cheetah when landing in the Mara. The cheetah was on the runway…and didn't want to move until the very last minute!
We also saw a giraffe fight, and a baby elephant attempting to charge us!
Typical Day
The staff wakes you up with hot coffee/chocolate, then your first game drive or go for breakfast (unless it's a bush breakfast) and a briefing on the day's plans and then depart for the game drive.
Back at the lodge/camp for lunch… time to relax. Then time for a well-deserved nap, before departing for the afternoon game drive that often ends enjoying a sundowner/tea/coffee.
After sunset your guide drives you to the hotel, where you have time to relax, take a shower, and then dinner. Dinner at the lodge can be also substituted for a "bush dinner" experience, and let me tell you that is a "must do" at least once.
Other Activities
We visited a village in Samburu - an incredible experience which enriched the safari. We chose a Samburu village because of many reviews saying some Mara villages have become very touristic. It had been almost 2 months since the last non-native visit. The fact that the Saruni Lodge is exclusive (only +- 10 people) ensures you that the experience is more unique. As part of their agreement with the local community, they of course pay for the rent of the land on which they operate, and all their employees are from the area.
Disappointments
I think my trip was fantastic, but now that I've been there I'll go back to Masai Mara and Samburu, but not Lake Nakuru. It's a beautiful area, but not as beautiful as the others, and in its place I would choose a new location such as Amboseli or Laikipia.
Photography
"
Better Safari Photography
" had really useful tips. Not having been on safari before meant we didn't know exactly what to expect in many circumstances, so ideas on picture composition, framing, subjects and background blur were very useful indeed.
Camera model is Fuji SD2100 HD which stood up pretty well i.t.o. sharpness (even at full zoom), shutter lag and focus, even allowing for some really nice sunset and night pictures. It was also very useful to go around with a tripod and beanbag as suggested in the handbook.
Tips & Advice
Take your time to select your travel agency; a good agency can make you live a dream and a bad one might make you go through a nightmare and lose your money.
If time allows, visit more than one location to get a better impression of the country, its people and wildlife.
A fly-in safari saves time and gives you a different perspective, however I loved combining this with driving segments, since it allowed us to see many towns, markets, and people.
If your budget allows, go for a 4X4 instead of a minivan. The experience is not the same.
Make sure you take with you a good camera, batteries/chargers, raincoats,
binoculars
, comfortable clothing, and first aid kit.
If your budget allows, go for those more private and luxurious accommodation, since your safari experience will be completely different.
If you are looking for an authentic safari experience, places such as Kichwa Tembo are great.
Kenya is a wonderful country; full of contrast. We went for the animals, but we'll go back for the people.
Join in and write your own page! It's easy to do. How? Simply click here to return to Africa Tour Operators Reviews.