Aberdares Hiking Review
by Carola Gessner
(Germany)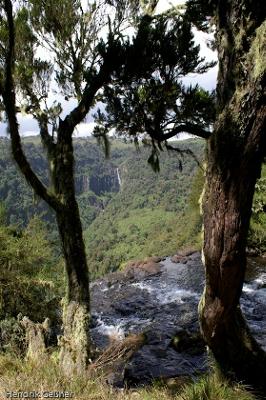 The best parts of the hike were the welcome by a herd of elephants across our campsite on the first day; to stand at the highest point Peak Satima and to overlook a great landscape (unfortunately Mount Kenya was enveloped in clouds); and generally, to walk through changing landscapes starting in pixie forest with fern and dosh, great waterfalls, rosewood forest, high moorland with lobelias.

At the beginning of our stay in Kenya we spent some days in the Kenyan-Tea-Highlands near Kapsabet and in the town Kisumu. Those days we arranged ourselves.

We like to go by railway because it is an adventure! The train is very slow; that means to look at the landscape is a pleasure and the offered full service (dinner, lunch, beds) is really nice.

So we decided to go by Kenyan Railways' night train from Kisumu back to Nairobi where we met our guide David/Lastmile Expeditons.

So far as known to me Lastmile Expeditions also offers bookings for train tickets (Nairobi – Mombasa – Nairobi and/or Nairobi – Kisumu - Nairobi) and reservations for coaches to different destinations.

It was arranged by David to pick us up by van at Nairobi main station and we went immediately via Nyeri to the Kiandogoro entry gate of Aberdare National Park.

The tour we walked was planned by David in advance. We trusted he would choose an interesting route because we did not have any ideas.
Hiking Operator Performance
David Wachira, Lastmile Expeditions, Nairobi. David is known to us from an earlier climbing tour to Mount Kenya.
We appreciate David as a very correct, flexible, certain and reliable guide.
The porters were very friendly, open minded and courteous during our walking tour as well as at campsites (packing equipment, serving food).
In the evening of a rainy day they persistently dried our wet clothes near the fire. All of them did a great job.
The walking tour (including pick up in Nairobi and return) was perfectly organised by the experienced guide.
Accommodation
After tour agreement we checked the necessary equipment in advance via e-mail. So it was known that we will sleep in tents.
Lastmile Expeditions provided the tents and camping mats.
Also a camping pavilion (roof) and seats where we took the meals and were protected during rain. Everything for preparing and serving food was provided by the operator.
We used our own sleeping bags.
Campsite Fishing lodge has a toilet available and in the lodge a shower. The other campsites do not have facilities available.
Food
Generally, the food was very good. We had at breakfast: Porridge, toast or French toast, fried eggs, sausages, butter, jam, fresh fruits, tea, coffee, milk.
At lunch and/or dinner: different kind of soup, fish, chicken, rice or noodles, vegetables in different typical kind: cabbage, potatoes, beans, tomatoes, spinach. Also fruits and always Kenyan tea (black tea with milk).
The Hike
We were four people (three women, one man). Because we spent one week before the hike at highlands we were acclimatised and did not have any problems with altitude.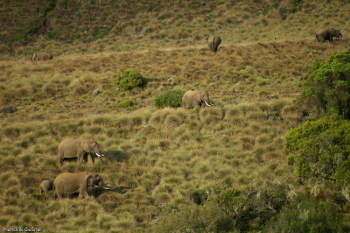 The weather was mixed. We had sunshine from morning until noon, after which it clouded every day. One day we had hard rain from the afternoon until night.
The hardest day was up to Satima peak (highest point of Aberdare 4011m) - not because of the altitude but because of the walking distance (32km).
It is a rule that all walking tours in Aberdare are escorted by a armed ranger. We learned that the ranger (not the guide) decides the route referring to security situation connected to wild animals.
Since it was very late in the afternoon David arranged in the shortest time a van for the last 10km to the campsite - we were very grateful.
Tips and Advice
For walking through Aberdare National Park good walking shoes and functional weatherproof clothes are needed.
The nights are cold (few degrees under zero) and you should use a warm sleeping bag.
Head-torch light, warm clothes and sleeping bag were the most useful items in my luggage.