Into Africa Review
by Marika Depooter
(Ukraine)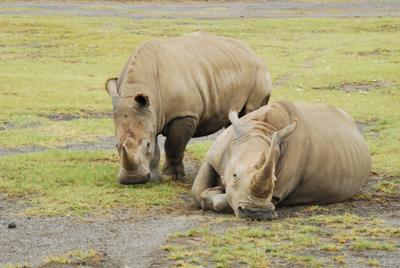 White rhino
We were protected by Masai warriors as we slept, slept under the stars and experienced the big 5 in their natural habitat. A truly remarkable experience.
Safari Operator Performance
We found Into Africa on-line, looking for packages that had extra hands-on local culture, gave back to the community in education projects, eco-friendly, used 4 x 4 vehicles, etc.
We really enjoyed all aspects of the trip.
There were 4 adults and 4 children, so keeping all of us entertained and interested was a big job for the guide!
He was very patient and flexible!
Accommodation
We stayed at the Mountain Rock Tented Camp, Bungalows (I forget the name) on Lake Nakuru, and Sentrim Amboseli.
Food
Our company provided a chef that travelled with us for the first 2 legs of the trip.
Breakfasts were American style (eggs, sausage, bacon, toast, beans, coffee, juice, tea).
Lunches were mostly brown bags (sandwiches, juice box, chocolate, fruit).
Dinner was a mix of pasta, meat, potatoes, rice, etc.
The food was good, but a bit repetitive. I would have liked to see more options as we were out for a week!
The chef did a great Christmas dinner, and made a wonderful cake for one of the kid's birthday! They danced and sang and had a great party.
The food at Sentrim was included – and was an amazing buffet for each meal.
Wildlife
We saw the Big Five in the first day alone!!!
Lions, Cheetahs, White and Black Rhinos, Elephants, Hyenas, Leopards, Warthogs, tons of kinds of birds, Giraffes (all 3 kinds), Zebras, Monkeys, Thompson Gazelle, Hippos, Baboons, Wildebeest, Snakes, Lizards, gosh and so much more!
Typical Day
Up for breakfast, usually leisurely time and out then for the day.
Picnic lunch, lots of time in the Parks, or in the village (we never felt rushed or out of time).
Usually some down time before dinner (good time to relax with a drink), dinner and then early to bed!
One day we went for an early morning safari, and came back for breakfast – great way to see the sun rise over the Massai Mara!
Other Activities
We stayed in a bush camp one night, guarded by Masai warriors!
We visited a couple of villages, we visited a school (Don't Trade Your Daughters for Cows), we visited a local teacher in a village whom we shared information with and learned about their lives and education in Kenya.
We then spent 10 days in Lamu on the beach, which was a really great and relaxing end to the holiday.
Tips and Advice
Bring along a lock to secure your tent when you are not there.
And remember your camera!!
Marika's Safari Details:

Rating: 9/10

Safari company used: Into Africa (make an enquiry)

Parks visited: Masai Mara, Lake Nakuru and Amboseli in Kenya

Date of safari: 19 December for 9 days

More Amboseli Safari Reviews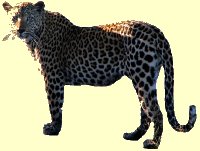 Join in and write your own page! It's easy to do. How? Simply click here to return to Kenya Safari.