Magical East Africa Safari
On our East Africa safari the highlight was the cheetahs. We had such a good trip. We saw 11 cheetahs on 7 separate occasions.
Seeing two of them in long grass - all of a sudden a head popped up so we stopped and watched them. They were stalking gazelle that were a good kilometer downhill, that we could see. We sat watching them for a good 45 minutes to an hour, just watching. I don't think I'll ever forget that.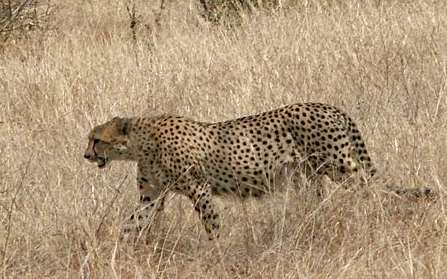 Which safari company did you travel with?
We'd actually gone on ordinary package holiday and we found a company Kuldip on the internet (a Kenyan east Africa safari company). We scoured the internet for a company that specialised in an east Africa safari specifically Kenya, rather than South Africa or Namibia or whatever. We wanted someone who knew the places that we wanted to go to.
That was the 1st time we went (2002) and we went with them again the second time (2005) - they were absolutely superb.
Was it a pre-designed itinerary or tailor-made for you?
It was tailor-made. They do have pre-designed east Africa safaris but we told them the sort of things we wanted, and they were actually very good. With the Tsavo safari, the places that we chose to stay weren't really the right ones for us and they suggested other ones which is what we did … and that's also why we went with them again.
Was there anything you didn't you like about them?
No, not really. If I were to go back again I'd definitely phone them. I'd definitely recommend them to others.
How was the guide(s)?
The guide that we had the first time was a guy called Abdulah. He's had about 10 years east Africa safari experience ... he was brilliant. He took us to places that he knew rather than following the local tour buses.
When we went back in 2005 we actually asked for Abdulah and we had him again. He's now sort of become a real friend. He's a Muslim but on Christmas day he phoned us to wish us a happy Christmas, from Kenya - and I thought that was incredible.
The second time we went on our east Africa safari, he came to see us at our hotel the day before we were going and said "we are going on 5 days together, if there's anything you really want to do or see, tell me now, because at some point during the 5 days we might have missed the opportunity if you come up with something later".
I told him that I wanted to see real Maasai tribesmen at work, not the ones that are sort of put there for the tourists and they dance around them. Abdulah said he'll see what he could find. And two days later in Amboseli he came and found us at lunchtime and said he's found a Maasai tribesman who's willing to talk to us and take us to his village. That's exactly what we did… and it wasn't like the ones the east Africa safari tours normally go to. It was brilliant.
So Abdulah was superb.
How big was the group you travelled with and what vehicle(s) did you use for wildlife viewing?
There were only four of us, both times. We were two couples on the east Africa safari holiday together so we booked it as a "four". We got our own vehicle and we did everything that we wanted to do.
The vehicle was a Land Cruiser. It was comfortable, there were only four of us and there's room for 9. That's also why we booked with a private est Africa safari company rather than a big tour operator. We didn't want 9 people squashed into a 9-seater. We wanted room to spread about and move around.
| | |
| --- | --- |
| What were the accommodations like? | |
In 2002 on the Tsavo east Africa safari, we chose three places to stay but before we went, Kuldip got in contact with us and said they didn't think we were looking at the right places because Tsavo is a huge place and two of them were so close together, that you were hardly going to get any difference, and the third place was on the other side and we would waste lot of time travelling from one to another.
So they actually chose different ones for us and one of them was really not our cup of tea… but that was fine because they didn't know us and there was nothing wrong with it, it just wasn't a standard that we would have particularly chosen.
The second east Africa safari (2005), we just said that we liked these two places last time; anything that is of that standard would be lovely. They were really good, actually. They chose some really good lodges and they were well spaced out for travelling.
One was the Mara Serena in the Masai Mara and in Tsavo - I think Kiliguni is a Serena lodge as well.
| | |
| --- | --- |
| How about food, what did a typical breakfast consist of, for example? | |
At the lodges - all sorts. Fruit, cold meat, omelettes, we lived on omelettes (loved them).
During east Africa safari drives we sometimes had packed lunches. The one day in the Mara, Abdulah took us from the one side to the other. It was the day that we moved lodges. There was so much food in those packed lunches, there was no way we could have finished them. We had meat in rolls, cheese in rolls, we had biscuits and crisps, lots of fruit like a banana, orange, apple… at least 4 or 5 pieces of fruit each. It was crazy.
We put the fruit that the five of us couldn't eat in a big box - and when we left the Mara and he was driving us back to the coast, Abdulah found a spot where the people really have nothing. It's not even a village but a few shacks on the side of the road and we gave it to the kids. They were crying with delight that someone would give them a banana.
The food on our east Africa safari was superb.
We had good weather, no rain whatsoever.
| | |
| --- | --- |
| How about the wildlife, what was the highlight of your trip? | |
In the 2002 east Africa safari, we wanted to see a big cat more than anything else and we saw everything but! Except on the very last day we finally found some lions in Tsavo. I think that was the one memory from the first East African safari that I will take with me forever.
We had five lions and we stopped towards them and all of a sudden a herd of buffaloes approached and the lions actually then hid in a bush. There must have been about 300-400 buffaloes coming past. There was a straggler and we could see the lions coming out of the bush, they were obviously getting ready to hunt.
All of a sudden from the other direction there was a herd of elephants. As soon as they appeared the lions went back into the bush and there they stayed.
That is something I will never forget.
We just saw cheetahs everywhere. Even Abdulah said that it's very rare to come across cheetahs so often, it was amazing!
The only animal we are yet to find, is a leopard. And I've got to go back, I don't care where I go in this world but I have GOT to find a leopard! I will one day!
There's a lodge in Tsavo - I think it's called Ngulia Safari Lodge- that hangs meat on a tree outside the lodge every night and there's leopard that comes and eats this meat. Abdulah asked us if we wanted them to book us into this lodge so we could see the leopard, and we said no.
To me, that is not how you go animal spotting on an east Africa safari, I don't ever want to do that. I want to go out there and hunt… and search.
I think that was the reason we saw so much: we had Abdulah driving, who was absolutely brilliant, as I say we were two couples (me and my husband and two of our friends) and we stood all over the vehicle. So I looked between say between 12 o'clock and 3 o'clock, my husband would look between 3 o'clock and 6 o'clock… so we divided the area around us so that we could search the whole horison.
We stood up the whole time, I don't understand people who go on an east Africa safari and sit down! I just don't get it!
Thinking about wildebeest - in 2002, of all the animals for a first time on an east Africa safari, I really wanted to see wildebeest. And they don't have wildebeest in Tsavo! And I didn't find it out until we were there. They all laughed at me and called me the "Wildebeest Queen" because all I wanted was the wildebeest and we couldn't find any. The only thing we did see was a hartebeest. And Abdullah pointed to it and said, "there you go! A cousin of the wildebeest!"
So when we actually went in 2005, the first time we saw a wildebeest, everybody cheered. We even had t-shirts made saying "follow the wildebeest!"
| | |
| --- | --- |
| Could you describe a typical day on your east Africa safari? | |
Up at about 5am, to grab a quick cup of coffee before going out in the early morning. We'd sit on the veranda at the lodge drinking coffee and meet Abdulah at the vehicle - always late, because we would have seen something at the waterhole and try to tear ourselves away. Dreadful it was, to try and do that.
Then we'd go on a game drive during which we'd all be standing up, always. We'd get back to the lodge around 10 for a big cooked breakfast and linger for a while.
Some days when we weren't really supposed to be doing anything until the afternoon drive at 4pm, Abdulah would come to find us and say "I found a Maasai" or something like that and we'd go out even when we weren't due to be doing anything. We'd do whatever he suggested, we would follow.
So by about 12 o'clock we'd be off again - the whole village came out and welcomed us. The music that came out of those voices were incredible. We then went inside the village and talk to them, they showed us how to make fire and all sorts of things. It was brilliant.
We got back to the lodge at about 2 o'clock where we had a late lunch and about 15:45 we'd go on another game drive, that was when we went down to the Mara River.
He stopped the vehicle at a spot where the wildebeest actually go down to cross and you could see where they have completely worn a path all the way down this one side and the crocs were actually in the water at that point. They must just sit there for months and wait.
It was the sheer scale of this pathway that had literally been worn away down into the river. It was amazing, it was just huge. When you see the migration on TV you really don't see the scale of it. And although the migration wasn't happening then, we could get an idea of the scale of it by the sheer scale of this erosion of the land as it went into the river.
By the time we got back to the lodge it would probably be about 6:15pm (we had to be in before it got dark). Then it would be a shower, get dressed, go for dinner and sit outside the waterhole, watching.
You knew you had to be up early in the morning for breakfast but you couldn't go to bed, you just can't tear yourself away from the vista in case something happened while you're not watching. So you can't go to bed. And every time someone would try to go to bed, 10 minutes later, somebody else would come and get them because something was at the waterhole!
By the time you get to the end of 5 days you are totally and completely exhausted; but I wouldn't have missed one single second of it.
Can you offer any tips and advice to others planning a similar east Africa safari?
Be aware of the distances you're going to travel in one day. You don't realise how far you're going. The roads are nowhere near what you'd expect them to be over here (UK). What would take you in this country (UK) about half an hour, in Kenya it might take you 3 or 4 hours.
And don't try to do too much in one east Africa safari. It is quite exhausting so I wouldn't recommend someone who's never done it before to go on an 8-week safari, otherwise they'd be too exhausted to enjoy it.
What was the most useful item in your luggage?
Wet wipes. You are so hot and sticky in the vehicle, you just need to cool down. You're drinking water, but when the dust is getting in your eyes, ears and nose, Wet Wipes are just the most important thing on an east Africa safari.
And of course, a bottle of water.
| | |
| --- | --- |
| How would you rate your safari, on a scale of 1 to 10? | |
2002 I would say, 7. Because we stayed in one place and we should have gone to other places as well.
2005 I would say, 9.
The only reason it's a 9 and not a 10 is because we did more of our own itinerary that year and we covered too much distance in a day. But that was our own fault - Kuldip had advised us that that was a huge amount to ask in one day and we went against their advice. The only reason they did it was because Abdulah knew us and the type of tourists that we were, we'd be able to cope with it. If it had been anybody else, they would not have agreed to it.
| | |
| --- | --- |
| Safari Location: | Kenya: Tsavo East & West (2002), Amboseli & Masai Mara (2005) |
| Safari Company Used: | Kuldip's Touring Company |
| Duration: | February 2002, and 5 days February 2005 |
| Traveller Details: | Ruth Osbourne (UK) and 3 others |
| Rates & Availability: | Plan your own safari. Make an East Africa safari enquiry |
More Masai Mara Safari Reviews