Kenya Safari Holiday Trip Review
We saw pretty much everything on our Kenya safari holiday. We loved the morning drives where the animals would be coming down from the mountains - the giraffes and we saw the two types of zebras, the Grevy's zebra in the north and the plain zebras in the south.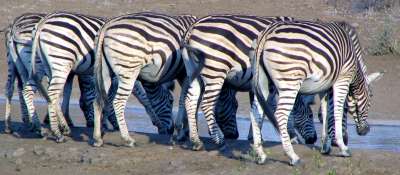 Where did you stay and what was it like?
We stayed in Samburu Lodge. That was very good. They were like little individual cabins - very comfortable.
Tree Tops was disappointing because it was freezing cold and it poured with rain all night. So we didn't get woken up. My husband stayed up quite late because there was a huge bull elephant in the watering hole tearing up things, he stayed up quite late watching that.
The guide during the day came to give us a talk, which was very interesting. He was telling us about the history of the area and what they've been trying to do and how they're trying to replant the trees that the elephants you know, take any notice of what they've done, and just carry on walking through the middle of them! Lake Nakuru was fine as well.
And the best one of our Kenya safari holiday, which we were quite worried about, was Keekorok Lodge in the Masaai Mara. It's been destroyed by a fire and it was actually only opened literally about a week or so before we got there and while we were there they were still building and that was superb. The actual sleeping accommodation was beautiful. The water pressure was low, so the shower didn't work very well - although it looked gorgeous. Food was wonderful everywhere, the main building was absolutely superb.
The hippo pool there was great. You couldn't leave the lodge in the morning until the staff had been and moved the hippos off the lawn, so that was excellent! I think there were about 15 of them in the pool.
And we did a hot air balloon trip. Unfortunately with the same company that this chap was killed a few months ago, so that was a bit sad. But that was really good, we saw two leopards up a tree, we flew past them in the tree!
| | |
| --- | --- |
| How did your Kenya safari holiday operator perform? | |
Wonderful, absolutely wonderful. There wasn't a single complaint that we had for the entire Kenya safari holiday.
Was the guide very knowledgeable?
He was absolutely superb. We were very, very lucky. He's obviously very experienced. He was so generous because he shared all his books, and if our binoculars weren't strong enough he'd pass things over. He made sure we had enough water and so yes, he was very good.
How big was the group that you travelled in?
I think in total there were about 40 people and then we were sub-divided and there were 6 that were in our van with whom we spent the duration of the Kenya safari holiday. They were strangers to us, we didn't know each other, because my husband and I travelled together… but we got to know them quite well.
| | |
| --- | --- |
| Did you have good weather on your Kenya safari holiday and what was the food like? | |
At Tree Tops it was very cold, I mean July - we didn't expect it to be too hot. It was fine in the north around Samburu; that was fine.
In fact it was perfect for the Kenya safari holiday game drives, you wouldn't have wanted it to be too hot. But as you came further south, it was quite cool. People have told us to take fleeces and things for the evening and we were really pleased that we had them, we wore them every single day of our Kenya safari holiday.
Could you describe what a typical breakfast and dinner consisted of?
You don't get your breakfast until you come back from your first drive. Then we'd have a cooked breakfast every single day. We'd have cereal, this gorgeous sort of fruity yoghurt thing that they did very well, and eggs. In fact, the chefs were just wonderful, they cooked lots of bacon and sausages and omelettes and things so we took lots of advantage of that.
But what amused us: at every place that we stayed in they have their own interpretation of sort of "English colonial food" and every day there were bread and butter pudding and crème caramel, it became a joke at the table.
Dinner, they're all buffet style that you went up and there'd be specialities or theme nights and you would go up and choose what you wanted and they would cook steaks in front of you if you wanted, or you could have the dishes that they prepared and left on hot plates - very good, we were very impressed with the food.
| | |
| --- | --- |
| Please describe a typical day of your Kenya safari holiday from start to finish and what was a highlight? | |
You got up very early in the morning, about 05:15, got straight up and dressed, quick drink of fruit juice, out into the van to be the first ones off at the hotel, so that we were ahead of the dust.
Joseph was very competitive and liked to be out first. So he would have a general consensus in the dining room, "right we will meet at 6 o'clock", and he'd give us a wink and that meant 15 minutes before. Yes, he was great. Then we would drive out onto the first part of the park.
We always went somewhere different, even if we did an afternoon drive, it was never into the same place. He tried to stay away really from the other drivers. He sort of took us away, because they were in constant radio contact so if they did see something interesting we'd hear about it as well.
Then you'd come back after about 2 hours, go and have some lunch, have a sleep, a shower and freshen up and go back out again in the late afternoon 'till it was going dark at seven. Then we were back again, and into dinner. We were never up any later than 10 o'clock at night! We were so tired.
What was one of the highlights of your entire Kenya safari holiday trip?
One of the highlights, and it wasn't part of the tour, but Joseph took us, I work in a school, and I wanted to go and visit a local school.
So we were very fortunate - we went to one up in the Samburu and we asked the chief if we could go in and the total of our party all 6 of us, went. One of the other couples, they were both teachers, so we were very interested, and we met a young Samburu woman who had gone to Nairobi and trained as a teacher, and then had gone back.
We had a really interesting morning spent with them, talking about their culture and the chief was very, very honest. He was saying how difficult it is for him, because he's educating his people but of course he's now in that balance - when they come back, will their life stay as it is. That was very interesting.
Then we went to another village in the Masai Mara as well, but I think they were a bit more used to tourists.
They were both wonderful experiences to go and see and they showed it with pride. And they were interested in the things that we did, and talk about all the football teams.
One poignant moment, and I've got the photograph of it, was a little girl in the Masai village, and they were obviously very, very poor and she was standing with a Manchester United shirt on, with David Beckham's name on the back. So Mr Beckham, if you could just see where your shirt is being worn now!
It was great, there was not a single thing that we would have changed at all. Everything on our Kenya safari holiday was just as we'd hoped.
| | |
| --- | --- |
| Were you lucky concerning wildlife sightings? What were the animal spotting highlight? | |
Well, our most impressive one was in the Masai Mara - we saw a python eating an impala. It was a female. No, sorry, it was in the Samburu, and it was on the afternoon drive.
The python was down to the impala's shoulders. That was amazing. Most people that we spoke to have never seen it. That was probably the main thing.
Did you manage to see lion?
Oh yes! We saw a lion that was fast asleep across the path in front of us. In fact, we almost run it over.
I think Joseph was pretending he couldn't see it, the driver. A male lion, that had been gorging on a zebra and he sort of walked around a bit after a while he got up and showed us where his food was. It's amazing, they almost look through you, as if they just don't see you.
We watched some courting ostrich, that was quite amazing. Poor male ostrich, the female just ran away.
Lion with huge porcupine quills in its face, that was a bit… but she was still out hunting, but she was on her own.
We saw the white rhino at Lake Nakuru, quite a few. In fact, that was a bit scary, because that was the only place we could get out on the Kenya safari holiday to go and watch the flamingos on the lake and there was a buffalo there and white rhino on the road. I was sort of checking that Joseph was keeping an eye on us, that we were o.k. to walk along, but yes that was great.
The thing I wanted to see which I've only ever read about, but never even seen on a television programme, was a rock hyrax. And I'd never heard of it. Apparently there was one at Keekorok Lodge, but I kept missing it and it was only the way back and we stopped in the Rift Valley for a vista shot.
There was a young chap there, and we didn't have any money left, we'd given all our things, so we gave him some pens. I was saying about this one thing I wanted to see was this hyrax, and he said "If you look down here Ma'am, there is one on this rock." I thought winding me up and he wasn't, it was there! So that was another highlight of the Kenya safari holiday.
We also saw hartebeest and bushbuck. We saw the start of the migration, not the main migration but you could see even over the two days that we were in the Masaai Mara the changes in the colours on the tops of the hills where the animals were coming through. That was really interesting.
| | |
| --- | --- |
| Any tips and advice for others interested in safari and how do you rate your Kenya safari holiday trip? | |
Yes, certainly take a range of clothing - some warm things, and a good guide book.
What was the most useful item in your luggage?
Actually this little journal, which was probably the most inexpensive item. Because it has the pictures of the animals and the birds and descriptions.
Obviously the binoculars and the wildlife photography tools - camera and video - yes they were useful and of course they helped us remember it. But the little journal with the photographs of the animals in was really valuable.
It sounds like you had a really nice Kenya safari holiday trip. How would you rate it on a scale of 1 to 10?
First class, 10. There was not one single thing that we said "oh, I wouldn't do that again". There was not a single thing. Great driver, great company.
| | |
| --- | --- |
| Safari Location: | Kenya: Masai Mara, Samburu, Aberdares and Lake Nakuru |
| Safari Company Used: | Rhino Safaris |
| Duration: | 9 days, July 2005 |
| Traveller Details: | Laurel Byrne UK - 6 adults in the group |
| Rates & Availability: | Want to go on safari yourself? Make a Kenya safari holiday enquiry |
More Masai Mara Safari Reviews