8-week Overland Safari
by Fay Whitelaw
(Australia)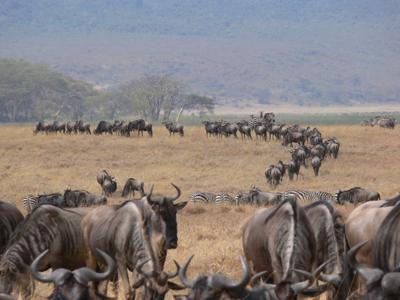 The definite highlight was the gorillas. Definitely the best thing we have ever done. The excitement when you see that first gorilla and the adrenaline rush when the big silverback walks right past you is indescribable. My husband was lucky enough to be touched by one of the babies running past!
Safari Operator Performance
Found Africa Travel Co after doing plenty of research - we wanted someone who would guarantee gorilla permits as that was the main goal of our trip.
We were more than happy with ATC.
We had travelled with Kumuka a couple of years earlier, and found their services to be very similar. The main difference was ATC have a cook, whereas the Kumuka left more responsibility up to us.
We had three different guides along the journey, and all were really good. The highlight would have to be Pete the Zimbabwean guy who did the first leg of the trip. He was great value and really knowledgeable.
Accommodation
We stayed at a number of campsites along the journey, with varying degrees of service. Some were bush camps, other times we upgrades to a private room. Below are a few that I can remember the name of:
SOUTH AFRICA
- City Lodge Sandhurst - great service, lovely and clear
BOTSWANA
- Boma in the Bush Polkawane - nice intimate rooms. Nice and warm in the cold weather. Awesome hot shower
- Khama Rhino Sanctuary - camp site within the park. Basic camping facilities
- Nata Lodge
- Elephant Sands - cute little rooms that make you feel part of the landscape. Awesome shower that was semi outdoors but awesome - tree stump for the shower head!
- Thebe River Lodge Chobe - nice basic rooms. Comfy bed
ZAMBIA
- Waterfront Vic Falls - very busy. Offers campsites and rooms. Rooms were basic but clean nice view
- Mama Rulas - nice campsite. Nice environment good facilities
ZIMBABWE
- Rest Camp Vic Falls - extremely basic rooms
MALAWI
- Chintheche - nice campsite and bar
- Chitumba - nice campsite and bar
TANZANIA
- Old Farmhouse Campsite Kisolanza - cute little huts. No power, but romantic lanterns and cosy huts
- Karibu inn Zanzibar - very basic rooms. Noisy venue
- Paradise Beach Bungalows, Nungwi beach Zanzibar - nice rooms. Fan was a lifesaver!
- Mesareni Snake Park Arusha - basic campsite and facilities. Great bar
KENYA
- Tea Hotel Kericho - basic campsite. Very old facilities
- Kembe camp Nakuru
- Hotel Boulevard Nairobi - nice rooms. Noisy location
- Olperr-elong camp Masai Mara NP - very basic tented camp. Intimate experience - my husband and I were the only guests so got so much attention!
UGANDA
- Virunga Camp Kisoro - very basic campsite. Showers flooded. No area to shelter from the rain!
- Bunyoni Overland Resort, Lake Bunyoni - nice rooms. Awesome location.
Food
Breakfast was normally cereal and toast. We had the occasional treat of pancakes.
Lunch was quite monotonous. Usually salad sandwiches on the side of the road.
Dinner was usually a stew or casserole. We definitely got our fix of meat and veg.
In Zanzibar we had a meal at a local's home. It was great, beautiful fresh food with plenty of spices.
In Kenya we had dinner at Carnivores, which was awesome! The meat included crocodile and ostrich, along with your usual suspects of chicken, beef, pork, etc. They carve the meat directly onto your plate. You eat and eat until you remove your flag when you can't eat anymore. Definitely worth the visit - it's delicious.
Wildlife
We saw so much it was amazing. We caught all of the Big 5, aside from the leopard (however we saw one last trip, so we didn't mind).
Elephants, buffalos, rhinos, lions, cheetah, zebra, wildebeest, impala, giraffe, baboons, hippo......too many to mention!
Some of my fav's were:
- the elephants in Chobe - they are everywhere and seeing them cross the river right in front of your boat is awesome
- lions in the Masai Mara - we got up close and personal with a couple of lions watching a herd of buffalo. We were so close and they weren't phased by us at all. When the look directly at you, they send a shiver down your spine (even though you are safe in the vehicle)
- the wildebeest migration - the sheer number of wildebeest (and the zebra along for the ride) is amazing! They are just everywhere! And where there are a lot of wildebeest there tend to be lions!
- discovering a rhino during a night safari - he was so inquisitive. He came right up to our vehicle - almost a little too close for comfort!
Typical Day
Up just before dawn, grab a coffee and a rusk before heading out in the safari vehicles. Head off for a couple of hours game drive. Come back to camp around 10 for a late breakfast. Relax around camp, do some reading, sleeping, washing, etc before heading out on an arvo game drive. Game drive from mid arvo til dusk. Head back for some dinner and a drink/chat around the campfire before heading off to bed.
Other Activities
Lion Walk (Zimbabwe) - being so close to the cubs is great. They are so cute!
More reviews...
Township tour (Kenya) - dancing with the Masai, being in their homes and hearing of their traditions was a memorable experience.
Snorkelling (Zanzibar) - the water is so crystal clear and the fish are amazing. The thought of the included lunch of fresh kingfish, rice, salad and chapatti still makes my mouth water.
Spice Tour (Zanzibar) - a lovely way to spend the day. We had an amazing time who took us around the island before taking us to the spice fields and to the home of a local for a typical meal.
Orphanage (Malawi) - meeting the beautiful little children was a highlight. I just wanted to take them all home.
Giraffe Centre (Kenya) - we got to hand feed giraffes, which was cool. It's a very commercial activity though, there are tourists everywhere.
David Shelrick Elephant Orphanage (Kenya) - the elephants are so cute. Very informative activity at a very low cost. We now sponsor an elephant at the shelter.
Joy Adamson's Home - we had high tea at Joy Adamson's home. You get to see a film of her life (which is interesting, but very poor quality picture), but the afternoon tea itself was quite nice.
Photography
Mak sure you know how to use your camera in all scenarios. I am disappointed with our shots of the gorillas, because the lighting was poor due to the think jungle. I wish I knew which settings I could have used to improve our shots.
Tips
- Be prepared for Africa to get under your skin. It is always calling for us to return!
- Be flexible. You will soon learn about "Africa Time". No one is ever in a rush to do anything.
- Take plenty of memory cards for your camera. There is so much to photograph, it's hard to control yourself.
- Take an ipod or some music. There can be long days of driving and although there is sometimes music in the trucks, not everyone has the same taste. There is only so much Kenny Rogers and Bob Marley one can listen to!
Africa is AMAZING!
Getting an understanding of the people and culture of the Africa people was a highlight - from seeing the hardship first hand in Zimbabwe, where they beg you for money and help. Locals there were selling us Hundred Million Dollar notes (for what we consider next to nothing) just to make a quid; to meeting the poor little children in the Malawi orphanages where so many are suffering from AIDS is just heartbreaking; to seeing a traditional Masai village, being inside their homes and among their livestock. They are amazing people!
Fay's Safari Details:

Rating: 10/10

Safari company used:
Africa Travel Co
(make an enquiry)

Countries visited: South Africa (Kruger NP), Botswana (Chobe NP), Zambia, Zimbabwe, Malawi, Tanzania (Ngorongoro Crater, Serengeti), Kenya (Masai Mara, Lake Nakuru NP, Lake Navaisha), Uganda, DR Congo (Virunga NP)

Date of safari:
13 July - 5 September (8 weeks)

More safari reviews »

Join in and write your own page! It's easy to do. How? Simply click here to return to Africa Tour Operators Reviews.