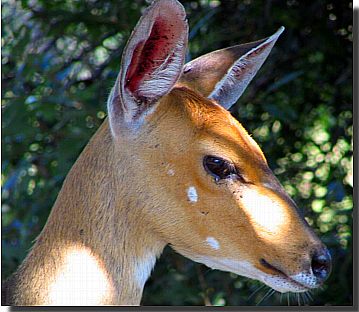 Antelope pictures are easy to take in Africa as there are a lot of them around so you are pretty much spoiled for choice. During a days drive around in the bush you would probably get the chance to take an antelope photo of an Impala, Kudu, Bushbuck, Waterbuck and maybe even a Sable if you were lucky.
They do tend to be a little skittish so when you do see one make sure you are quick on the camera trigger or you might lose the opportunity.
Antelope Encounters On Safari
I've had some very interesting antelope experiences occur in my bushveld meandering's. I've seen a baby wildebeest minutes after it was born, attempting to find it feet, repeatedly falling and trying again. When the impala rutting season starts it's always a treat to watch their behavior as the males spar with each other by crossing horns, attempting to exert dominance.
Other times involve interaction with predators where the buck often come off second best unfortunately. A lion pride chasing after some impala and pulling one down in some reeds at the bottom of a river bed, a pack of hyena catching and devouring an impala in the space of about a minute.
A leopard stalking a klipspringer, but as he was about to pounce he must have made a small noise or the wind turned, because the rock jumping expert saw him at the last second and went bounding away, leaving the leopard with egg on his face and a still empty stomach.
Then there are the sightings of the rarer species such as the Dik-Dik in Etosha to the Eland in the Kgalagadi, spanning the spectrum from the smallest to the largest of antelopes and the magnificent, stately Sable in the Kruger park, which have the largest curve of horns you are likely to see.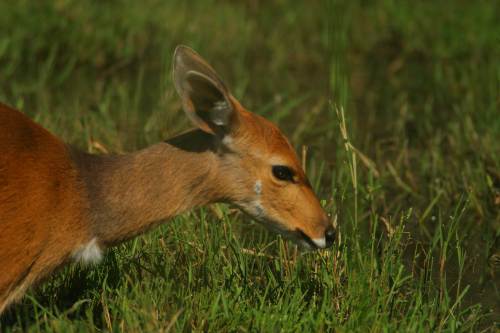 Learn how to improve your own safari photographs using tips found in the free Better Safari Photography eBook...
Back to Wildlife Photo Gallery