ATC Overland Safari
by Steve Farrell
(South Africa)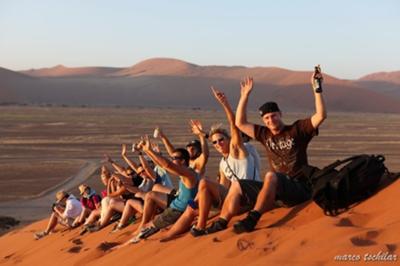 Dune 45, Namibia
It was great making friends from all over the world on our truck. I'd do it again in a heartbeat! Malawi was the highlight of my overland safari - a wonderful country with wonderful people.
Safari Operator Performance
We booked the Cape Town to Nairobi trip with ATC through our travel agent.
I loved it. They were extremely competent. The driver was exceptional and very professional and took his job very seriously.
The guide was good but, being South African, we knew when she made up things about animals as I know quite a bit about African wildlife.
The extra excursions and hidden costs got very expensive but all in all, it was the best 6 weeks of my life.
We stopped over at the Orange River, Fish River Canyon, Sossusvlei, Swakopmund, Spitzkoppe, Etosha, Muan, Delta, Vic Falls main campsite, Waterfront lodge (Zambia), Lake Malawi, Dar es Salaam, Zanzibar (Stonetown & Nungwe), Arusha, Serengeti and Nairobi.
Food
Breakfast was coffee, cornflakes, weetabix, toast, and every few days eggs.
Lunch were sandwiches that we made. Normally consisted of cheese, tomato, ham, eggs left over from breakfast, lettuce etc.
Dinner was a variety of things: pasta, meat, potatoes, fish. Very good and plenty in terms of size.
Wildlife
We saw everthing except a leopard! Although I've seen leopards on other occasions.
We saw a lioness kill a warthog in Chobe which was amazing; a pride of 10 lion in Etosha.
In terms of quantity of game, the Ngorongoro Crater was unrivalled! Saw 4 lion eating wildebeest, lions mating, 100s of buffalo and wildebeest, elephants, lots of hyenas, white rhino. It was surreal.
The Serengeti was also mind-blowing in terms of the scenery. We saw plenty of lion there too. It's just a pity that we didn't spend longer there (only 1 night), and it was quite rushed.
The Botswana Okavango Delta was also one of my highlights. That place is incredible! We saw elephant and buffalo on foot which was a tad nerve-wracking! And lots of hippo!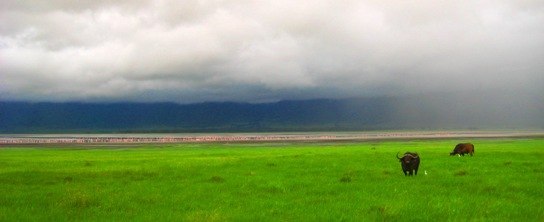 Typical Day
Normally got up at 5:15 for breakfast at 6. We then left our campsites at about 7, stopping for lunch at 1-ish and arriving at our camp in the evening.
The further east we went, the longer the drives became.
There were extra activities but I didn't do a lot of them as being South African, travelling on the Rand is very expensive. Did bungee jumping at Vic Falls, snorkelling in Zanzibar.
Tips and Advice
Take the plunge and do it! Travel with an open mind and take more money than you think you need!
Pull your weight on the trip as lazy people get found out very quickly. Embrace the different cultures and take everything in!
The most useful items in my luggage were
books
!!
Steve's Safari Details:

Rating: 10/10 - no regrets

Safari company used: African Travel Company (ATC) (make an enquiry)

Parks visited: Etosha, Okavango Delta, Chobe, Serengeti, Ngorongoro Crater

Date of safari: 15 March – 26 April (6 weeks)

Join in and write your own page! It's easy to do. How? Simply click here to return to Africa Tour Operators Reviews.