Awesome Adventure with Flash Safaris
by Tracey A. Jackson
(Vancouver, Washington, USA)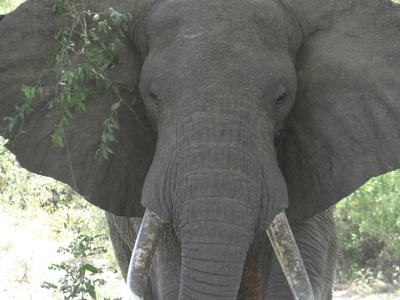 This was the high point of my safari!!!
My wife and I and our 27 year old son just returned from an amazing adventure with Flash Safaris at the end of September, 2013.

I want to emphasize that this was an adventure and not just a plain vacation. We arranged a 10 day trip with Flash Safaris to include the national parks of Arusha, Lake Manyara, Serengetti, Ngorongoro Crater and Tarangire. In addition, we spent three days in Zanzibar at the beach relaxing.

This trip had been something we had been dreaming of for years. Flash Safaris made this trip a dream come true. The customer service and special handling we received from Magda and Edward was of the highest degree.

For all aspects of the trip, they were always there to assist us and make sure our trip was special. This was evident from the initial e:mail exchanges on planning the trip through to the end.

As an example of the extra effort they put in. All of our luggage missed the connecting flight to Kilimanjaro, Edward made the extra effort to pick up our luggage the next day and deliver it to us at our lodge in Arusha. By the time he delivered our luggage it was almost midnight. As another example, between Zanzibar and our flight home, we had about 5 hours of layover, Madga had us over to her house and provided a delicious meal for us.

Our guide, Joshua, was amazing. He worked tirelessly to give us a great safari and made us feel comfortable and welcome. As with most people coming to Africa, we wanted to see the big five (Elephant, Cape Buffalo, Rhinoceros, Lion and Leopard). Joshua made sure we saw those in abundance.

What was truly awesome was everything else we saw. We were able to see a Cerval Cat, Cheetahs, Giraffe, Wildebeests and Zebra. I could go on and on. Suffice is to say, Joshua did a great job of showing us flora and fauna we had no idea was there. Make sure you come prepared to see a huge variety of birds, trees and flowers that will awe you and animals you have never seen on nature shows on TV.

Magda and her team did a great job of arranging for a variety of accommodations to give us the best safari experience. She had us stay in luxury lodges and tented camps.

We stayed at the Ilboru Lodge in Arusha, the Country Lodge outside of Lake Manyara, the Ngorongoro Farmhouse, and luxury tented camps of Kenzan and Roika; and, lastly, the Blue Oyster Hotel in Zanzibar. All of these accommodations were of the highest quality.

Our budget for the safari was approximately $3000/person. Flash Safaris put together an itinerary that met our budget and allowed us to see six national parks and spend a relaxing three days at the beach.

Our trip included all accommodations, meals and transportation. Our trip to Zanzibar did not include meals as requested by me. I arranged the roundtrip airfare to Tanzania. This was an additional cost to the trip and will be dependent on where you are coming from.

Flash Safaris did a great job of arranging and providing an adventure my family will not forget for many years to come. We are already planning to return and Flash Safaris will be our guide.

We highly recommend them and have actually recommended them to a few individuals interested in a safari already. If anybody would like additional information, I would be happy to provide it.

Join in and write your own page! It's easy to do. How? Simply click here to return to Flash Safaris & Photography.