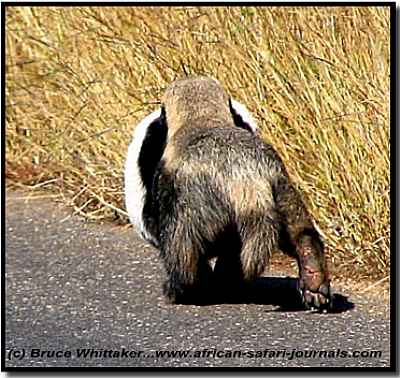 Badger pictures are extremely hard to capture because they are nocturnal animals and easily disappear behind long grass during the day.
I had been going on safari for over 15 years without a sighting and I was beginning to think that I would never take a picture of one to add to my collection.
But one balmy morning in the Kruger National Park I had the incredible good fortune to spot the first honey badger I have ever seen in the wild, running down the road with a baby in it's mouth.
She dropped her baby to challenge me as I came closer with the car and then snatched it up again and charged off into the bush. I only just managed to snap the above photograph in time.
My only regret is that I couldn't get the badger photo from the front. Since then I have managed to see a lot more of these magnificent animals in the wild.
Best Places For Badger Pictures
The Kruger Park, where I saw one in the wild for the first time, is not one of the better areas to get photographs of badgers because of the terrain. And if you are lucky enough to spot them there it's often at night when they come into camp to raid the dustbin's for tidbits.
Two of the best places to photograph them is in Etosha in Namibia and the Kgalagadi Transfrontier Park in South Africa. Both these reserves have fairly open terrain which makes them easier to spot and snap.
Here is a tip that I've learnt over the years which will drastically improve your chances of finding these elusive animals in the two game parks above. Look for two or more Pale Chanting Goshawks perched low in a tree or walking along the ground as if following something.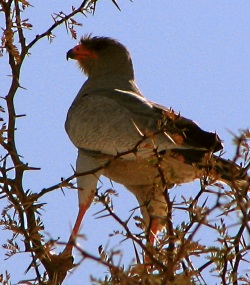 These birds have what's known as a foraging association with badgers, in simpler terms they follow them around and catch small mice, gerbils and insects that the sharp clawed mammal might miss when digging for it's own food.
So find the birds and you very often will find yourself with some badger pictures to brag about.
Top Safari Companies
If you want to go on an African photo safari to photograph badgers and all the other animals you might find in Africa, it's useful to know who the best safari companies are to book you trip with.
Here's a list of the top three safari operators in South Africa and Namibia.
Learn how to improve your own safari photographs using tips found in the free Better Safari Photography eBook...
Back to Wildlife Photo Gallery