Uluguru Mountains Safari
by Callum Halliday-Finch
(UK)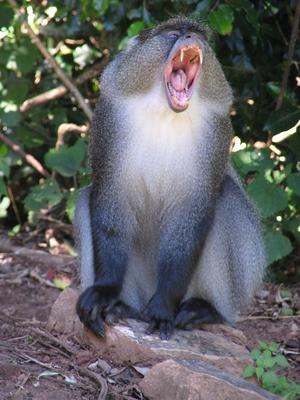 Blue Monkey Showing Sharp Canines (a.k.a Samango Monkey)
Although I made a 6-day photographic safari in a vehicle with A Tent With a View Safaris Ltd to the Selous Game Reserve, (which was fantastic!), my main purpose was to spend a lot of time out of a vehicle do some serious walking, firstly in order to really get the feel for Africa and its people, and secondly to do some serious birdwatching.

Following my safari and my stay at Sable Mountain Lodge in the Selous, I arranged to spend a week in a guesthouse in the town of Morogoro (which is the largest and nearest town to the border of the Selous game reserve), because this lively market town sits at the foot of the Uluguru Mountains.

Therefore, using Morogoro town as a base, I made excursions to various parts of these beautiful mountains, and experienced everything from strolls through "shambas" (farms) and small villages, to hikes through forests and wooded valleys, right up the scale to some serious hill walking and mountain climbing to the higher summits of about 3000m.

Scenic walks climb over high, exposed passes, which give awesome, panoramic views across the plains and woodlands to the misty horizons of the East and South, or drop deep into lush valleys, winding between weird and ancient natural sculptures of Dolomite, which appear surreal and Tolkeinesque against the backdrop of candelabra-branched Euphorbia and towering, golden-barked Sterculia trees.

Adventurous walkers like myself can also experience gully climbing and canyoning on the north-western slopes - fresh, ice-cold streams tumbling down falls of gneiss and granite, threading through wild, open heathland or verdant valleys; or can jungle-trek through a 25-million-year-old rain forest reserve that straddles the Matombo road going South.

The wildlife I saw in the less inhabited or more forested areas included yellow baboon, blue monkey, black and white Colobus monkey, and small forest antelopes such as the duiker.Other wildlife exists, but is either shy or nocturnal and therefore rarely seen, and includes bushbabies, genets, civets and other small predatory mammals and cats.

Birdlife was abundant everywhere, and I collected 30 or 40 different birds on my first half-day hike. River and stream courses provided an easy route to follow out and back to the vehicle or start point.