Independent and Guided Safari Combo
by Jeff Lee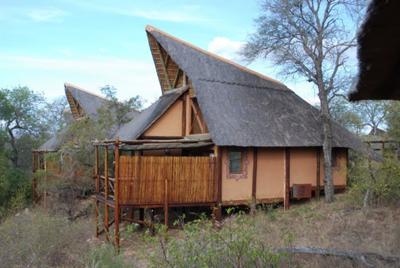 Lukimbi Safari Lodge ©J.Lee/S.Murray
Our trip was absolutely fantastic!!!!! So many highlights it would take a book to tell you about.

Itinerary
Collected rental car at Johannesburg airport and drove a circular route: Panorama Route (Graskop), Kruger National Park for guided safari including walks at Lukimbi luxury lodge followed by self-guided safari making use of Kruger accommodations.
Crossed border to Mozambique, drove south and entered Swaziland to Mkhaya for guided safari including walks.
Re-enter South Africa and spend a few nights at Hluhluwe-Imfolozi Game Reserve then return to Johannesburg and drop rental car.
Kruger National Park - Lukimbi Private Safari Lodge
Lukimbi was a great lodge in every respect. Accommodations and food excellent.
The tracker and guide (Alfred and John) were unbelievably talented.
Probably the highlight was being amongst a pride of lions as they feasted on the giraffe that the males had taken down the night before.
Could hear the bones cracking and see the blood all over there faces.
Kruger National Park - Self-guided Safari
Our self guided safari was also amazing. And your
guide your own safari book
on tips for an independant safari was definetly put to use.
Many highlights but probably the biggest was coming across a leopard hanging out in a tree right off the side of the road.
After about a half hour he climbed down and walked within about 3 feet of our car.
As we drove away we saw another one laying in the road. He slowly walked off the side of the road into the grass.
We drove up to where he walked off and we could see him about ten feet away in the grass.
Although if we did not know he was there you could be ten feet away and not even know that there was a leopard laying in the grass.
A good lesson for anyone stupid enough to get out of the car!!
Mozambique
We changed things
(the itinerary)
up a bit and decided to drive through the Transfrontier into Mocambique.
It was a little disappointing as far as animal viewing goes. Saw almost nothing through the park.
We stayed in Maputo for a night and then spent some time in Xia Xia beach.
Very interesting country.
Swaziland - Mkhaya Game Reserve
Mkhya was also a great stay. Rock Lodge was a very cool place to stay.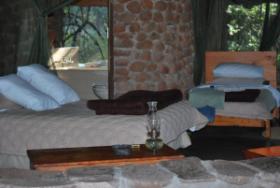 The accommodations were like camping but in a super comfortable bed.
The safari were good and a little more loosely run.
We went on a great hike and got up close and personal with some rhinos. Also saw a fleeting glimpse of a black rhino as it ran off into the brush with its baby.
The place was very good value.
Hluhluwe-Imfolozi Game Reserve
Hluhluwe-Imfolozi - Hilltop camp is a very nice camp.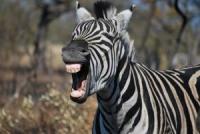 We did some safari in Hluhluwe, it was OK (we were definitaly spoiled from Kruger and the brush is high and a little difficult to see animals).
Imfolozi on the other hand was more open and we had great game viewing.
Mkuze Falls
We started running out of time so decided not to go to Sodwana Bay. We were enjoying the safari so much we wanted to finish up with more safari.
We decided to try another lodge - Mkuze Falls. We went in a little skeptical because Lukimbi had been so good we figured that it would be hard to impress us.
But Mkuze Falls was another great stay. Some of the best service we had recieved and the game driver was excellent again.
I had a very close encounter with a large elephant (he was smelling me with his trunk from about three feet away) and we also some some cheetah.
Again this was very good value.
Jeff & Scott's safari photos »

More Swaziland Safari Reviews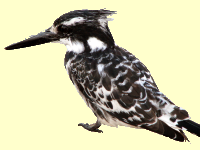 Join in and write your own page! It's easy to do. How? Simply click here to return to Africa Tour Operators Reviews.