Valuable Namib Desert Information
Visiting the Namib is magical, probably due to the fact that the landscape is so radically different to anything else you might have experienced before. It has a unique and breathtaking beauty, with a silence that will prove hard to find anywhere else.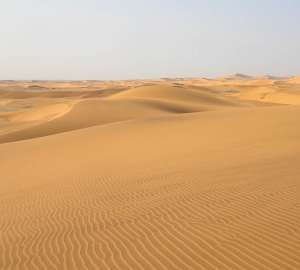 You reach this desert by going to the western part of Namibia. Check the map below for a closer look at the Naukluft Park and its location.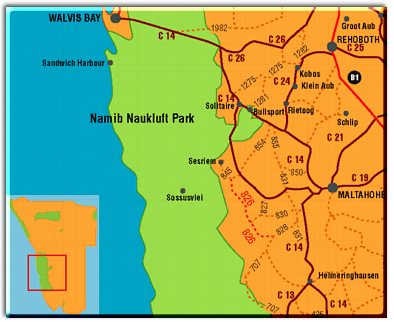 Wildlife
It may look barren and bereft of wildlife at first glance, but there is abundant life out there, you just need to look a bit harder to find it. Due to the harsh environment and low supply of food and water, the animals and insects tend to be small of stature in the desert.
Such as the sidewinder (Peringuey's Adder), which only measures an average of 25 cm from top to tail. I was surprised when I saw how small it actually is in real life, because I always imagined the snake to be a lot bigger.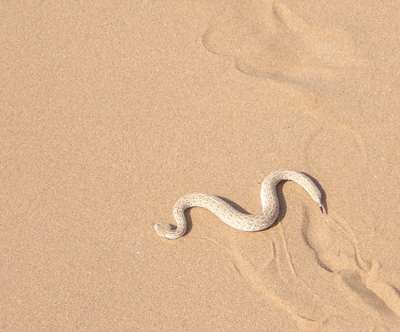 And then there's the Namaqua chameleon who manages to survive in this environment even though there aren't any trees. I found this one crawling around in a clump of bushes, but they regularly make forays out into the open desert to go and catch insects and other, smaller lizards.
If you venture out a little further into the dunes yourself you might be fortunate enough to find the translucent Palmato Gecko, White Lady Spider or the Burrowing Skink. And the desert citizens that you would rather want to avoid if you met them on a dark night like the Horned Adder and the Black Scorpion.
A variety of beetles, desert wasps, fish moths and crickets rounds out this unique cast of characters.
Highlights
All the amazing wildlife.
Experiencing a "roaring dune", the noise the sand makes when a heavy object such as a 4x4 descends on the leeward side.
The 300m dunes found at Sossusvlei, some of the largest in the world.
Siesriem Canyon which is 30m deep and 40 km long.
Take a look at some of the highlights previous travellers experienced in these desert reviews.
Facts and Accommodation
Size: The game reserve takes in over 23,000sq km of desert and semi-desert.
Accommodation: The central Namib has eight exclusive camps which can accommodate one party at a time. Kuiseb Bridge, Kriess-se-Rus, Marabib, Vogelfederberg, Bloedkoppie, Groot Tinkas, Ganab, Homeb and Swakop River.
Safari Operators
If you want to experience the Namib desert during a day trip then I have no hesitation in recommending Tommy's Tours and Safaris, based in Swakopmund. I went on this trip myself and it was nothing short of amazing, led by the irrepressible and enthusiastic Tommy Collard himself.
For longer stays and if you want to visit other wildlife areas too, take a look at this list of the best 3 Safaris Companies that I've compiled using the safari reviews submitted to this website, forum postings and general consensus in the industry.