Guided Madagascar Road Trip
by Alix Johnson
(UK)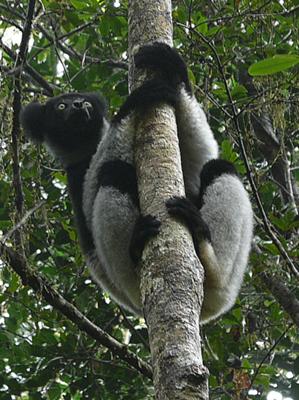 Indri
Seeing the endangered tree-dwelling indri in the wild was a highlight - but more significantly, hearing their haunting wail. To me, the indri song is the iconic sound of Madagascar.
Travel Agent & Local Operator Performance
We booked through Rainbow Tours and were escorted throughout Madagascar with Za Tours.
We found Rainbow Tours on the internet. They were excellent.
The itinerary was tailor-made and it was just the two of us. We travelled around in a 4x4.
Accommodation
Le Pavillon de 'Emyrne in Anatananarivo (one night) – a charming little guest house in the capital.
Vakona Forest Lodge in Andasibe (three nights) – a perfect base for exploring the surrounding rainforest. Simple but clean.
Princesse Bora Lodge in Ile St Marie (three nights) – a luxurious eco-friendly beachfront hotel.
Food
We tried some traditional Malagasy food such as zebu.
Wildlife
We saw several types of lemur from the smallest (mouse lemur) to the largest (indri) and lots in between – bamboo lemur, woolly lemur, black and white ruffed lemur, diadem sifaka. We also saw several varieties of chameleon and frog.
I have three highlights:
- The indri, as already described.
- We went on a guided night walk in Mitsinjo Community Conservation Area. In the pitch black, with just a torch for light, our guide managed to spot the tiniest of all lemurs – the mouse lemur. I hadn't dared hope to see a mouse lemur as they are so difficult to find because of their diminutive size but I was beside myself with excitement when we came across one on our very first night in the country.
- We visited Lemur Island, a sanctuary for rescued lemurs which were previously illegally kept as pets. I found it quite touching because despite being mistreated in captivity in the past, the tame lemurs were not afraid to interact with humans. Our favourite character was the shy but inquisitive bamboo lemur who we hand-fed banana to.
During our stay on Ile St Marie, we went on a whale watching expedition with the research team from CetaMada, the international association for the observation and protection of whales. We were lucky enough to see 15 different humpback whales, including a baby and a giant who breached the water right in front of our eyes. The guide put a hydrophone under the water and allowed us to listen to the mating call through the radio.
Disappointments
Despite living in the rainforest, apparently lemurs don't like the rain. As we went in the rainy season it rained a lot so the lemurs often stayed curled up sheltered from the rain, making them difficult to spot.
Tips and Advice
The weather was wet - they don't call it the rainforest for nothing. Don't forget to pack your waterproofs.
The Real Madagascar
As we sat in Antananarivo Airport waiting to board our plane home, we reminisced about the last two weeks. Our honeymoon began with the great migration in the Masai Mara and ended with whale watching off the coast of Madagascar.
Although we'd had a fabulous time, the crack-of-dawn safaris had taken their toll and we were ready to go home and share our tales and pictures with our family and friends.
Boarding time came and went and after much confusion (I'm ashamed to admit I speak neither Malagasy or French), it became apparent that our flight had been cancelled.
The Foreign Office advised against all but essential travel to Tana because of political unrest so I was more than a little apprehensive when we were bungled onto a bus with no explanation.
A multi-lingual fellow tourist assured us that we were being taken to a hotel for the night. I couldn't fail to notice that the accommodation was row upon row of shanty town shacks so wasn't holding out much hope but we eventually pulled up to a smart hotel flanked by six guards. Once inside the haven of the hotel, the Malagasy hospitality soon put us at ease and the following morning we even ventured outside.
I was immediately struck by the level of poverty when, within minutes, we were surrounded by begging children jostling for our attention among hawkers trying to peddle their wares. I expected to feel intimidated but instead I felt an overwhelming surge of guilt. Guilt for taking everything I had for granted but more so guilt for wanting to avoid the reality of this beautiful yet devastatingly poor country.
When we travelled back to the airport the next day with renewed enthusiasm for the real Madagascar, I soaked up the sights – children working in paddy fields in the blistering heat, mothers washing their families' clothes in the dirty river, butchers' meat hanging up ready to rot in the midday African sun, women balancing all manner of obstacles on their heads and oxcarts navigating the winding, bumpy roads.
Next time I go on holiday, I'll leave my prejudices at home.
Alix's Trip Details:

Rating: 10/10

Travel agent used: Rainbow Tours (make an enquiry)

Parks visited: Andasibe-Mantadia National Park, Ile St Marie in Madagascar

Date of safari: 8-16 August (8 days)

More Madagascar Trip Reviews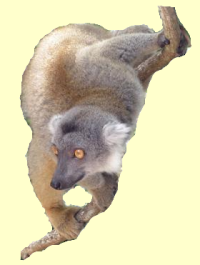 Join in and write your own page! It's easy to do. How? Simply click here to return to Africa Tour Operators Reviews.