Madagascar Island Honeymoon
This is a fantastic country desperately needing more tourists to support its national parks and stop the devastation of the forests going any further.
Which safari company did you travel with?
SETAM, a local ground operator.
Was it a pre-designed itinerary or tailor-made for you?
It was a tailor-made itinerary.
And how did you get to hear about them? Did you book over the internet or once you got to Madagascar island?
They were recommended in the Lonely Planet and Bradt guides. Everything was planned and arranged by e-mail.
How did they perform? Was there anything special you liked about the service they provided?
Great. We were initially nervous about booking with a Malagasy based company, but they organised everything we asked, exactly how we wanted it for approximately a 3rd of the price of UK based tour companies.
They were very efficient and offered incredibly good service - everything ran perfectly.
Was there anything you didn't you like about them?
No.
How was the guide(s)?
The official languages in Madagascar is Malagasy and French. Fortunately the local guides at all national parks spoke good English. They were all very good.
Our English speaking guide for the Perinet trip was fantastic - she really picked up on what we liked and took us to additional places en-route that she knew we would like.
Would you recommend somebody else use them for a Madagascar island holiday?
Definitely.
How big was the group you travelled with and what vehicle(s) did you use for wildlife viewing?
Just the 2 of us (it was our honeymoon!!). All wildlife viewing was done on foot!
| | |
| --- | --- |
| Where on Madagascar island did you stay and what was it like? | |
Vakona Forest Lodge, Perinet - fantastic service, food and beautiful surroundings.
Berenty - basic food (little or no choice), good bungalows and amazing lemur experiences.
Viniabe Lodge, Fort Dauphin - the only disappointment. No water sports (that were advertised), no choice of food, £10 (about US$19) to get to town and no phone to organise it with!! Nice room though!
Lakana Hotel - Ile Sainte Marie (Nosy Boraha)- very friendly staff, really personal service, lovely bungalow over the sea, snorkelling from the end of jetty, only French spoken.
Manigory Hotel, Ile aux Nattes (Nosy Nanto) - Ile aux Nattes is a small island south of Ile Ste Marie, both on the east side of Madagascar island. The hotel has an amazing location right on the beach, idyllic! There's a reef 20m into the water, teeming with fish. Great bar/restaurant, only French spoken.
| | |
| --- | --- |
| How about food. What did a typical Madagascar island breakfast, lunch and dinner consist of? | |
Breakfast was continental: bread, butter, jam and a hot drink.
Lunch and dinner were of your choosing: lots of fish, prawns, steak and chicken.
Good - it was very hot in Berenty especially. We had some rain on Ile Sainte Marie, but sun most days.
| | |
| --- | --- |
| Did you see a lot of Madagascar island animal life? | |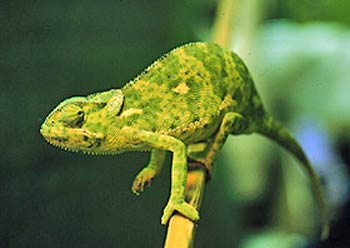 Yes, we saw 11 species of lemur in the wild, chameleons, lots of birds and fish whilst snorkelling.
The Indri lemur singing was eerie - a cross between a wolf and a whale!!
What would you say was your wildlife spotting highlight?
The Diademed Sifakas in Mantadia NP - they jump with such amazing power and grace from tree to tree.
Were you satisfied with the amount of wildlife you saw?
Very. The Madagascar island wildlife is unique.
| | |
| --- | --- |
| Please describe a typical day of your Madagascar island safari from the moment you woke up until you went to bed. | |
Up at 6am and then breakfast. After that, by 7am, we'd start looking for lemurs. We'd finish our morning walk by 11am.
Then it was time for lunch and siesta.
We had the afternoons free to horse ride, explore, sleep, swim...
In the evenings we went on a night walk, then have dinner and off to bed!!
| | |
| --- | --- |
| Did you do any other activities during your holiday? | |
The snorkelling of Madagascar island was a real highlight for us - especially off Ile aux Nattes where the reef was so close in - we just swam from the beach and saw a huge variety of fish.
The museum at Berenty about the local people was excellent.
It was wonderful to have 3 weeks of relaxation, in the hands of a very capable tour company and in a marvelous country.
| | |
| --- | --- |
| Was there anything that didn't meet your expectations on the trip; any disappointments or regrets? | |
Only the accommodation at Vinanbe.
Can you offer any tips and advice to others planning a visit Madagascar island?
Take the plunge and book with a Malagasy company - you save SO much money and all your money is being put straight into the Malagasy economy.
What was the most useful item in your luggage?
My digital SLR camera - we got some amazing pictures!
| | |
| --- | --- |
| How would you rate your safari, on a scale of 1 to 10? | |
10! We had an amazing holiday.
Although Madagascar island doesn't have any of the big game of East and Southern Africa, it has a multitude of lemurs and birds. As wildlife lovers it was the perfect destination for our honeymoon and has the bonus of amazing beaches and coral for relaxation at the end of all the lemur chasing.
| | |
| --- | --- |
| Safari Location: | Perinet (Mantadia and Analamazaotra), Berenty Private Reserve, Ile St Marie, Ile aux Nattes - Madagascar |
| Safari Company Used: | SETAM |
| Duration: | 3 weeks |
| Traveller Details: | Katie Slocombe, UK |
| Rates & Availability: | Plan your own safari. Make an enquiry |
More Madagascar Trip Reviews