Marangu Hotel Trek Review
by Robert England
(USA)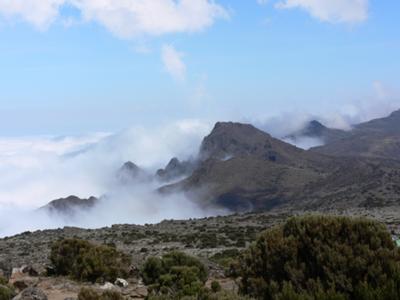 Kili clouds
Mornings on the mountain were beautiful... the rising sun, a cup of coffee, the clouds below you... I rate my climb 7/10... only because I didn't reach the peak. Next time!
Operator Performance
Marangu Hotel arranged my trek, and I also stayed a few extra days at the hotel.
The service was wonderful, the staff were very friendly.
The hotel staff were great about arranging things for me during my visit, like a one-day safari, tour around the village, trips to Arusha, etc.
The guides and porters were a great group of guys! They were very nice, and very helpful.
Equipment was fine. They provided most of it, and I didn't feel like I was missing anything.
Food
Meals were typically lots of fruit, peanut butter, soup, and tea.
There was usually more than I could eat.
Route
I took the Shira Plateau route, arriving by truck.
Preparation
I did a lot of treadmill work, and I had done some hiking in my past. It was no help, though... nothing prepares you for the altitude and steepness of the mountain.
Weather and Facilities
The weather was great. Sunny and cool.
Some camps were better than others, generally the ones closest to the peak were most crowded, and least interesting.
Challenges
I didn't realize how difficult the route I chose was.
The book I looked at merely said, for example, you gain 1000 feet over 10km. In reality, you go up 3000ft, then down 2500ft, then up 1500ft, then down 2000ft, then up... etc. It was much harder and steeper than I thought!
Altitude was no problem... I think on the 8-day trek you have more time to acclimatize, so it's much easier in that way.
Other Activities/Safari
I had not planned on taking a safari, but I did... a one day trip to Arusha National Park, and it was amazing.
Tips and Advice
Don't be afraid of any route. There is no easy way, and they are all beautiful.
Take a few extra days to explore the surrounding towns, and definitely try to work in a safari.
For souvenir collectors, Tanzanite is a rare gem that is worth picking up in Arusha.
The most useful items on the trek were my walking poles. They helped a lot going up, but even more so going down!
Kilimanjaro gear - what to pack »
More Shira Route Reviews