&Beyond Safari Review
by Mandy Stewart
(Australia)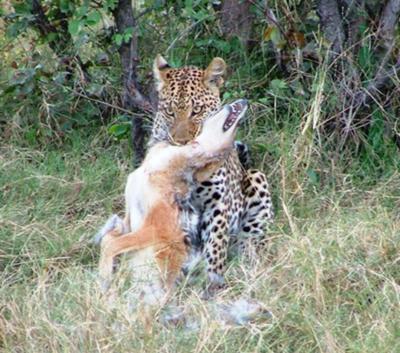 Leopard killing a jackal
We were very lucky to see 3 kills - a mongoose killing a francolin, then protecting his kills from fellow mongoose; a leopard killing a jackal, very sad as the jackal's mate was circling nearby crying out; and a cheetah feasting on an impala.
Safari Operator Performance
We discovered &Beyond after lots of research on the net. They were wonderful, we loved the little! (Big) extras.
Flower designs on our floor leading to a bubble bath after returning from a game drive at Matetsi, a special dinner with fellow travellers when meeting up again after going to different camps.
The hot/cold towels after a game drive. Hot water bottles on cold morning drives. Drinks and entertainment around the campfire before dinner. Spectacular lunch in the bush when on a very long game drive.
The service was wonderful, the guides and trackers amazing, skilled and knowledgeable, the only thing I didn't like was having to leave.
Our safari exceeded our expectations in every way. The &Beyond staff are wonderful.
Accommodation and Food
Matetsi Water Lodge in Zimbabwe. Chobe under Canvas, Savute under Canvas & Sandibe Lodge in Botswana.
All wonderful.
Our bubble bath at Matetsi, followed by dinner in our room was a highlight.
Very romantic (and we are no spring chickens) and the special dinner set up at Sandibe when we rejoined friends we had met at a previous camp.
We were made to feel very special and it was truly appreciated.
The food was good, better than I expected for 'camp' food.
On our second last day the men in our vehicle wanted to see wild dogs, evidently they had been spotted quite a distance from camp so off we set.
After five hours and no wild dogs, we turned around to head home and became bogged, unable to get the vehicle out.
We waded through the swamp into a rescue vehicle and headed off again to be taken goodness knows where, but a beautiful spot on the bend in the river.
Table and chairs were set up with crystal glasses and china plates.
We started off with champagne to toast our 'rescue from the swamp' then had a cold beer with our delicious lunch.
After lunch we lay on our perfectly set up day bed for a siesta until another vehicle arrived to take us home.
Magic!
Wildlife
My biggest expectation was to see elephants and my husband's was to see the big cats.
Our first animal was a warthog at the entrance to Matetsi Water Lodge.
We saw giraffe, zebra, buffalo and of course impala while at Matetsi but nothing really up close, it was as I expected but a little disappointing.
Our next camp was Chobe Under Canvas and while driving to the camp on the first day we rounded a bend in the road and came across a small herd of elephants!
So close, I was ecstatic!
From that moment on wildlife abounded, many elephants - I never tired of seeing them - giraffe, zebra, warthog, impala, wildebeest, sable, kudu, buffalo, monkeys, lions, leopards, cheetah, mongoose, hyena, red lechwe, black backed jackal, hippos, squirrel, baboons and many varieties of birds.
I have probably left some out but we were truly amazed at just how close we were able to get to some of these magnificent animals.
We also were able to watch a pride of lions from close range and on another day two big male lions walked right past our vehicle, almost within touching distance.
Seeing elephants drinking in the river and then come out and walk right by us was great, as was seeing baby elephants playing around with their families.
How can I pick a highlight out of that?
Just one more thing. As were left our last camp for the airstrip our driver spotted a leopard, off we went ploughing through the bush to see this beautiful animal resting on a branch in a tree. What a wonderful way to say goodbye.
Typical Day
We were woken at 6am in our tents with the sound of warm water being poured into our wash basin (from a flap in the back of the tent) and coffee being delivered at the front of the tent.
We crawled out of our very comfortable king sized bed and prepared for our morning game drive.
In the two lodges we were woken with drums and singing. After a light breakfast we boarded our open sided 6 passenger vehicles for our morning game drive.
Around 9.30am we stopped for coffee and snacks and chatted with our guide and fellow passengers.
Back onboard for more game viewing until we returned to camp for lunch.
After lunch we had a siesta until 3pm when we were woken for coffee and cake then off again.
Around sunset we pulled up somewhere spectacular for sundowners and then slowly headed home.
Our guide was constantly in touch with camp and other vehicles so we always knew where the good game viewing was and when we arrive back at camp our hot bucket shower was waiting.
After getting rid of the dust of the day, we sat around the camp fire and had drinks and chatted until our camp staff came out of the kitchen area, singing and dancing.
The voices were beautiful, we really loved that part of our 'under canvas' experience.
After dinner there were more drinks around the campfire, but I was usually ready for bed.
The experience at the permanent camps was similar, but we had longer, hotter showers!
Other Activities
We went on the Zambezi and Chobe Rivers and the waterways in the Delta.
All different but my favourite was floating through the reed choked waterways looking at the reflections - stunning.
Tips and Advice
Never expect the same experience twice, animals are unpredictable. Your experience could and probably would be totally different to ours. Go with an open heart and an open mind.
Remember to take a small torch.
I could rave on forever about how fantastic our safari was. It's hard to believe it was four months ago. I would return tomorrow if I could, I want to experience more of Africa's magic.
More Botswana Safari Reviews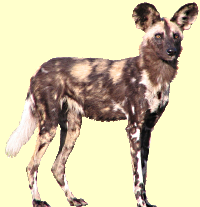 Join in and write your own page! It's easy to do. How? Simply click here to return to Botswana Safaris.