Kilitreks & Safaris Review
by Rohan Jayasekera
(Canada)
I chose the Lemosho route – it's longer and allowed more time to acclimatize – starts in the Rain Forest. The highlight of my Mt Kilimanjaro climb was reaching the summit of course!
Operator Performance
Kilitreks & Safaris is a small company but very personal – and are willing to accommodate you in any way shape or form, find a company like that!
Found them on Web, looked up comments about the company.
They were honest and straight forward when I asked questions. Guides were excellent – so were the porters.
We were picked up and dropped off and looked after with personal attention from the owner himself often.
The equipment was about average – nothing exceptional, could have done with more updated tents in some situations. They provided comprehensive list of
things to bring
.
Food
We had no complaints about food. Typical Tanzanian meals, chicken, beef, rice, pasta etc considering they had to take everything up the hill!
Preparation
We were all in reasonable shape working out wise, we cycle and go to gym regularly, mentally we were coached by guides to get our minds in one gear only that we would reach summit!
Challenges
The last 2 days were the toughest – we had to trek 33 hours out of 48 with no sleep basically.
The toilets on the mountain are poor – basically a hole in ground with wood around it, we took our own toilet paper and wet naps!
Other Activities/Safari
I also went on a safari which was fantastic! The accommodation was out of this world!
My only suggestion – get an air-conditioned Jeep for the ride from Moshi to Serengeti unless you don't mind being covered in dust head to foot!
Tips and Advice
Ensure you get a day to relax before summit night – do not come from Baranco to Barafu and then summit on same evening – it's very tiring. I strongly recommend the extra day at Karanga Valley.
The correct clothing is very important.
More Lemosho Route Reviews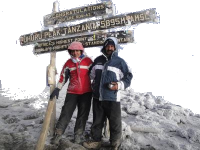 Join in and write your own page! It's easy to do. How? Simply click here to return to Africa Tour Operators Reviews.