Lemosho Route Climb
by Andy Sundermier
(USA)
The benefit of climbing earlier was that there were absolutely no other people on the trail or on the summit. It definitely made the trip awesome. Not a single person we spoke with had the same experience.
Operator Performance
I went with ZARA – they performed great. Found them online.
They provided a good gear list. All personal gear I brought myself, however you could rent everything from them.
Had some mishaps with porters getting sick and injured the second day but the guide was able to make a quick itinerary adjustment and made everything work out.
Porters I found were not as social as I saw with some of the other teams. However, many other groups that went with ZARA had a different experience/opinion than I did.
Overall great tour operator.
I rate the trip a 9 – great climb, great mountain, incredible trip... no regrets.
Food
Food was excellent. I never went to sleep or hiked hungry. All meals were of large portion cooked to perfection.
Typical meals were rice, meat, and some vegetables. Very healthy sustaining meals.
Route
Lemosho – because of its beauty, the challenge, less people, more natural.
Summit day was the highlight by far.
Our guide was able to change and modify our itinerary as we chose. We decided to hike all the way from the camp just below high camp to the summit. So we ended up summiting a day earlier than planned.
Also once reaching the summit we decided to take a detour down to crater camp and to the crater rim. So in all we were able to stay at the top of the mountain for almost 2 hours.
Preparation
I maintain a very active lifestyle. Almost daily I run, rock climb, and hike. I do some light weight training 2-3 days a week.
I really did not change or adapt any of my daily activities to train for the climb. Pole Pole you'll be fine.
Facilities
The toilets got the job done. You had two options. One was use the permanent long-drop toilets at each of the campsites or you could use the bathroom tent that was provided by the porters. Each one had its up/downs.
I was happy to be of the male species during this trip. I could see being a female having to have a little more intimacy with the toilets.
Challenges
Hiking from crater camp to the crater rim was the hardest part of the climb.
After reaching the summit and then hiking another 1 or so hours I was spent.
Very tired however I never became nauseous, dizzy, or any other of the bad altitude related problems. Just some mild shortness of breath and fatigue.
Other Activities/Safari
We did a 5 day safari. Serengeti, Tarangire, and Ngorongoro.
5 days was a long time to be in a vehicle. I recommend doing a 3 day safari unless you can stare at animals for days. Personally I would see the animal once and then the excitement would be gone next time.
But definitely a must do. Just keep it short.
Tips and Advice
Get off the beaten path. If you can, do a less popular route.
Leave the campground before everyone and summit at an irregular time. Get rid of all the people and your experience will be great!
The most useful items I packed were my Kilimanjaro Lager I carried to the top of the mountain, and my rain gear. Get the best rain gear you can find. A nice poncho can do an amazing job.
I hope whoever reads this goes to Tanzania and climbs KILI!!!
More Lemosho Route Reviews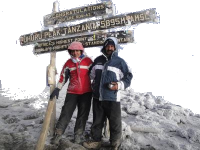 Join in and write your own page! It's easy to do. How? Simply click here to return to Africa Tour Operators Reviews.