Mt Kilimanjaro - Lemosho Route
by Kristina Neate
(South Africa - Swedish by birth)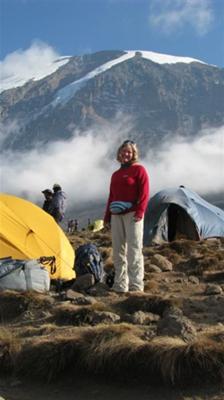 The early morning of summit day you feel bad, your feet are taking you forward, it is very cold, the water has frozen in your bottle, it's dark and you don't know if you can do any more. Suddenly the sun rises and it is so beautiful and you are almost at Stella Point ... and you know that ... I am going to make it!!! Taking the photo at Uhuru is also awesome.
Operator Performance
I went with Zara Tours (but booked through Climbing Kilimanjaro based in Pretoria).
I had done a lot of research and Googled so I had many options and companies to choose from.
For a long time I was in contact with 2 Tanzanian based companies and their prices were the best and they were very helpful.
The problem was that I was on my own and they needed more for a tour. I waited and the right kind of group never seemed to appear.
Climbing Kilimanjaro was a little more expensive but I could choose between a few already booked groups and I could join them.
I didn't want to go with a company that was too cheap either, then the porters would not be paid. As it turned out my group and company was great and made such an effort.
The equipment was generally great... the tent's zip sometimes got stuck, but most was good.
You need to make sure you read up before you go of
what to bring
. It was very hard sleeping on a thin foam mattress to start with, but you got used to it.
Food
Food was good, I had expected to loose my appetite further up the mountain, but that did not happen!
It's pasta and potatoes most often with meat or fish and some fresh cucumber and tomatoes. Popcorn to start and fruit to end.
Food was amazing when you consider where they cook it.
Route
I chose the Lemosho route - it seemed more remote and different and not so popular.
Preparation
You need to know that the last night is tough and mentally want to do it...
Train your body by spinning, running, climbing (with your boots!). I didn't do much training with a back pack, but the guys I met had done that and I think it helps.
Be fit and positive!
Facilities
So many laughs and discussions we had about toilets!! It's a wooden hut with no door and a hole in the ground. Go when it's cold... then you can't smell too much and see things you don't want to see...
The toilets are not great but you can have many jokes about them and we all have to go!!
Challenges
The last night was very hard and I started feeling nauseous and dizzy early in the climb - and tired. It was hard and I thought I was the only one who felt like that.
Make sure you take enough time to acclimatise - lots of people that did the shorter tour did not make it to the top.
Tips and Advice
Read up before you go. A fantastic book is Henry Steadman's Climbing Kilimanjaro.
Make sure you have prepared yourself mentally. Be positive!
The most useful items in my backpack were Wet Wipes and my bottle that clipped on my backpack in front, so I didn't have to reach back and get it.
Also useful is a moonbag where you can have small items easily reachable.
About Kilimanjaro: do it, you will never regret it..
I loved it!! It's something I will always remember and treasure.
More Lemosho Route Reviews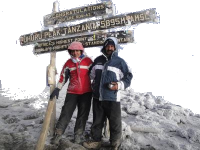 Join in and write your own page! It's easy to do. How? Simply click here to return to Africa Tour Operators Reviews.