Kilimanjaro Climb with SENE
by Kim
(CA, USA)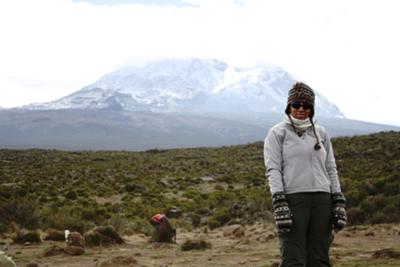 Shira I - First View of Summit
Our guides, Herman and Ayoumwi, were the perfect pair, and we loved them. They both offered something so different yet so rich and valuable, and they really helped us understand Tanzania.
OPERATOR PERFORMANCE
SENE certainly delivered everything it advertised, and exceeded our expectations in terms of intangibles, such as relationship building and personal touch.
For example, we knew a SENE representative would greet us at the airport - we didn't expect there would be three people! Herman (our head guide for Kilimanjaro), Pascal (our head Safari guide) and Julius (our driver for the first part of our trip) all met us there. At first, we thought it was just a meet-and-greet but as it turned out, Herman and Pascal both spent the entire three days before our climb with us.
For us, it allowed us to build trust and rapport with the people whose lives we would put in our hands for the next several weeks. It also allowed us to have a lot of our questions answered and to get on the same page in terms of expectations, such that by the time we started our respective climb/safari, we were already very comfortable and very friendly with our guides.
Since we spent some of these pre-climb days exploring Mbahe Village and Simba Farm on short hikes, our guides also got a sense for our abilities and interests, which (in my opinion) allowed them to tailor some of the service they provided to us. This experience seemed "above and beyond" the experiences of others we met, most of who did not meet their guides until the day of or the day before their trek.
The experience of staying at Mbahe farm and making friends with "real Tanzanian people" (I hate to use that phrase, but it is starkly different from the experience that most climbers have - staying at hotels in Arusha or Moshi) was indescribably rich. We were very sad to leave Mbahe. Even though we'd only spent a combined 4 days there by the time we left, we had made some wonderful connections with folks and we have such fond memories of being there.
We also had a lot of contact with Simon who, as the owner of the company, we hadn't expected to see. He made a trip to Mbahe to meet us before our climb; spent several hours with us the day we returned from our climb; drove us around Moshi one day and we had lunch with he and his wife. It might sound a little crazy, but we really felt like we were treated as family.
COMPARED TO OTHER OPERATORS
First and foremost, we definitely felt safe at all times. We also felt that we were with one of the best outfitters on the mountain, based on the following:
Equipment and Porter Equipment:
We traveled with two Mountain Hardware tents for the climbers and guides; a large, durable sleeping tent for the porters, a large kitchen tent, and a large dining tent; our porters were dressed at least as well as we were, sometimes better (all properly attired in trekking gear, from jackets, to base layers, to boots, to gaiters - name brands like North Face, Sierra Designs, OR, etc.); the other high-end outfitters we ran into (like Tusker and Thompson) all had comparable gear, and porters with comparable gear. We noted that some porters from other companies were not properly attired (climbing in sneakers, not enough layers, etc.) and that some companies were using sleeping tents as cooking tents.
Amenities:
We had a toilet tent, and many outfitters, conspicuously, did not (the aforementioned high-end outfitters did - however, the climber to toilet tent ratio appeared rather high, at around 8:1). When we first checked out companies, we almost laughed this off, but it turned out to be an extremely valuable creature comfort, especially since not all camps have outhouses, and even the ones that do are not terribly pleasant; high-end outfitters appeared to provide the same comforts as SENE (wash water upon arrival to camp and first thing in the morning; tea and coffee served in your tent, etc.). However, other outfitters were a lot more no-frills and we sometimes found climbers at camps who were more or less "on their own" (using the public facilities, buying some supplies from the ranger stations).
Staff-to-climber Ratio:
There were only two of us on our climb, but we had a staff of 21 people. Other groups we saw that were much larger than ours had staff that was the same size or smaller than ours. Admittedly, this could be due to fewer days on the mountain - we can't be totally sure what contributed to this. On the other hand, it could also be because porters with other companies were carrying more than the authorized weight...
Branding:
Some other companies were way more into branding than SENE. For example, no SENE equipment was branded, for almost our entire trip (with the exception of some t-shirts, hats, and one of the safari vehicles). But other companies had a lot of branding (for example, you will know when you have come across Tusker on the mountain - matching yellow tents with the Tusker logo all over them - a Tusker flag erected in the middle of the grove of Tusker dwelling). Just an observation...it was kind of funny, though, because other climbers could tell that we were very well-outfited and we got a couple of questions about who we were climbing with :)
Overall Health and Well-Being of Climbers:
We clearly felt happier and healthier than most climbers we came across, particularly near the summit. It's funny - near the bottom of the mountain, when people are feeling good, everybody is congenial. Folks will chat with you, smile and say 'Jambo' when you pass them. They are bopping to music on their ipods. By the time you get above 15,000 feet, you can see who's really hurting, and, comparatively, we were not. We didn't even take altitude meds until Barafu camp (16,000 feet), and we only took them for 2.5 days.
I was fine the whole time (only took advil twice for headaches). Brian was worse off than me, but he was never really in trouble (the 5 minutes of oxygen he took at crater rim camp fixed him right up, and that was after we had summited). As early as Shira II camp, we could hear people coughing at night, and having stomach troubles, and us witnessing other sick/unhappy climbers endured. We even saw several climbers being evacuated, on our way down. I have a very weak stomach, and I never got sick the whole time I was in Tanzania, despite bringing bags full of Pepto, Immodium, Tums, etc.
ROUTE
We consciously opted not do the Western Breach route. This was due to our inexperience with altitude and a desire to play with getting to 15,000 then going lower again for awhile.
We were glad we did not keep ascending from Lava Tower because it was VERY COLD there already, and it was only the 4th night. We were glad to be climbing in milder temperatures on days 5, 6, and 7 because night 7 and day 8 (Barafu to summit and night in the crater rim) were really freezing. The temperature in our tent at the crater rim went down to 23°. It definitely got a lot colder at night a lot earlier in the trip than we thought...from what we'd read, we'd thought there would only be a few cold nights near the top. That couldn't have been further from our experience.
GUIDES AND PORTERS
Herman is a hip, 27-year old Tanzanian guy with a snazzy cell phone and other modern trappings - he taught us a lot of Tanzanian slang, and he had a lot of energy and spunk. Ayoumwi is a softspoken, wise, 55+-year old Tanzanian guy with grandkids and a subtle mischievous sense of humor. They were like yin and yang.
A fair number of the guides are not Tanzanian - on the plane to JRO, we sat next to a Danish woman who was flying to Tanzania to lead her 15th trek up Kili.
Herman and Ayoumwi taught us so much about the mountain, its flora and fauna, and Tanzanian history, we learned about their families and their lives (and vice versa), we told each other riddles over dinner...and, in addition to getting to know us personally, they played their roles flawlessly - looking after our safety (checking our stats like clockwork, every breakfast and every dinner; keeping our spirits up; at one point, Brian needed oxygen because his pulse-ox was below 60 at the Crater Rim and they expediently and flawlessly used the safety equipment).
Herman went above and beyond the call of duty when, at Barafu camp, Brian's hiking boot broke (the sole was coming off). Herman knew a porter from another group who could fix Brian's boot, and he came back 30 minutes later with Brian's boot completely fixed with professional-grade seaming. Unbelievable.
Also, our porters were great. We became friendly with several of them over the course of the trip. The songs they sang for us were so great, we took some video of them singing us into camp one day. Two days after the climb, Simon hosts a congratulatory party at Mbahe farm, so we got to see all of our porters a final time, as well, which was a lot of fun and very rewarding as several of us (both we and them) stood to make speeches.
More Kilimanjaro Climb Reviews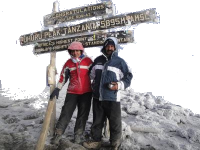 Join in and write your own page! It's easy to do. How? Simply click here to return to Kilimanjaro Climb.