Umbwe Route Review
by John Watson-Jones
(Kenya)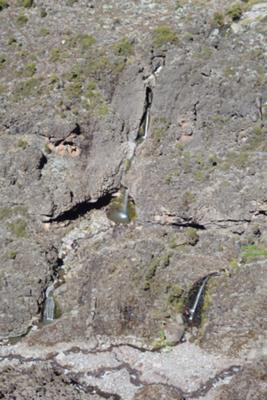 Four Waterfalls
Going to bed in the crater after a sunlit day, and emerging the next morning in fresh snow was amazing. The Umbwe Route was marvelous, and overall the hiking was more interesting and scenic than I'd expected.
Operator Performance
We used Marangu Hotel for the trek; heard of them in two guidebooks.
They were excellent: gave great advice, arranged everything perfectly, and provided a welcoming, historic, and attractive base.
While we provided most of our own gear, they knew just what else we needed, and provided it (gloves) free.
The guide and porters were friendly, competent, and uncomplaining, and NOT obnoxious about tips or giving them gear afterward as we'd heard tales of.
Food
The food was good, both in the hotel and on the trail.
All trail meals were served in style, always in a sheltering tent if we wanted: early tea with warm water wash basin, breakfast of fruit, juice, cocoa, cereal, bread, egg, etc.
Lunch would be soup and warm entree; tea and biscuits; supper of soup, spaghetti, etc, fruit.
Route
We took the Umbwe Route up and Mweka Route down to avoid crowds, see more of the mountain, and get better scenery than the Coca-Cola route.
Preparation
One of us ran regularly while living at 2100m; the other was on a long safari and was unable to train.
Facilities
Excellent, especially because we had our own portable toilet to use in the crater; though one morning the wind blew the tent off the throne just after one of us had used it!
Challenges
Both of us, who are in our 60s, experienced significant but short-lived tiredness the morning we summited, but that was the worst, so no real problems!
No disappointments; we just wish we'd had time to explore the crater, Mawenzi, and more of the mountain.
It would have been nice to be able to pay by credit card; Tanzania seems difficult that way.
Other Activities/Safari
One of us went on a safari, before and after Kili, and it went great.
We coordinated hiking Kili with rock climbing at Hell's Gate and Lukenya in Kenya (possible because we had our own vehicle).
Tips and Advice
Be prepared for bad weather and high prices, and try to avoid blisters by having footwear that's already proven comfortable.
Our
binoculars
were most useful (though the Lammergeier we saw at Barranco Camp was too quick for us to use them).
John's Kili Trek Details:

Rating: 9.5/10

Kilimanjaro operator used: Marangu Hotel (make an enquiry)

Route climbed: Umbwe up, Mweka down

Date of climb: 10 February for 8 days

More Kilimanjaro Climb Reviews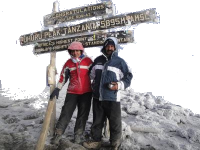 Join in and write your own page! It's easy to do. How? Simply click here to return to Kilimanjaro Climb.