Exceptional Kilimanjaro Guide
by Gerhard Brand
(Qatar)
Joshua's insight, compassion, humility, knowledge and self belief, attention to detail and assertiveness is exemplary. Looking back on what we achieved, we all are of the opinion, that no matter what anyone would have done differently than what Josh suggested, all of us would probably have failed to achieve our goal of summiting Kilimanjaro.
Operator Performance
We used Team Kilimanjaro for our climb.
Their service and equipment were of excellent standard.
David was very patient with all our ignorance, requests, and questions over the year or so prior to our trip to conquer our continent's highest mountain. His insights, suggestions and finalisation of our trip was invaluable.
We have absolute and heartfelt gratitude to our Chief Guide Mr. Joshua Rhuhimbi (Josh). This man is in one word AMAZING.
From the first time we all met him at the pre-climb briefing, all six of us felt that we had someone VERY SPECIAL dealing with us. I can quote a whole dictionary or management book of praising words about this man, but that would not do justice, so suffice to say he is a very, very special person indeed and a born Leader.
We were part of a record breaking crowd of more than 150 climbers starting on the same day on the Rongai Route, the afternoon of the 19th of September 2010.
Being a Management Consultant by trade, I could see some of the "other" guides being overwhelmed, or just plain mystified at the amount of people that were queuing up for the start and most of them acting haphazardly with negative consequences on their climbers.
Josh, showing natural leadership however, just stayed cool and calculated in rallying his team and keeping us calm and focused at the task ahead.
I am sure that there had to be a lot of niggling logistical problems to sort out and deal with, but we were put at such ease that if there were any problems, Josh surely did not let it deter him from his mission in making our trip an absolute wonderful and unforgettable experience.
From our first steps on the route we were all at ease with his approach, demeanor and attention to every detail. This exceptional individual was absolutely spot-on with his evaluation of our group's abilities, strengths, weaknesses and individual mindsets even after the first section of day 1.
It is my and our whole family group's honest opinion that if the changes as suggested by Josh to our original plans, were not implemented, not one of us would have succeeded in our goal to reach the summit.
In mountaineering or climbing terms, our group falls under the banner of very average and we would in all probability have given up at one time or another, especially during the final assault.
But thanks to the major experience of Josh and his timely and accurate evaluation of his client group and subsequent changes of plans, we all were successful and are extremely proud of our accomplishment. To have our whole family at the summit at the same time was the most special and proud feeling I had in a very long time and probably only topped by the days the children were born.
We will always think back at our whole Team Kilimanjaro team, with only the fondest memories. The Leaders Josh, Felix and Solomon and the food guys, Richard & David especially but indeed the whole crew, because each and every individual was efficient and special in their own way.
Not once did any of us feel any negativity or ill feelings towards us or among themselves as a team, and it was indeed a humbling experience to see these people work so hard and efficiently everyday and still keep a friendly face and a yearning to do even better the next day (if that was at all possible).
Food
Food was absolutely amazing (3 and 4 course meals every time).
Route and Facilities
We did the Rongai route, which our guide changed to suit our abilities as mentioned above.
The best spin off of these changes was to have a midday summit with no crowds at the top and fewer encounters at descend time. We all have some problems with our knees so going down is just as hard as going up!!
We also did not have the added pressure, let alone the energy to go all the way down to Horombo Camp after summiting, on that same day. Subsequently we had a wonderful descend over two days which was most enjoyable because of more energy and we could enjoy the views and surroundings even better.
During our safari we met a lot of people that did Kili the previous week and I must say the way they looked and felt was much worse for wear than any of us did afterwards.
The highlight of the climb was reaching the summit with my wife, 2 kids and their partners, all 6 together.
Facilities - we rented a mobile toilet from Team Kilimanjaro and it was wonderful, clean and private.
Preparation
Training consisted of a slow build up of walking about 9 months prior. Started with 4 km per week and ended with 10km every second day.
The last 2 months we also climbed stairs in a 36 storey building once a week for the first month and thereafter increasing to 4 times up and down every second day during the last week before we left (there are no hills or mountains nearby).
Weather
We were blessed with very good weather and clear skies the whole week.
Challenges
The scree slope between Kibo Huts and Gillman's point was the hardest part of the climb.
Other than shortness of breath none of us had any major problems with the altitude.
Other Activities/Safari
We went on an absolutely wonderful safari in the Serengeti the week before, (that's how our dates worked out).
In retrospect it was the best thing to do, as we enjoyed everyday and also rested during our safari and got some time at altitude 1500 – 1900m which did us good as we live at sea level.
We met some people that just completed the climb and they were too tired to enjoy the first 2-3 days of their safari!!
Tips and Advice
Choose a good company, don't skimp because of the money, it is well worth it.
Prepare as best you can. You don't have to be super fit, just walking fit.
If you decide to do it, go for it!
The most useful items in my luggage were good socks and boots and a facecloth.
Kilimanjaro gear - what to pack »
More Rongai Route Reviews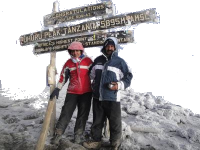 Join in and write your own page! It's easy to do. How? Simply click here to return to Africa Tour Operators Reviews.