Kilimanjaro Report
by Claire Chambers
(UK)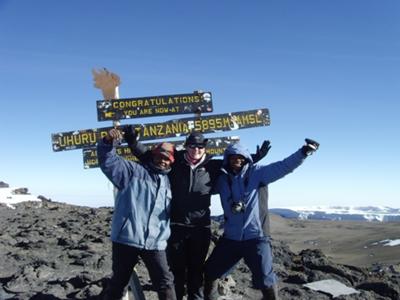 I did summit thanks to the guys at Team Kilimanjaro!! They are the best!! Couldn't have asked for anything else!! I was travelling alone and was a bit worried before I went but they put me completed at ease! The 2 guides (Big Deo and Little Deo) and porters were brilliant!!
Operator Performance
Team Kilimanjaro was recommended on a few different websites.
Also, guys who set up company were Military based which made it for me as my partner was in the forces.
The guides were absolutely brilliant, I cannot fault them in any way, both guides and porters were fantastic!! Food was excellent, service was even better!
A list of equipment was provided, essential things that you needed! Didn't need anything more on the list! You could hire equipment from them too to save cost instead of buying! All kit was in very good condition.
The whole experience was absolutely brilliant.. Would recommend it to anyone!! I would definitely recommend the 'Team Kilimanjaro' and have been since I've been back!!
Food
Porridge and toast, bacon, eggs and sausages for brekkie, soup and stew and curry with rice, meat and veg, pasta, chicken, a very wide range of food.
Also will accommodate for tastes. Fruit with every meal and a lush dessert. Everything you needed! Never was hungry.
Route
I did the TK Rongai Route, since it was the only one available on the date I wanted to go.
It was brilliant as we started at the other side than most routes and didn't really see any other groups which was good as the camp sites weren't over crowded and you never got stuck behind anyone!!
Toilets were very good along the way!
Preparation
I literally booked it and flew out the next week, no training and have never hiked before.
Next time I would defiantly do a little fitness preparation!!
Mentally just stay positive and don't read too much into the horror stories!
Weather
I went 1st week in June and weather was brilliant.. Only had 1 day of rain/snow. The rest of the time is was lovely!!
Challenges
The last day to the summit was the hardest; physically and mentally demanding. You would hike all day, rest till midnight then make your way to the summit, this can take up to 6/10 hours then once at the top, enjoy the views then you have to make your way back down!
I had sickness, migraine and nose bleeds. Also found it very difficult to breathe. This day is also the coldest and steepest!
Other Activities/Safari
I went on a safari as well - brilliant, tour guide was very helpful. Had a private tour, as I was travelling on my own.
Saw some great animals, nice to see another part of Africa! Especially the tribes as we drove through the villages.
Tips and Advice
I just hope everyone who does Kili has the same experience as me!!
Take a bag of sweeties for each day!!
Test out the trekking bars before you go as mine were awful!!
Take two cameras as one stopped working for me, and spare batteries.
Wear your boots in!!
I found a neck warmer/bandana very useful, good in the hot and cold! Also a light pair of waterproof gloves and hat.
If I could I would stay longer. Before the trip to acclimatise and after to enjoy Tanzania. The Tanzanians I met were the most friendliest and helpful and they couldn't do enough for me! Just wished I could stay there longer.
Kilimanjaro gear - what to pack »
More Rongai Route Reviews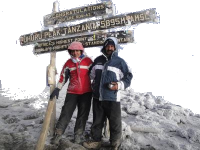 Join in and write your own page! It's easy to do. How? Simply click here to return to Africa Tour Operators Reviews.