Team Kilimanjaro Review
by Elmer Horvath
(Canada)
The whole climb was amazing, and realizing that walking above the clouds we were up where a lot of planes fly. If I had to pick one highlight, it was the elation starting the trek down from the peak of what we had accomplished on a personal level. That was an awesome feeling. Or maybe it was the lack of oxygen : )
Operator Performance
Went with Team Kilimanjaro who arranged all transport to and from the airport as well as from hotel to mountain and back.
I heard about them through the recommendations of Bruce Whittaker at African Safari Journals.
Team Kilimanjaro did very well, I thought. Some of the things I liked about them:
- my friend and I brought acetazolamide (diomox equivalent) for adjusting to the altitude and the guides provided a recommended regiment and we only used half of what we were prescribed and both of us did well on the climb;
- our guide, James, helped us move between hotels before the climb and then spent the day with us and guided us on a tour of a snake park; all before our climb was to start;
- held our extra gear for post-climb in their offices without a problem;
- had no problems with our request for transport to the airport after our alternate arrangements fell through.
The guides and porters were very friendly and great company. We interacted most with the guides and our waiter (who was in training to be a guide).
As mentioned above, one guide, James, spent the day before the climb with us. Our waiter spent the day with us after the climb taking us around Arusha's market places.
We were very grateful for the accompaniment of local people who were guides and protectors. This was fantastic for us.
On the climb, all were incredibly friendly and seemed to enjoy each others company and were always smiling.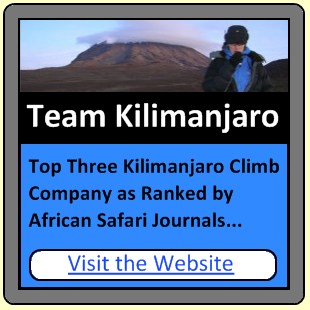 Equipment
They provided an extensive list of recommended items. I rented both a sleeping bag and down jacket from them so I didn't have to travel with them (as I did further travelling). Both were very good, did the job, and were light.
My friend was cold at times in his sleeping bag that he brought, but I had no problems at all.
Food
The meals were quite tasty:
- Breakfasts were often porridge followed by an omelette with sausage, ham, or hot dog. Toast as well.
- Lunches always started with a soup (cucumber, vegetable, carrot) and bread with one of a) noodles and ground beef sauce, b) like a grilled cheese sandwich, c) veggie sandwiches; all followed by fruit (watermelon, bananas, oranges)
- Dinners always started with a soup (pumpkin, leek, zucchini) and bread with one of a) potatoes and beef and veggies, b) potatoes, noodles, cabbage, chicken, c) rice and chicken; all followed again by fruit (fried bananas, pineapple, mangoes).
Route
I climbed the T.K. Rongai route. This is a new variant of the Rongai route developed in part by Team Kilimanjaro.
They recommended this route for several reasons, which are mostly that this newer route is supposed to get one to the high camp in the best condition wasting as little energy on the ascent so that one is in the best shape for the final summit bid.
Transportation was arranged by Team Kilimanjaro and consisted of a diesel bus that reliably took us on the bumpy roads.
We started in Arusha and drove 2 hours to the main gate to register. We then drove another 2 hours on the really bumpy roads to our starting gate at the Rongai route.
The bumpy roads should be getting better as they were undergoing major construction at the time.
Preparation
I usually play a lot of ultimate throughout the year. I tried to do a few climbs in the Adirondacks (peaks reaching just about 4000 ft (1300 m)). Not that high compared to Kilimanjaro.
I also tried to run a few times a week. I probably could have done more hiking with a backpack.
But all in all, we were strong even on the summit bid. We kept up a pace that had us passing all groups, except for a lone climber and guide that flew by us, and we were the second group to the peak before the sun rise.
Weather and Facilities
The weather was pretty good. The third night was a bit foggy (the only reason I deduct 0.5 off my rating out of 10). No real rain to worry about. It was cold in the upper elevations.
Facilities were there. Not much more than holes in the ground with some walls around you. Not really used to that. There were flush toilets along the coca-cola route where they could tap into a nearby stream for water. This was not the route we took, though we did stay in Horombo on the Marangu route.
Challenges
The summit push was definitely hard since it was through the night (which is a good thing so you don't see what you are trying to climb until the descent in the morning).
The altitude was not too much of an issue, though after 1.5 hours at the peak, it did feel like it was time to start downward.
The constantly heavy breathing at high altitude was unusual, but not particularly hard. It just felt like I was always running and having to catch my breath even though the pace was a snail's pace.
Other Activities/Safari
We went on a safari afterwards (5-day, Tarangire-Serengeti-Ngorongoro).
We went with Good Earth Tours
(reviews)
and had good experience with that trip as well, though there was one negative with our rep there who seemed to be trying to nickel and dime us especially when we were under the impression they could take us back to the airport afterwards, but ended up using Team Kilimanjaro to do that since it was included there. Just a misunderstanding but not handled well.
The safari itself was quite awesome and we had a former ranger as our guide who knew all of the parks so well and where to go in them.
We did see two kills by cheetah and close ups of a leopard on a tree and lots of other animals.
I would also recommend them as the experience was quite worth it.
Tips and Advice
Pole pole! Enjoy the views and listen to the guides. It is an experience.
Make sure you have warm clothes for the upper camps.
You can always get hot water for your sleeping bag at night, bring a nalgene or other container for it. I didn't need it, by my friend did.
The most useful items in my luggage were a pen and pad to take notes. Also a good camera.
Kilimanjaro gear - what to pack »
Although I thought we would see more wildlife, especially in the forested zones, I have no real regrets.
It was neat to see the 3 unique plant forms on the mountain: Giant Senecios (groundsel), lobelia, and impatient Kilimanjaro.
More Kilimanjaro Climb Reviews