Mt Kilimanjaro with Zara Tours
by Nicolai Lindholm
(Denmark)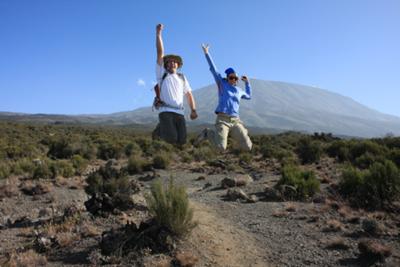 Uhuru peak, reaching the top and seeing the sun rise over Africa was just amazing. The trip was fantastic and we had nothing to complain about. We had clear skies, not a single drop.
Operator Performance
We chose Zara Tours because of their good reviews and that they have started an NGO to help the porters' conditions.
They were amazing and helped us with all the details. We rented sleeping bag and walking poles from them as well.
The equipment was really nice! Warm sleeping bags and good tents (which was really important on a journey like this).
They asked us before we started to make sure we had all necessarily clothing.
They even provided an eating tent with a table and 2 chairs for us.
The guides were really nice and they had a great understanding and a lot of experience. They even sang for us when we climbed from Kibo Hut, and helped us carry our backpacks.
Food
We had great food and plenty in quantity.
Often some chicken, rice, soup.
We even got watermelon the last day.
Route
We used the Rongai route - we wanted a less travelled and scenic route.
Preparation
I did many long walks with all gear on, including camping.
Facilities
The facilities were great. Not toilet paper at all places, but that is a minor detail. The guides had extra when our own ran out.
The weather was good but we did have frost on our tent when we went to sleep at Kibo Hut before the ascent.
Challenges
The hardest part was the last climb. We had the motivation but the climb was still very hard.
We did experience small altitude problems such as headache. I lost appetite for lunch on day 4, but got better already by dinner.
We both got a bit of a loose stomach.
Other Activities/Safari
We did a safari too. It went really well, we saw all of the Big 5 and visited Lake Eyasi, Manyara,
Serengeti
and
Ngorongoro
.
Tips and Advice
Wear warm clothes with many layers. A fleece sweater was most useful.
Kilimanjaro gear - what to pack »
More Rongai Route Reviews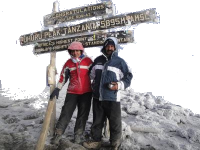 Join in and write your own page! It's easy to do. How? Simply click here to return to Africa Tour Operators Reviews.