Kilimanjaro Expedition
by Angela Bloor
(Canada)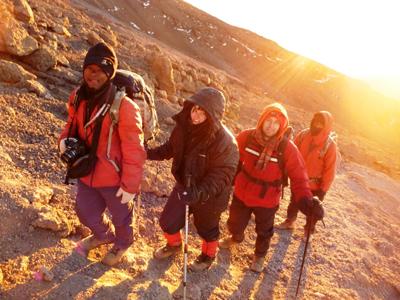 Climbing summit night and the sun was finally coming up
We chose the TK Rongai route as it was described as one of the routes with the best acclimatization. We wanted the best chance at getting to the top.
Operator Performance
We booked with Climb Mount Kilimanjaro which use Team Kilimanjaro. We were very happy with their service. We were well looked after.
We found CMK thru Henry Stedman's book, Climb Mount Kilimanjaro. We then did a bit of research on the internet and decided to go with them.
We had a head guide and 2 assistant guides who were all excellent. We also had 12 porters and 1 cook. There were 4 of us climbing. All the porters and the cook were also excellent. All very friendly and helpful.
I was very happy with the equipment that was provided. Our tents were large, had a mess tent with comfy chairs.
I rented a sleeping bag and a summit jacket from them and they were both good quality. Kept me nice and warm. The summit jacket was definitely needed, even in the evenings sitting around it got quite chilly. I brought my own trekking poles and glad I had some. I used them everyday.
Food
The food was very good. Breakfast was porridge, an egg, toast, a sausage and fruit. And of course tea, coffee, or hot chocolate.
Lunch was soup, sandwiches, fruit, cake sometimes… When we arrived at camp there was popcorn and tea and coffee.
Dinner was soup, a meat and vegetable sauce with rice or pasta, fruit. Pretty much the same kind of thing everyday but lots of it and it tasted great.
Facilities
The facilities are what you would expect I guess on the side of a mountain… Outhouses with holes in them. Some better than others.
Preparation
I did lots of gym training, treadmill on an incline, weights. Did some walking in my hiking boots to make sure they were broke in.
Mentally I read a lot of others accounts of climbing. All said it was harder than you imagined… So I imagined it was really really hard… and it wasn't as bad as I thought. It was hard but I convinced myself that I could do it and it really was just one foot in front of the other.
I didn't find any of the days that physically demanding except for summit night.
Challenges
The hardest part was summit night. It was cold and dark and seemed to take forever.
I started having some problems with the altitude a couple hours into climbing on summit night. Was finding it hard to catch my breath and was very weak. My legs felt like lead. I was also coughing and the guide said my lips were turning blue(??).
I made it to Stella point but didn't go all the way to Uruhu. I would have liked to but don't think I would have physically made it. Still worth it though.
Other Activities/Safari
I went on a 4 day camping safari. That was also amazing. Saw lots and lots of animals. The campsites were way better than I was expecting.
Tips and Advice
I would advise people to go up to the peak from the Barafu camp route, not the Kibo hut route. We went down the Kibo hut route and can't imagine climbing on all that loose scree. There was some scree on the way up to Stella point as well but didn't seem to be as much.
The best item I used was the summit jacket. I hate being cold, so I was wearing it a lot in the evenings and on summit night.
Kilimanjaro gear - what to pack »
More Rongai Route Reviews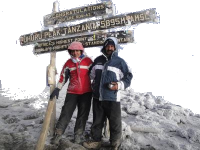 Join in and write your own page! It's easy to do. How? Simply click here to return to Kilimanjaro Climb.