Ringo Expeditions Review
by Clare Lobb
(UK/Zimbabwe)
I thoroughly recommend the climb, as long as you are fit enough to walk for about 6 hours a day, no other expertise required. It was very rewarding and worth all the sore muscles at the end!
Operator Performance
I used Ringo Expeditions for my climb - I found them online.
They gave fantastic, personal service and tailoring of trip, personal/caring service
en route
, friendly and knowledgeable guides, motivational on summit day.
Everything was great.
Food
Breakfast porridge and fruit then something cooked - fried bread, scrambled eggs, tomato, avocado, tea/coffee/milo.
Lunch was pasta, salad, biscuits, tea, fruit, fruit juice.
Dinner was soup, stew, rice, pancakes, chicken, vegetables.
Route
I did the Marangu route.
Stayed at Keys Hotel, Uru Road the night before and after - pretty standard but adequate.
On the trek, we made use of the Mandara, Horombo and Kibo huts. Good condition huts, better than expected, Kibo toilets not great.
It was great seeing monkeys in the rain forest and birds during the climb.
The highlight of my Mt Kilimanjaro climb was reaching the crater of Kibo peak at Gillmans point - amazing views.
Typical Day
Generally woke up early (6am), we were brought tea and washing water and would get our things packed for the day. We would have breakfast around 7.30 depending on how busy the eating hut was, then would leave around 8.30am for the days hike.
We would walk until about 12 with a few water/snack breaks, then would stop for lunch which would be ready waiting for us
en route
.
A further few hours walking and would arrive at the next hut for the night at about 5pm giving us time to wash and unpack before dinner between 6 and 7.
Generally an early night in bed by about 9pm.
Tips and Advice
Take old kit to leave for the porters afterwards, they really appreciated that.
Follow the guidelines online as to the hierarchy and tipping, though the porters don't earn much so don't be stingy.
Wear high factor sunscreen on the summit day, we got badly burnt.
If worried about altitude sickness, take half a diamox tablet twice a day with meals from the start of the trek.
The most useful item in my pack was gaiters - they kept my feet dry in the rain. Take good waterproof kit.
Kilimanjaro gear - what to pack »
Clare's Kili Trek Details:

Rating: 10/10

Kilimanjaro operator used: Ringo Expeditions (make an enquiry)

Route climbed: Marangu route

Date of climb: 22 December for 6 days

More Kilimanjaro Climb Reviews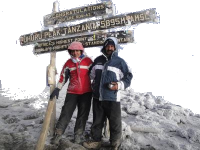 Join in and write your own page! It's easy to do. How? Simply click here to return to Africa Tour Operators Reviews.