Chimpanzee Volunteer Work
by Ally MacDonald
(United Kingdom)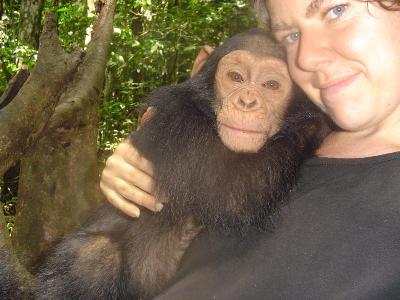 Ally and chimp
Enjoying the beautiful trusting relationship with baby chimpanzees was the highlight of my experience in Cameroon. Getting them to feel confident and comfortable in the trees is very important for them to behave as normal chimps.
Volunteer Organisation
I found Sanaga Yong Chimpanzee Sanctuary on the internet.
Accommodation and Setup
I lived in a bamboo hut with a corrugated roof - my gosh it was noisy when it rained!
I lived on the site of the chimpanzee sanctuary, so every morning I would wake up to the sound of chimpanzee pant-hoots.
A few of the other staff members also lived on-site, the others came from local villages and they invited me back to their homes for parties and social occasions.
The staff all spoke French as their first language, and were very patient with my stuttering attempts to speak with them.
I had one day off a week, and usually went into town for shopping or to use a computer. I knew a motorcycle taxi driver who would come and collect me and we would ride off over the dirt tracks becoming quite orange from the African dust.
There were around six volunteers at the project at any one time.
Food
We had our own kitchen which we shared with the cockroaches, and ate lunch with the staff, usually beans or rice.
There was so much fruit you could never run out, as there was a fruit room to feed all the hungry chimps.
I bought extras for myself, like cornflakes.
Every week I would go to the town market to do shopping for the project, which involved bartering for vegetables.
The Volunteer Work
I was hands-on with the chimpanzees.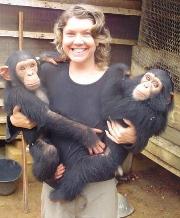 Part of my role was as a mummy to some of the orphaned baby chimps who had been rescued from pet dealers or hunters. I would take up to three of the babies out of their enclosure and they would jump into my arms and I would walk them into the forest. Then they would run around on the ground and climb the trees.
I also helped out with feeding all the infant and adult chimpanzees their meals of fruit and vegetables. I would check the enclosures with the staff, and observe the chimpanzees during the day. I helped out with cleaning out the enclosures, and got involved in maintenance work and office tasks.
As a trained journalist, I also used my communication skills to write stories about the sanctuary to raise awareness and donations.
Typical Day
Get up at dawn. Go to prepare fruit for the chimps. Feed the chimpanzees. Check enclosure for power failures. Let chimps into outside enclosure. Clean cages.
Go to village to buy fruit from local farmers. Take baby chimpanzees into the forest to play and climb. Prepare and feed lunch to the chimps. Observe chimpanzees in the afternoon.
Feed dinner to the chimpanzees. Carry out health checks. Check enclosure. Get chimps back into night cage to sleep. Cook dinner with other volunteers and eat outside.
The weather was hot but not humid. Dry season.
Tips and Advice
I have no regrets or disappointments at all. Meeting and caring for the chimpanzees is one of the most amazing experiences imaginable.
My advice to others would be to be very flexible and patient. Everything is done to 'African time'!
Do some work experience at a zoo and read up about primates before applying.
Find out if there is a specific need for certain voluntary work, for example we also had a mechanic and a vet at the project.
My most valuable item was a mosquito net.
Chimpanzees are endangered and need all the help they can get. If you'd like to donate to Sanaga Yong please visit www.ida-africa.org for more information and details or how you can apply to be a volunteer.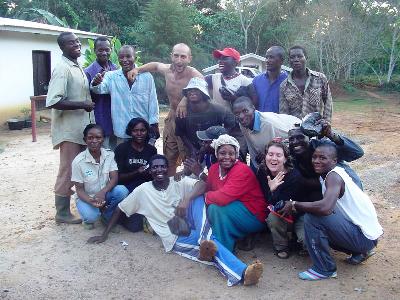 Ally's Volunteer Details:

Rating: 10/10

Volunteer company used: Sanaga Yong Chimpanzee Sanctuary (make an enquiry)

Project location: Cameroon, near Belabo in the south

Date: October - April (six months)

More Volunteer Africa Reviews