Orphaned Giraffe: Volunteer Work
by Megan Clements
(England)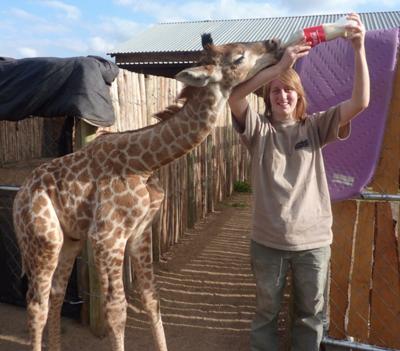 Feeding Duke the giraffe calf
The highlight of my trip was to look after Duke the orphaned giraffe; he was only 2 weeks old when he came to the centre as he was dropped on a rock whilst being born. He therefore was very under nourished and could not stand or walk. We did nurse him back to health and he was able to walk well after.
Logistics
I volunteered at an animal rehabilitation centre in South Africa close to Barberton, for 3 weeks.
I arranged it through African Conservation Experience whom I found through college.
Accommodation
The accommodation was in the owners' home. It was a separate area for the volunteers.
The food we had to provide for ourselves and were taken weekly to the local supermarket.
We had Sundays off from most work except basic jobs such as feeding, cleaning, and medicating the animals. Whilst I volunteered there were 12 volunteers staying.
The only disappointment for me was the laundry arrangements.
The Volunteer Work
Whilst there we helped build and maintain animal enclosures, feed animals, provide enrichment for the animals - this included taking them for play time in a separate area (boma).
We had to medicate animals that were ill or wounded. We had to monitor the animals' eating habits and weight to see if they were recovering. We had to clean their enclosures out at least once a day.
It was very rewarding helping with Duke. He was on a strict diet full of helpful nutrients, and he had to be monitored very carefully - this meant volunteers sleeping with him over night, this was to make sure he did not fall seriously ill overnight and also to feed him his night bottle. This overjoyed me as I felt like I was really helping the poorly animal. Unfortunately because he had not had the important nutrients from his mother's milk he caught a disease and died at only 3 months old.
The work that we carried out did take most of the day to complete. We were also taken on trips to the
Kruger national park
where we were taken on a tour and learnt lots about the plants and animals around.
We were taken on game drives and walks around the reserve we stayed on where we learnt how to track some animals and learnt more about the plants and animals in that area.
I thoroughly enjoyed my time whilst volunteering and hope to return within the next few years.
Typical Day
The weather was pleasant, it was close to the winter so was not too hot, the mornings were quite cold but it did warm up quickly.
On a typical day we would wake up at 6.30, have breakfast and get ready to start the day at 7.00. We would all have a meeting outside to update everyone on any developments, we would also share out the jobs to be done, this was normally 4-5 animals per group (3-4 people in a group).
We would then go feed the animals and let them out into their day enclosures, we would also give them a basic health check (weight etc). We then cleaned their night enclosure ready for the end of the day.
The cats needed to at least 2 play times a day; this was normally done at 11 and 3.
Anyone that had finished their jobs would then go and help build an enclosure; whilst I was there we were building a tortoise, owl, and cat enclosure. This included cutting wood, nailing wood, digging etc.
Throughout the day we would have to continue checking on our chosen animals and feeding them when necessary. We would get an hour for lunch and most afternoons would have a lesson on something such as tracking etc, they would arrange for people from close by to come and talk about their experiences.
We then make sure all animals have their last feed of the day and put them into their night enclosure around 4.30 when it got dark. After our dinner we would then send the 2 people out that were sleeping with the giraffe.
We would then play games and shower, most people went to sleep early as it was such as tiring day.
Tips and Advice
If you get the chance to do something amazing say yes, it is unlikely you will get the chance again.
My
sun hat
was the most useful item in my luggage.
Megan's Volunteer Details:

Rating: 10/10 perfect

Volunteer organisation used: African Conservation Experience (make an enquiry)

Location: South Africa, close to Barberton

Date of safari: July for 3 weeks

More Volunteer Africa Reviews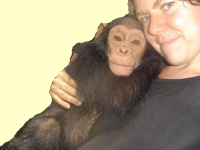 Join in and write your own page! It's easy to do. How? Simply click here to return to Africa Tour Operators Reviews.