Lion Volunteer Project Review
by Oliver Gadd
(UK)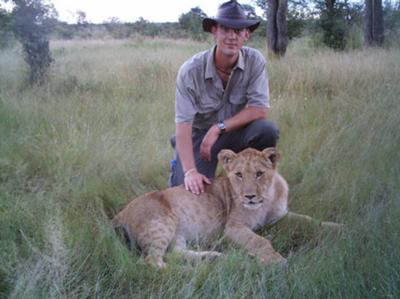 With lion cub
My personal highlight would have to be swimming with the cubs. Most cats have an inherent fear of water so the feeling when our largest cub Phoenix apprehensively swam out to me and rested his paws on my shoulders will remain with me forever. A lion sought safety in my arms - not something that happens very often.
Wildlife Volunteer Project
We did a lion breeding program - designed to release a healthy gene pool of lions back into the wild.
It's a three tier system - this was the first tier. A lion that has had human contact cannot be let back into the wild as this would be too dangerous.
Our cubs, therefore, would be moved at about 13/14 months old into a large enclosure to fend for themselves and hopefully mate.
These offspring could then be reintroduced into a huge reserve without having had any significant human contact.
Project Logistics
I stayed at two different villa style lodges whilst I was in Zimbabwe which were both very pleasant and simple with swimming pools, communal areas for eating and socializing and most rooms were en-suite.
During the second month I shared in a twin room - I think this is generally the case.
Staff was beyond friendly - always smiling and always willing to help or advise. I made a friend for life in Precious, one of the lion handlers. He has named his new born son Oliver, that's how close as you get!
Food was particularly good; lunch at the lodge was simple but dinner and breakfast you couldn't fault.
There are sometimes problems with stock but hey, it's Africa.
Free time would be spent either doing a safari across the border, white water rafting, shopping/exchanging currency, horse riding, micro-light flight, visiting the
Victoria Falls
themselves or an evening at Shoestrings - the only bar to speak of, but a lot of fun!
The most volunteers we had were probably eight, but split into groups as there were two sets of cubs walking at a time, data entry to do and the new cubs which were not yet old enough for walks to be looked after.
The Volunteer Work Itself
The daily routine would involve am and pm walks, sometimes with clients, as a volunteer you had to keep a check on the cubs and ensure the guests' safety and also do a simple data collection sheet identifying each cub's behavioral characteristics.
The lions literally follow in their own time, playing with each other and enjoying the freedom.
There are also photo opportunities for guests where a volunteer can assist.
We would also undertake snare sweeps, border patrols, and enclosure cleaning - feeding and collecting items from the cubs' natural environment to be added to their enclosure as stimulation tools and for development.
It was a very hands-on project, the time spent with the lions is significant and the most amazing bond is created, this only happens if you are there for a reasonable time period.
One day a week toward the end of my two months we had the opportunity to work with elephants just down the road as well, and since I have left, you can also do a day a week at the stables.
The worst thing was preparing the meat for the lions' lunch; no-one was forced into it but be advised its full carcasses sometimes baby calves sometimes half a zebra so it can be a shock.
The freezer broke one day so we had five ton to move to the croc farm freezers down the road in the midday sun. The smell, the blood and the flies were not pleasant to say the least but it was an experience none the less!
Weather
The weather was tropical and as expected, we had amazing sunshine most of the day, a torrential but welcome downpour usually during lunch and then the sun back out to dry us off!
It can feel too hot at times but everything in Africa is done at its own pace - slowly, so nothing to worry about.
Typical Day
We would rise quite early and have tea or coffee at Hunters Lodge before taking a 10 minute drive to Masuwe Lodge and head down to the lions boma after collecting the necessary equipment.
We would take the cubs to meet clients at a designated area and spend around an hour walking with breakfast due after.
Mid morning would involve an activity as pre-mentioned, might be a snare sweep or cleaning the enclosure, but it was always varied.
The staff is so knowledgeable about the fauna and flora - who would have thought collecting different grass types would be interesting?!!
The scouts are incredible people too with the ability to spot elephants on a hill miles away that looked like distant rocks to me, and telling you from a spoor print that there was a male buffalo here recently who would charge us should we stumble across him!
We would be ready for our lunch after and then relax till the afternoon walk or could help working on the local surroundings... we built some steps the one lunch time!
The lions would need to be fed every other day too and this would be monitored: are they aggressive when they eat, etc.
The afternoon walk would be a similar routine though you usually had the other set of cubs and when that was finished we would secure them away for the night and head home for a relax before dinner.

Disappointments
I tried to stay an extra month, but there wasn't enough space!!
Remember it's Africa, toilets sometimes don't flush, and electricity may fail.
Flies are the most annoying creature in the world and these ones don't seem to take any notice of bug spray!!
Tips and Advice
Take the best camera you can afford - you will struggle to get anything electrical in Zim.
The best rate for exchanging money will probably be through the staff - they know of incredible bureaus but don't ask where!
A good hat, diocalm and rehydration sachets are highly recommended. Vitamin B supplements taken before you go may help keep away the biting flies!
I think the most important thing to remember is if it's your first volunteer experience, perhaps your first time away from home it is going to be daunting during the first few days.
It's a new environment full of new people from different parts of the world and there are a few things to learn - people's names, the routine, what to wear, etc.
The truth is that I've worked away from home most of my life, but on arrival I felt alone. The second day I was getting to know people and by the third day I was living a dream and building the most amazing bond with other volunteers and the staff.
This is because you're all in the same boat and it's the experiences you share together that bind you.
For anyone in doubt, take the step, you will revel in the rewards for the rest of your life.
There were so many highlights on so many different levels from meeting new like-minded people who became friends for life to the knowledge of doing my bit for the future of such a magnificent animal.
Working on the project was expensive but worth every penny. Memories are priceless.
Useful Items
To be honest apart from sensible shoes, combats and a hat there wasn't much else needed.
Obviously the normal medical supplies, especially things you depend on because any luxuries are not available.
Dollars seemed preferable to pounds when I went but that may have changed.
Oliver's Safari Details:

Rating: 10/10

Volunteer company used: Travellers Worldwide (make an enquiry)

Location: Zimbabwe: Victoria Falls Township

Date of safari: Jan-Mar (two months)

More Volunteer Africa Reviews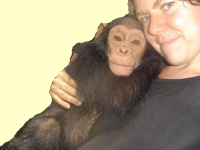 Join in and write your own page! It's easy to do. How? Simply click here to return to Volunteer .