Volunteer Work in Kruger
by Kathrine Stewart
(Canada)
This female leopard crossed the road right behind us. She was trying to get to her kill, which was an impala stuffed up a tree, but a young male lion was lying under the tree and so she ran off into the bush.
Volunteer Company
I volunteered as a research assistant for a joint conservation-based project between Operation Wallacea and Wildlife Ecological Investments.
A representative left some pamphlets outside my university's biology office and I (luckily) picked one up while waiting to see the undergrad advisor.
Our time was divided between two camps: Nsikiazi and Skukuza.
Nsikazi was the bush training camp. I spent a week here learning about the flora and fauna of the region, as well as basic bush craft survival.
The camp's capacity is probably around 60+ people including the logistical staff, local guides and local cooks. It is surrounded by an unobtrusive electric fence and elephants, kudu and a variety of birds were frequently seen from camp. Nsikazi is located on the Mduli Concession of Kruger, about 10 minutes from the Numbi Gate.
Since Nsikazi is a training camp and the hub of the operations, it was always buzzing with teams arriving for training or preparing to head to the satellite research camps. The sizes of teams varied, but our research team consisting of 7 student volunteers (myself included), an Afrikaner field guide, and a SAN parks conservation ranger. Most teams were larger than this.
Skukuza was the satellite camp from which I did the research.
Accommodation and Set Up
Nsikazi - We slept on narrow wooden beds in two-person dome tents. Each volunteer was provided with a thin mattress, sheets, a pillow and a heavy fleece blanket (a total life-saver in the early morning). The tents were pitched on wooden platforms to prevent water leakage and fairly well spaced to mitigate disturbance (i.e. snoring!).
There were no permanent buildings at Nsikazi. The kitchen was a reed boma, the dining area consisted of a raised wooden platform sheltered by a roll-down tent, while the classroom was an open-sided tent with long wooden tables and a sandy floor. The two washroom facilities were also constructed of canvas and complete with showers (a low-flow shower head and a concrete floor) and flushable toilets!!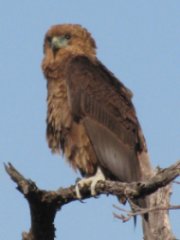 The camp was supplied with electricity but it was used sparingly. There were no electric lights, TV or other forms of electronic entertainment but volunteers could use two outlets to charge camera batteries.
Since we were to be tested on our bush craft at the end of the week, we had plenty of free time to study our manuals and discuss things among ourselves. We also enjoyed a cosy fire each night fed by wood we collected while out in the bush.
Skukuza - My team and I lived in a pair of run-down trailers connected by a wooden porch. They were located just down the road from the Skukuza rest camp village in the SAN parks research complex. Despite the closeness of the rest camp, we felt quite isolated due to the thick bush.
Again, we slept on wooden beds and were given sheets, blankets and pillows. Each trailer had a functional fridge, a somewhat functional stove and zap-strapped shower facilities (I loved it!!!). Laundry was washed by hand in the tub and hung out to dry. Outside, there was a huge fire pit for braais and we took advantage of it whenever possible.
Because there was no electric fence, we shared our yard with warthogs, vervet monkeys and banded mongooses during the day and bush babies and hyenas at night.
Because our team was so small, we worked everyday (except for one day when it rained too hard). I didn't mind this though because we started early and so finished by about 2:00 pm. This left a lot of time to go on game drives, visit the rest camp or just chill in our little yard at the end of the research complex.
Staff
Nsikazi - The Operation Wallacea researchers and support staffs were very laid-back and friendly when I spoke to them, but for the most part, the volunteers interacted with the Afrikaner and British bushmen.
These guides were extremely knowledgeable about the park and were always happy to answer questions and share their stories. They taught us important survival skills and helped us identify the plants and animals we encountered on our daily excursions into the field. The local cooks who manned the reed-walled kitchen area were also wonderful, constantly smiling, laughing and joking. Ngiyabonga!
Skukuza - Our field guide and conservation ranger were terrific. They were both so passionate about their jobs and so incredibly full of information. The conservation officer knew the Latin names for every tree and shrub we came across. Without the two of them, I don't think I would have had half as much fun or learned nearly as much as I did.
Food
Nsikazi - The food was alright, though pretty repetitive and sparse on the fresh veggies. I didn't mind so much because we didn't have to cook anything in Nsikazi! The staff always made sure there were tea, coffee and a bowl of fruit on hand to tide hungry volunteers over to the next meal.
Breakfast and lunch were self-serve affairs because teams would be arriving or leaving the camp at different times but dinner was generously dished up at a long buffet table by the kitchen staff. Everyone ate together at rough-hewn wooden tables by the light of old-fashioned lanterns.
Skukuza - We had to cook for ourselves but Opwall supplied the food. It was actually quite fun to experiment in the kitchen – I just prayed that the stove was working when my cooking rotation came up.
We ate a lot of red meat, squash, rice, oranges, rusks, apples, tomatoes and peppers (there was also meatless meat for the vegetarians). My favourite meals were those cooked outside for a braai.
Part 2 »
Kathrine's Volunteer Project Details:

Rating: 9.5/10

Volunteer company used: Operation Wallacea

Location: Kruger National Park, South Africa

Date of safari: 18 July - 14 August (4 weeks)

More Volunteer Africa Reviews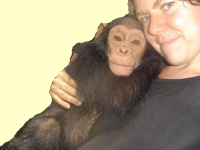 Join in and write your own page! It's easy to do. How? Simply click here to return to Africa Tour Operators Reviews.