Colobus Trust Volunteering Report
by Deepa Thomas
(India)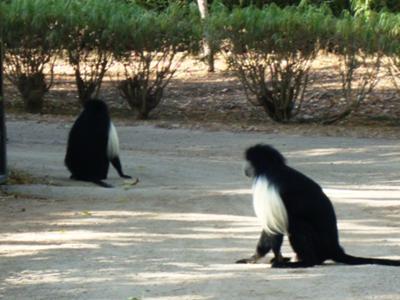 I loved my volunteering stint. The Colobus Trust works in different areas – animal welfare (rescuing injured & orphan animals) + feeding, creating enrichments & cleaning cages for the animals under rehabilitation.
Volunteer Organisation Performance
I arranged the trip with World Wide Experience whom I found online through Responsibletravel.com
Project Set Up
Accommodation - Very comfortable. Colobus Cottage has 3 rooms for volunteers with single & bunk beds. I had a single room.
Staff - Friendly, caring & knowledgeable staff. Staff is always ready to share knowledge and experience with the volunteers.
Food - We had an excellent cook Agree who would cook delicious lunch and dinner 6 days a week. Sundays you managed for yourself and also for breakfast.
Free time - We had a TV & DVD player where we watched movies, caught up with family over the email, partied at Diani's pubs, ate out etc. One weekend I visited the Coral Reef in a glass bottomed boat.
Volunteers - We were 5 volunteers though Colobus Cottage can accommodate up to 10 volunteers at a time.
The Volunteer Work
Apart from animal welfare, The Colobus Trust also works in conservation & outreach: Communication through newsletters, mails, blogs, scripts etc, database updation; tree trimming, colobridging etc.
I especially loved all the aspects of animal welfare including nursing a baby vervet.
Typical Day
The weather was warm and sultry. Around 31°C
(approx 88°F)
was the average for day time. Nights also warm.
On a typical day we start at 8 am with a team meeting with all the staff & volunteers, and were assigned the day's tasks. We used to break for lunch at 1 pm to 2 pm and then worked till 5 pm.
If there were animal welfare emergencies, it was all hands on deck.
Tips and Advice
I loved the entire experience and had no disappointments but being Africa, be prepared for power & water cuts and insects.
Carry lots of shorts and tees and try and stay at least a month.
Sunscreen and sunglasses were the most useful items in my luggage.
More Volunteer Africa Reviews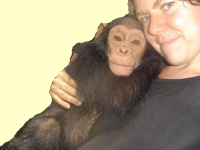 Join in and write your own page! It's easy to do. How? Simply click here to return to Africa Tour Operators Reviews.