Namibia Lodge Safari
by Bill Attwell
(UK)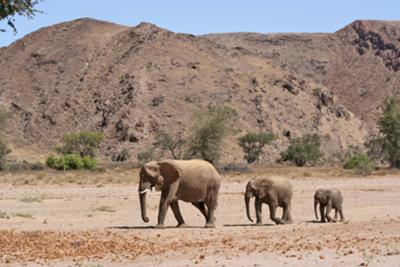 Desert elephants near Doro Nawas adjacent to the Abu Huab River
Something I noticed whilst booking this holiday, was that the size of the camps is significantly larger than in many other parts of Africa. This meant they would be more impersonal, and this is how it turned out.

We like small intimate camps, and these seem to be in short supply, I suppose due to their ease of access by large numbers of people by private car.
Kulala Wilderness Camp, Sossusvlei
Kulala Wilderness Camp looked after us well, and was much as we expected.
The location and views are stunning. The path leading to and from our room to the Main Lodge was rocky, extremely uneven and distinctly arduous to traverse six times a day, especially at night.
The staff were kind and helpful, but our guide was poor.
Our room was clean, comfortable, and came with a lovely little resident white mouse.
The Sossusvlei area was terrific, the highlight being our visit to Dead Vlei which as you know is extremely photogenic. We didn't get too far climbing up the sand dunes though!
Doro Nawas, Damaraland
Doro Nawas too was in a beautiful location. The camp was itself is built in a very austere design, but with an excellent veranda around three sides and roof-top area to enjoy sundowners.
Our stone-floored room was comfortable and clean. We particularly enjoyed moving our bed outside and spending a night under the stars.
Coincidentally here also we also had to endure a similar long trek along a rocky and dangerous path culminating in a daunting flight of very steep steps to get into the Main Lodge – but by now we are fitter than we were when we started!
The guide here was better, and gave us some wonderful time following the desert elephants. He managed to get us charged by bulls 8 times in one morning, and I got some great photos in consequence. Not everyone's cup of tea, but my wife and I certainly enjoyed it.
Serra Cafema, Kunene
Serra Cafema was outstanding, and without doubt the highlight of our holiday. The location was great; the building comfortable and well maintained.
We were astounded to be given a family suite of two matching apartments with a combined frontage to the river of 30 (yes, thirty) full sized windows, one beside the other. That's about 30 meters in width – all for the two of us. Needless to say we only used one apartment, although the other was there I suppose in case we had an argument and needed some space!
The guide was superb, friendly, and unlike most of the guides in the other camps, joined us for dinner in the evening.
We had a great time on the quad bikes, travelling maybe 25 kms to meet a wonderful Himba family.
Our last morning allowed me for the fourth time in my life to try my hand at fishing. I caught three papermouth fish, and our guide caught two – but to be fair he did spend most of his time extricating my line from the rocks!
Our flight from Doro Nawas to Serra Cafema was memorable, as the pilot gave us a great free gratis scenic tour along Skeleton Coast.
Ongava Lodge, Etosha
Ongava Lodge was a little disappointing.
Built on the top of a steep rocky outcrop, getting to and from the vehicles and also the rooms was a major trial. The route was extremely steep, and although this time the paths were paved, everyone found the climb thoroughly exhausting. OK for youngsters, but not many of them can afford a trip to a place like this.
Nevertheless, our room was clean and comfortable, and the staff friendly and helpful in arranging a morning flight to Windhoek on the day of our departure, so we had time enough to collect our car and drive to Okonjima.
Game viewing was fine, but the morning trips into Etosha involved very long, seemingly barren return journeys to and from each waterhole.
The Guide was very poor. He insisted on stopping each morning at the Okaukuejo camp inside Etosha, not so much for our benefit, but in order to chat with his friends while we all waited for him in the heat.
Whilst he had some knowledge, his driving was poor and he had absolutely no concept of how to place a vehicle so that guests could see the game properly – and that was when he only had two guests in his vehicle.
No-one could say they did not get value for money at Ongava. Up at 6.00am, off by 7, back at 1.30pm, off again by 3.30pm and back for dinner at 8.00pm. Take out the time for brunch and dinner, and that leaves just about an hour a day to relax! We really are getting quite fit by now.
Okonjima, between Windhoek and Etosha
Okonjima was just as I had expected – commercial and distinctly impersonal.
Nevertheless, the work done by
Africat
is exceptional, and the experience of locating leopards by radio collars was interesting and rewarding.
We also had two good trips to see the cheetahs, and enjoyed our time there.
This was a good chance to catch up on some much needed rest and relaxation. The early morning starts had begun to catch up with us by then.
No problem picking up the car from Budget at Windhoek, nor with the journey up to Okonjima and back. All went smoothly.
However it is possible to fly from Ongava to Okonjima, and pick up a hire car there, rather than having to fly down to Windhoek and then travel all the way back to Okonjima by car. No-one at Okonjima could understand why we did not just have a car delivered there for our journey back to Windhoek.
Food
On the whole, the standard of food was not entirely to our European liking, but that is to be expected. It was good wholesome fare, although very rarely did we finish our helping.
Disappointments
With the notable exception of Serra Cafema, the quality of guiding in Namibian camps was worse than in any of the dozens of camps in which I have stayed, in seven Southern and East African countries over the last 25 years.
This was disappointing at times, and the only serious criticism we have.
The guides were rather poorly trained, inexperienced, and two lacked basic bush driving skills. My wife suffered a painful crack to her head when she was catapulted from her seat into a metal roof spar some eighteen inches above her. In particular, they had absolutely no concept of placing the vehicle in the best position to allow guests to make the best use of lighting conditions for taking photographs. Guides in other countries do this automatically.
Their knowledge of the area, birds and animals was nevertheless good, and in the overall scheme of things these criticisms did not materially impair our enjoyment of the holiday – just minor irritations from time to time.
I spotted 13 species of birds I had never seen before, and took loads of great photos.
Summary
All in all, a great holiday, and grateful thanks for Safari On-line's efforts in putting it together for us.
The comments above are not serious criticisms, but our honest reactions to our experiences which I hope will be of benefit to others.
Bill's Safari Details:

Rating: Excellent

Safari company used: Safari On-line (make an enquiry)

Date of safari: November


More Namibia Safari Reviews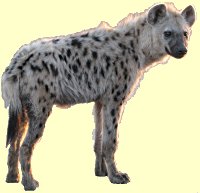 Join in and write your own page! It's easy to do. How? Simply click here to return to Africa Tour Operators Reviews.